B2B Growth Hacking: Tips, Tricks and Strategies for Lead Generation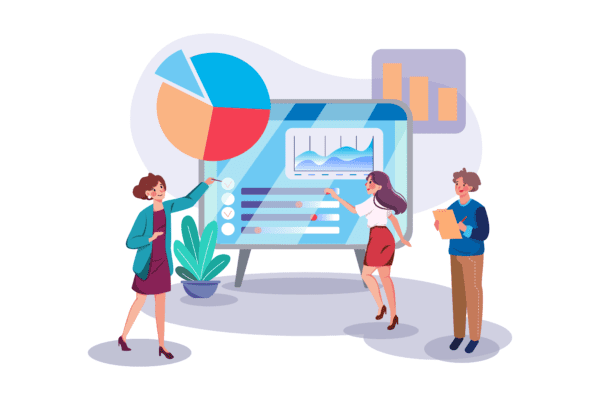 Let's talk about a SaaS startup—you know the one. It had a strong opening year, nets around €5 million in revenue by year two, and is holding firm with 45 employees at year three.
The business is on the cusp of taking things to the midsize level. And while it seems everything is going well, the company hit a wall. Their conversion rate—and conversions themselves—are slowing down, and they're having trouble reaching new markets and generating new leads.
This is a common problem for businesses around this size—to grow quickly and then plateau. It can be devastating if not quickly addressed, so let's tackle this issue directly.
In this article, we'll provide lead generation tools and strategies and B2B growth hacking ideas that will carry your company over that dreaded plateau and on to the next level.
Do you want to know how we can Growth Hack Your Lead Generation Strategy? Plan a FREE strategic session HERE!
Common B2B Lead Generation and Growth Hacking Problems
There are two sides to strategizing for lead generation: what to do and what not to do. So before looking at tips, tricks, and strategies, let's examine some common actions that lead to shortage and stagnation. Like anything in life, if you don't understand the causes of an issue, it's unlikely you'll be able to fix it.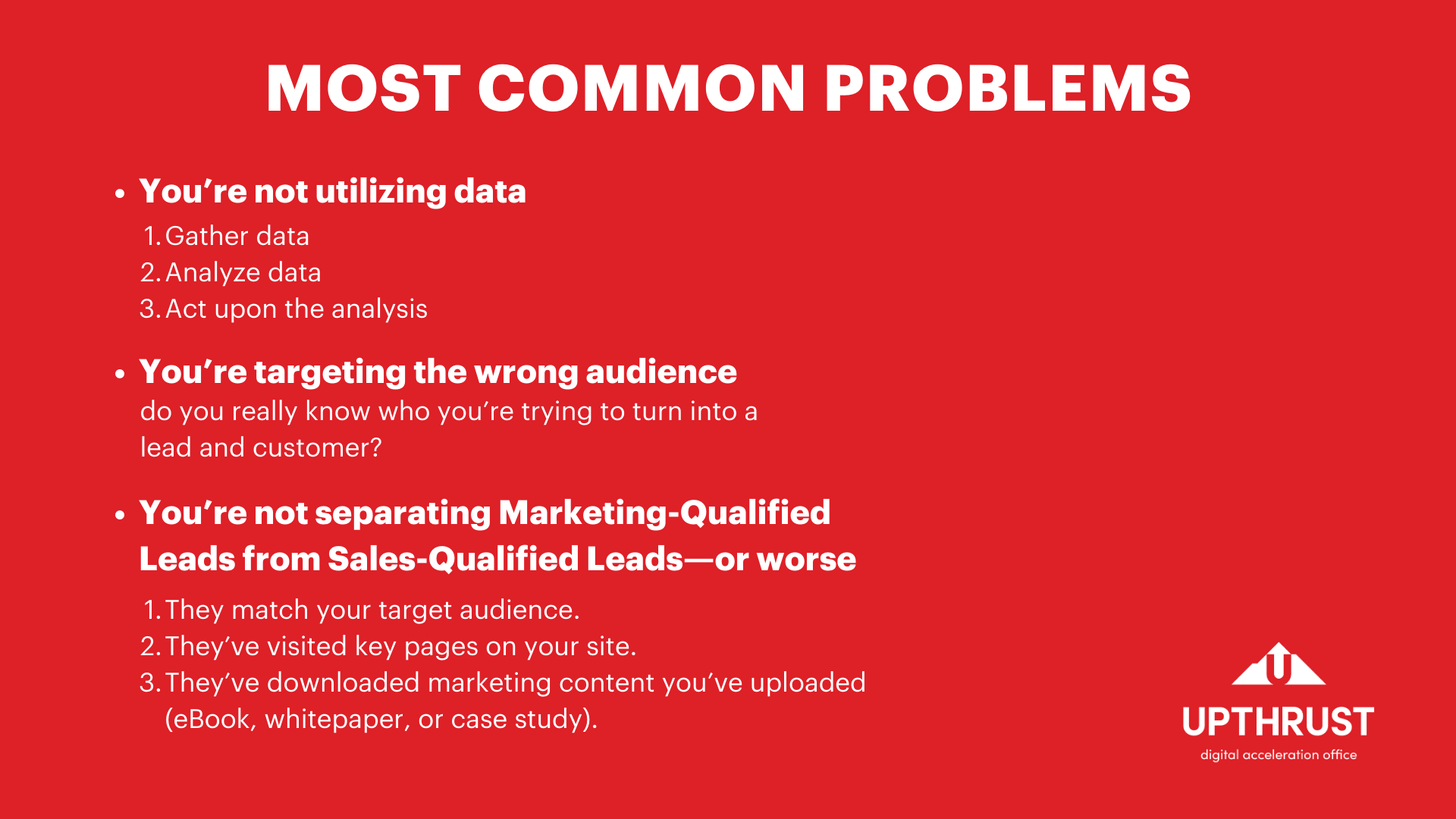 1. You're not utilizing data
There are three steps regarding data that every company must follow if they want to stay in business:
Gather data
Analyze data
Act upon the analysis
Everyone is busy with a full slate of tasks in a growing company, so it isn't surprising that sometimes things like collecting and analyzing data get overlooked and pushed to the side.
If you're not reviewing data quarterly and taking action, it will have an adverse effect on the company. It may not happen immediately, but as markets and technology rapidly change, it's up to you to utilize your data and make smart adjustments—more on those adjustments to come!
2. You're targeting the wrong audience
Get honest for a moment—do you really know who you're trying to turn into a lead and customer?
Businesses trying to appeal to everyone are flushing a lot of marketing funds down the drain. Potential clients often get annoyed and delete or overlook most marketing messages, especially when they're irrelevant to their needs.
If your campaigns are targeting the wrong people with the wrong message at the wrong time, it's an issue.
It's essential for businesses to know and understand their target audience. They should know everything about their core demographic: what they're interested in, what their problems are and how to solve them.
All communication from a marketing, sales, and service standpoint, should work to serve that target audience.
3. You're not separating Marketing-Qualified Leads from Sales-Qualified Leads—or worse
Let's look at the 'or worse' part first.
Many companies don't separate contacts from leads. Just because someone provides their email address, subscribes to a blog, or follows the company on social media, it doesn't make them a lead. When you don't qualify leads, it encourages a lot of wasted resources on contacts that aren't really interested in your product.
It's up to the marketing team to vet contacts and verify who is a marketing qualified lead (MQL). MQLs are leads more likely to become customers because of several factors like:
They match your target audience.
They've visited key pages on your site.
They've downloaded marketing content you've uploaded (eBook, whitepaper, or case study).
Once your marketing team qualifies a lead, it doesn't make them a sales lead—yet. There is a difference between MQLs and sales qualified leads (SQLs). SQLs are leads who are primed and ready to discuss things with the sales team. They have these qualities:
They have a need for your product or service.
Have the funds in place to buy
Have a business infrastructure set up to actually use your product or service—meaning they won't return it or ask for a refund
Your product or service solves their problem.
If your company is taking a 'catch-all' approach to leads, then it's time to re-examine your approach to lead processing. Otherwise, you might waste a lot of time on people who are just contacts.
Issues Summary and SaaS Story
To summarize, let's revisit our SaaS startup from the introduction. The company is at a plateau in year three, and they're falling into the three common lead generation and growth hack faux pas discussed above. After analyzing some of their lead generation practices they found that:
They were gathering marketing data efficiently but forgetting to analyze most of the data. And with the data they analyzed, they either took no action or their actions were ineffective.
The company's target audience was too broad. Also, when they asked the marketing manager and the sales manager to describe their target audience, they got two different answers.
Every contact was being treated as a sales qualified lead. Individuals who only provided an email address for a newsletter were added to a sales email marketing campaign, and those that responded were contacted by the sales team. More importantly, of the contacts acquired, very few qualified as SQLs.
Needless to say, the SaaS company has some issues, but it's nothing that can't be fixed.
Lead Generation Strategies & B2B Growth Hacking Strategies
Content Marketing Lead Generation
One of our SaaS company's key issues was that they took no action with their marketing data or they took ineffective actions.
While they probably had some content marketing strategies in their marketing plan, the plan may have been built for a B2C audience when they're a B2B company. Businesses are responding to content marketing in a big way, so here are some key B2B lead generation strategies through content marketing.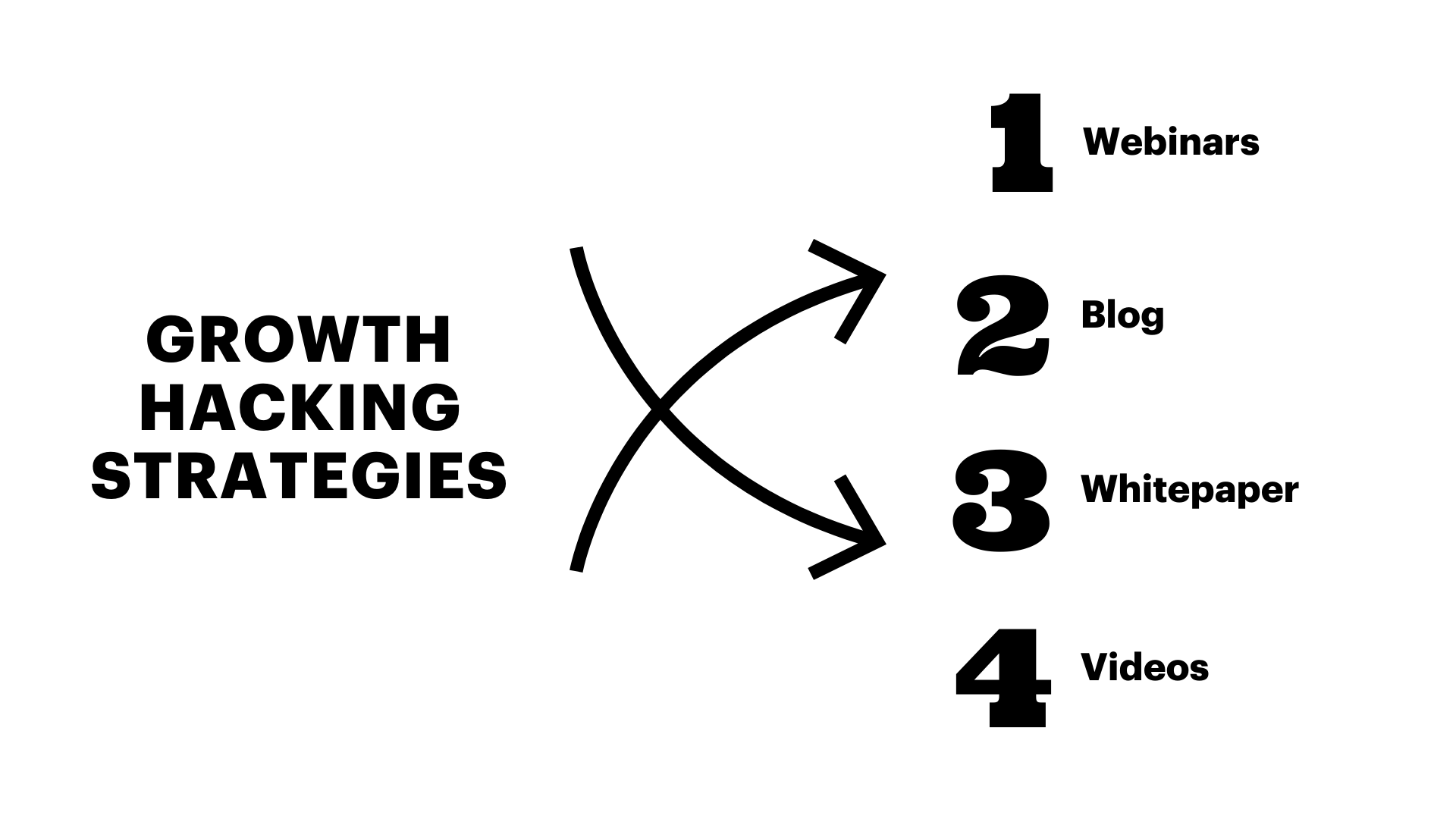 1. Webinars
Webinar hosting is a straightforward way to connect with your target audience. By offering them free—and useful!—information on appealing and pertinent topics, you set yourself up to become an expert on solving a problem. And when you're an expert, businesses will pay for a service. Plus, webinars are low cost!
2. Blog
Want proof that blogs work? You're reading a blog right now! And most likely you found our blog through a search engine. When done correctly, a blog is the most effective form of B2B lead generation. It gives you clout, provides useful information to potential customers, and is decorated with opportunities to collect contacts for your marketing team to qualify.
3. Case Studies / Whitepapers
Think of case studies and whitepapers as blogging on steroids. Your business is a treasure trove of research opportunities that can provide information and insight into your expertise to potential clients. Case studies are longer, sourced, and provide many more details. Plus, you're not bound to keywords.
4. Videos
With videos, get the cost question out of your head. A smartphone with some free editing software will do the trick. If your business can't afford that, there are more pressing issues besides content marketing.
Aside from the low cost, here's a statistic that doesn't need to be cited: YouTube is the second largest search engine in the world. The site isn't just a cool video sharing platform for kids. It can be a strong sales lead generation tool for B2B businesses.
Also, video usage expands beyond social media platforms. They can be a great visual tool for your site to showcase completed projects, provide guides for your products or services, or present company activities that help the community.
B2B Growth Hacking Examples for Content Marketing
A quick note on growth hacking for B2B business:
The difference between growth hacking vs growth marketing is that growth hacks are innovative tactics for rapid growth acceleration, while growth marketing encompasses all of the solid, tested strategies used for steady growth and sustainability.
Include social media sharing options with your content
It's simple to integrate social media sharing buttons in your CTAs. In fact, there are some amazing widgets out there that can create a floating 'share' bar that moves with the scrolling actions of a viewer—or potential client. These buttons encourage people to share on social media platforms where potential clients can see your content.
Tell your company story through the content
Everyone loves a story—notice how we included the story of the SaaS startup in this blog? Using your company's story as a basis for your content is a great hack and useful if being creative with content isn't a strong suit. It's easy to create a blog that acts as a helpful documentary and includes videos showcasing your own journey as a company.
B2B SaaS Growth Hacks for Content Lead Generation
These hacks are geared towards SaaS companies, but may work for other businesses as well.
Press releases
If you think press releases are dead, you're wrong—especially for a Saas company! They're old-fashioned, but getting published on an online publication like TechCrunch, Engadget, CNET, Wired, or The Verge validates your business to other business owners. Hack your content marketing strategy by creating a short, succinct press release that showcases your company's story or community activities and release it to a targeted list.
Create an FAQ and build in a Q&A Site
An FAQ site for a SaaS company is a given. It's a handicap if there isn't a central location for users to find information regarding common questions about your software. But what about the not-so-common questions?
That's where a solid Q&A site comes in. There are loads of cost-effective Q&A site options out there that will allow you to increase your customer service capabilities and get valuable feedback on your product. Also, those questions can act as topic ideas for other content like blogs or videos.
Referral Marketing Lead Generation
Nothing validates your business more than a referral from another trusted business, so one of your biggest lead generators as a B2B company should be through referral marketing
If you recall, one issue of our SaaS company example was that they had trouble getting sales qualified leads. Referral leads typically remove a lot of the unknowns in connecting with a potential client. After all, someone you already did business with referred them, so they most likely need similar solutions and probably have the funds for implementation.
In turn, you spend less time qualifying a lead and promoting your product as they already have genuine testimony from a trusted source. That leaves you with the simple job of nurturing the lead.
Lead generation through referral marketing has three simple steps:
1. Make it easy for your clients to refer you.
Clients might refer you to other businesses organically, but don't take it for granted. It's up to you to create easy, convenient paths for them to refer.
A great way to accomplish this is through creating content that showcases their product or service and your solution to their problem—yes, this is also content marketing. Your client will appreciate the free publicity and will likely share it on their own content marketing platforms and with other potential leads.
2. Tactfully ask for referrals from clients
If you're not getting referrals from clients, then it's time to ask. At the end of a project, create a clear before and after case study, and tactfully ask the client if they're willing to share it with their customers. In most cases, they're just happy you wrote the referral for them via the case study.
3. Offer clients rewards for referrals
Companies often do a referral program, but they offer nothing of real value. A referral is a free lead and saves you a lot of money, so give them something worthwhile! Referral MQLs are much more likely to turn into SQLs and then customers. With B2B, start offering heavy discounts or highly valuable perks for free.
B2B Growth Hacking Examples for Referral Lead Generation
Note: Referral growth hacks are universal for both SaaS and Non-Saas companies.
Offer down-line referral perks
With offering rewards for referrals, it's great to have a one-time reward as a thank you. But why not take it a step further? If your product or service has a lot of premium add-ons, add support by offering additional referral rewards when their referrals net more referral business. Evernote used this tactic to speed up their growth.
Limit the number of referrals
It sounds counterintuitive right? But exclusivity is a successful sales tactic that has been employed for generations—with the right markets. And with the right coaching and guidelines, you can tell your customers exactly who you're looking for so they don't just send you anyone that comes to mind. But if you're going to limit your referrals, be sure the payoff is worth it.
Social Media Marketing Lead Generation
Social media marketing is a highly effective tool for B2B lead generation if used strategically. Just don't expect that you'll net quality leads just because you have a Facebook page. Social media is not the primary source, but it's not the bottom of the barrel either.
The key to leveraging social media sites like YouTube, Facebook, or even Twitter is to direct these users to your website or landing pages. You can also implement signup forms on your social media page for newsletter content. For B2B, those are the key focal points on those platforms.
However, LinkedIn is another story because it's a social media platform designed for professionals. That means other businesses and their decision makers have profiles on the platform and treat it as a source of valuable content.
With LinkedIn, businesses can fully engross themselves in the social media process like a B2C company would on Facebook. Remember, Facebook isn't bad for B2B, but LinkedIn might be better. Here are some LinkedIn B2B lead generation strategies:
Create a complete company profile with links to case studies, testimonials, and examples. And be active with the account!
Join industry-related groups and network with other professionals who fit your target audience.
Insert yourself into conversations and comment on industry appropriate topics and issues.
LinkedIn offers lead generation tools for a small cost.
Referring to our SaaS company example, LinkedIn is a cost effective solution so they could collect data to narrow down their target audience and create a pipeline for potentially qualified leads.
B2B Growth Hacking Examples for Social Media Lead Generation
Tease new products
Startups are constantly working on new projects, products, and services. For lead generation, those activities are an opportunity to showcase your progress, process, and dedication to your products. Don't just tease a one-time, 'coming soon' post. Create a series of teases that give users time to share and create buzz.
Create a meme or Gif
It may sound a little silly, but even for B2B content, everyone loves a good meme or gif. And it shows that you can be serious about your products and have a sense of humor too. Also, this is a clever way to incorporate evergreen content from old blogs or videos. Take the old content, make a meme or gif out of it, and then link back to the blog.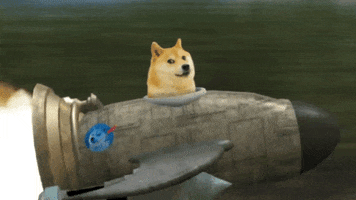 B2B SaaS Growth Hacks for Social Media Marketing
Automate your following
SaaS companies survive on efficiency and trying to grow a LinkedIn network one user at a time can be a tedious and time consuming task. Instead, add an element of automation to your social media marketing practices.
There are social media tools like Phantombuster available that allow you to automatically follow and unfollow accounts based on a variety of elements—about sections, people listings, hashtags in posts—LinkedIn uses hashtags too!, etc.
Discounts for Shares
Sometimes it's hard to grow on LinkedIn as a SaaS company without some incentives.
A great way to do it is by offering a small discount or free tool when someone shares a landing page. While this hack has a referral marketing element to it, forget about the large rewards aspect as social media referrals take more time to vet as qualified leads.
Conclusion
Our SaaS company had issues when first introduced. But by implementing these lead generation strategies into their content, referral and social media marketing campaigns, they're now able to:
Collect solid data and act upon it effectively.
Generate better data to create a clearly defined target audience and share that with their team.
Connect with higher quality leads that, most times, allowed them to bypass a step or two in the qualification process.
These are simple lead generation growth hacking tips, tricks, and strategies that you can also use to grow your company. But if you're still looking for ways to take things to the next level, connect with Upthrust.
Upthrust is a global digital business acceleration office that can help you implement growth marketing and lead generation processes into your business. If you're looking to generate new leads in an unconventional market or reduce the cost of your SQLs, we can help!
Do you want to know how we can Growth Hack Your Lead Generation Strategy? Plan a FREE strategic session HERE!
Start creating your own succesfull leadmagnets with following our Ultimate Growth Marketing Course. Learn how to capture lead information and push them through the pirate funnel is the most efficient way.
Get started!