Growth Hacking: What It Is and How to Use It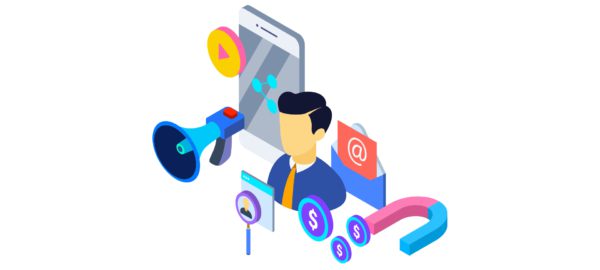 If you haven't heard, it's official! Growth hacking is no longer just a buzzword; it's the buzzword in the world of business, marketing and entrepreneurship.
Granted, the concept has only been around for a decade, but it's now a salaried position at both large, international companies and startups. So, what is this concept of growth hacking and how can you use it to your advantage with your business?
Stay tuned. In this article, we'll define growth hacking, show you how it's different from traditional marketing, examine some growth hacking experimentation, and look at different ways you can use it in your business through real-world examples.
Do you want to know how we can Growth Hack your Business ? Plan a FREE strategic session HERE!
What is growth hacking?
While most traditional marketers focus on costs, conversions, and budgets, growth hackers focus solely on growth. Many consider growth hacking to be the 'do-or-die' philosophy for startups. For if they don't grow fast enough, the business dies.
By trade, growth hackers use innovation and creativity to come up with low-cost solutions to help businesses grow. While revenue is key, this type of growth relies on pure customer acquisition and retention.
The idea is to look at all growth opportunities at any part of a customer funnel or journey. The hack itself can come in any form—meaning you can perform growth hacking by:
Analyzing data to provide brand ambassadors with better numbers, tools, and tactics to spread the word about your brand.
Bringing in an expert—external or in-house—to optimize your product and make it more useful for a wider audience.
Collaborating with a psychologist to create a case study that defines your target audience and target customer, and then create new marketing campaigns based on the profile.
Working with a growth accelerator like UPTHRUST to help you create memorable user experiences when potential customers look at your inventory.
Those are all forms of growth hacking! It's about testing the waters and coming up with key analysis to see what really works in growing a company.
Growth Hacker Marketing
The term 'growth hacking' was coined in 2010 by Sean Ellis—now the CEO of GrowthHackers—after he quickly accelerated the growth of Dropbox. As he moved on to roles with different startups, he would seek individuals to replace him and continue his role in growing the company.
The problem with every transition was that he received applications from a high volume of candidates with a pure marketing background. Because his specialty was software products, those with a traditional marketing background simply wouldn't fit well in the growth role. So he started posting the job position as 'growth hacker', and the term was born.
But that's the nuance to observe when looking at the difference between growth hacker marketing and traditional marketing. Large enterprises may give a growth hacker a title like 'growth marketer' or 'head of growth', but the job is still the same.
What's the difference between a growth hacker and a traditional marketer?
The differences between a marketer and a growth hacker may be subtle, but they're certainly not the same position, and even if you call it 'growth hacker marketing', it isn't the same job as traditional marketing.

Let's inspect some key differences:
Marketers focus on day-to day marketing and branding tasks while growth hackers look ahead at the next steps for growth opportunities.
A marketer typically only works on the marketing aspects of a sales funnel like bringing brand awareness or acquiring new customers. Growth hackers examine the entire company funnel—sales and marketing—to innovate fresh ways to grow.
Growth hackers run growth hacking experiments to examine potential actions a company can take to spark more growth. Marketers tend to work on large and long-term projects.
While marketers are becoming more data-driven in our machine learning world, there are still a lot of other qualitative elements in the mix. Growth hackers work with data only.
Growth hackers are very tech-savvy and have programming skills along with tools they use to create automation wherever possible.
Growth hackers focus on products as opposed to the company as a whole because their drive is to actively retain current customers.
What's a growth hacker?
Knowing what growth hacking is and how it differs from marketing is key. Now let's look at the role of a growth hacker and what they do to help grow a company.
The Role
Growth hackers should work quickly and independently. And with the key differences from a marketer mentioned above, it's obvious that a growth hacker also needs to be multi-talented.
Though they don't need to be an expert in everything, they should have skills in programming, data analytics, and design with enough knowledge to do things on their own.
Growth hackers are highly creative individuals who understand how to create solutions for problems and bring those solutions to life in the real world. They know how to prioritize, identify or create paths for acquiring new customers, and how to analyze a successful experiment and scale it within a company.
They should be able to the following:
Create websites and landing pages
Have a good understanding of web design and can apply your branding—font, colors, logo, etc.
Able to create and run ads on Google Ads and social media platforms like Facebook, Instagram, and Twitter.
Understands tracking and analysis tools like Google Analytics, Hootsuite, HubSpot, and Google Tag Manager.
Knowledge of current and older digital marketing and A.I. trends.
Basic HTML and CSS always helps!
What do they do?
To answer this question, let's look at the five steps of the growth hacking process to provide an overview of how the role comes to life.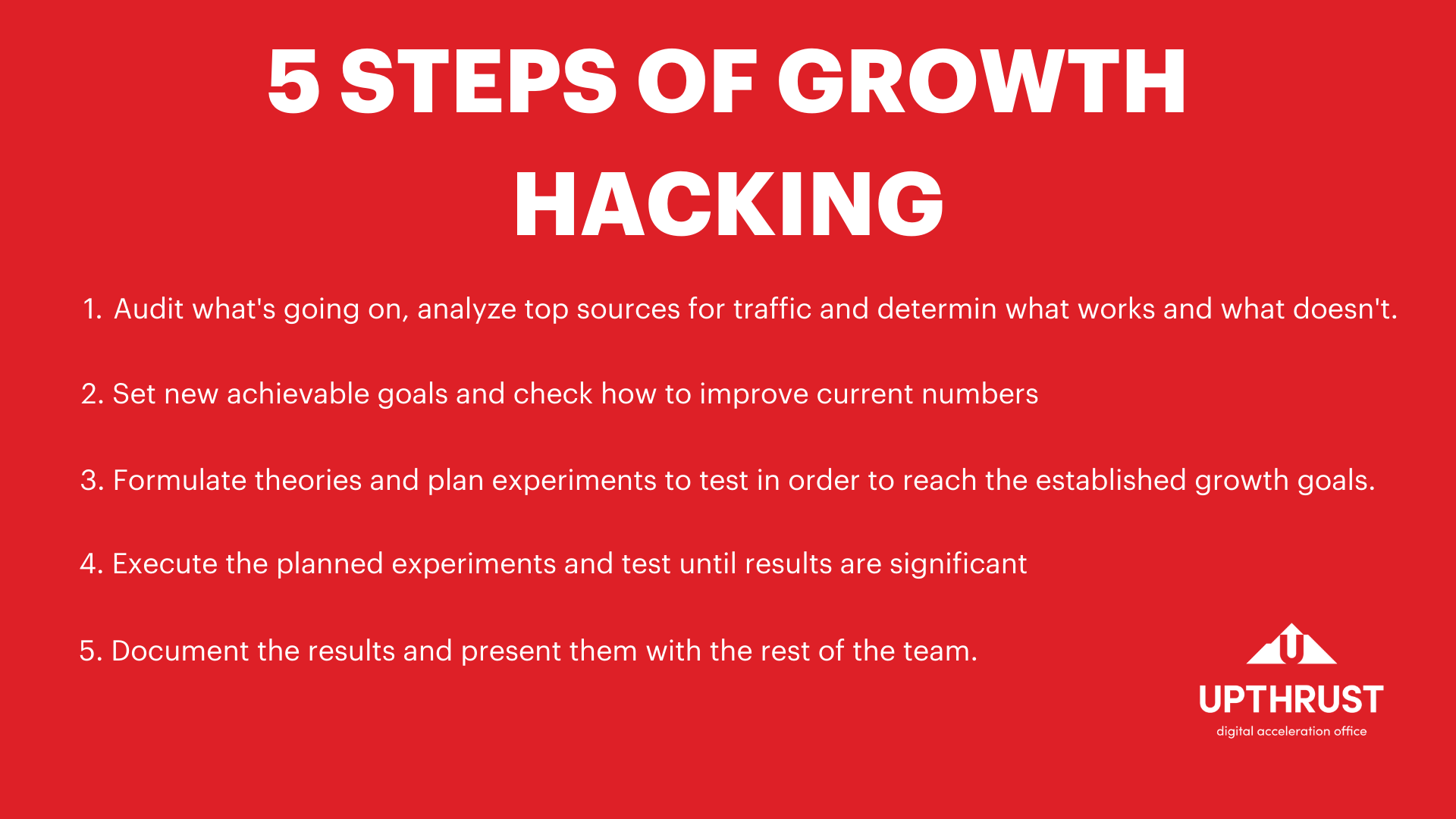 A growth hacker starts by auditing what's going on. For example, they might look at your page views and traffic, and analyze top sources for referrals, leads, and conversions. Basically, it's an analysis to see what channels work and what channels don't.
Next, growth hackers look at those numbers and set new, achievable goals. They see where the numbers can improve and organize the tools needed to do it.
Then, a growth hacker will formulate theories and plan experiments to test in order to reach the established growth goals. There could be one theory to test or twelve. It's all dependent on the company and its goals.
The next phase is the experimentation phase—which we'll explore in the next section. Growth hackers experiment with their theories until the results are statistically significant.
The last step is to document the results and present them with the rest of the team. Since growth hacking is about improving things that already exist, it's important to share it with the team and get others thinking about how they can make the process even better.
Growth hacking experiments
With that process in mind, let's explore some growth hacking experiments and look at some well-known growth hacks from large enterprises that may provide some insights for opportunities within your company.
A/B Testing and other experiments
Probably the most popular growth hacking experiment a company can conduct is an A/B test on a key line of copy—like on an email subject line or Ad header— or on a key line of SEO copy—like a META title or META description. It's a this-vs-that test that provides quick data.
For example, let's say your company is running a two-step email marketing campaign to launch a new product. But after emailing the first 100 leads, you find they aren't responding very well. Your subject line reads:
Sub: We're launching something new. Don't miss out!
That's a little boring isn't it? To conduct an A/B test, you could change the subject line in the first email to something more enticing and see if you net better results.
Sub: 10 ways our [product name] will improve your life
That seems more interesting! However, you never know until you conduct the experiment, and that's the point of growth hacking. It's trying to find small, cost-efficient ways to attract customers and grow the business.
Some other experiments to try:
Repurposing blogs into other media forms.
Embedding live videos on your site for people who didn't register for a web event.
Survey your team to figure out questions customers want answered and then write blogs to answer those key questions.
Create multiple versions of online ads and then test them on different audiences.
Change up the tags on your social media posts or YouTube videos.
Look at our tips on SEO growth hacking and experiment!
Large Enterprise Growth Hacking
It's important to remember that growth hacking isn't just for startups. Large enterprises caught on over the past 10 years and are implementing these practices into their growth campaigns. Here are a few examples: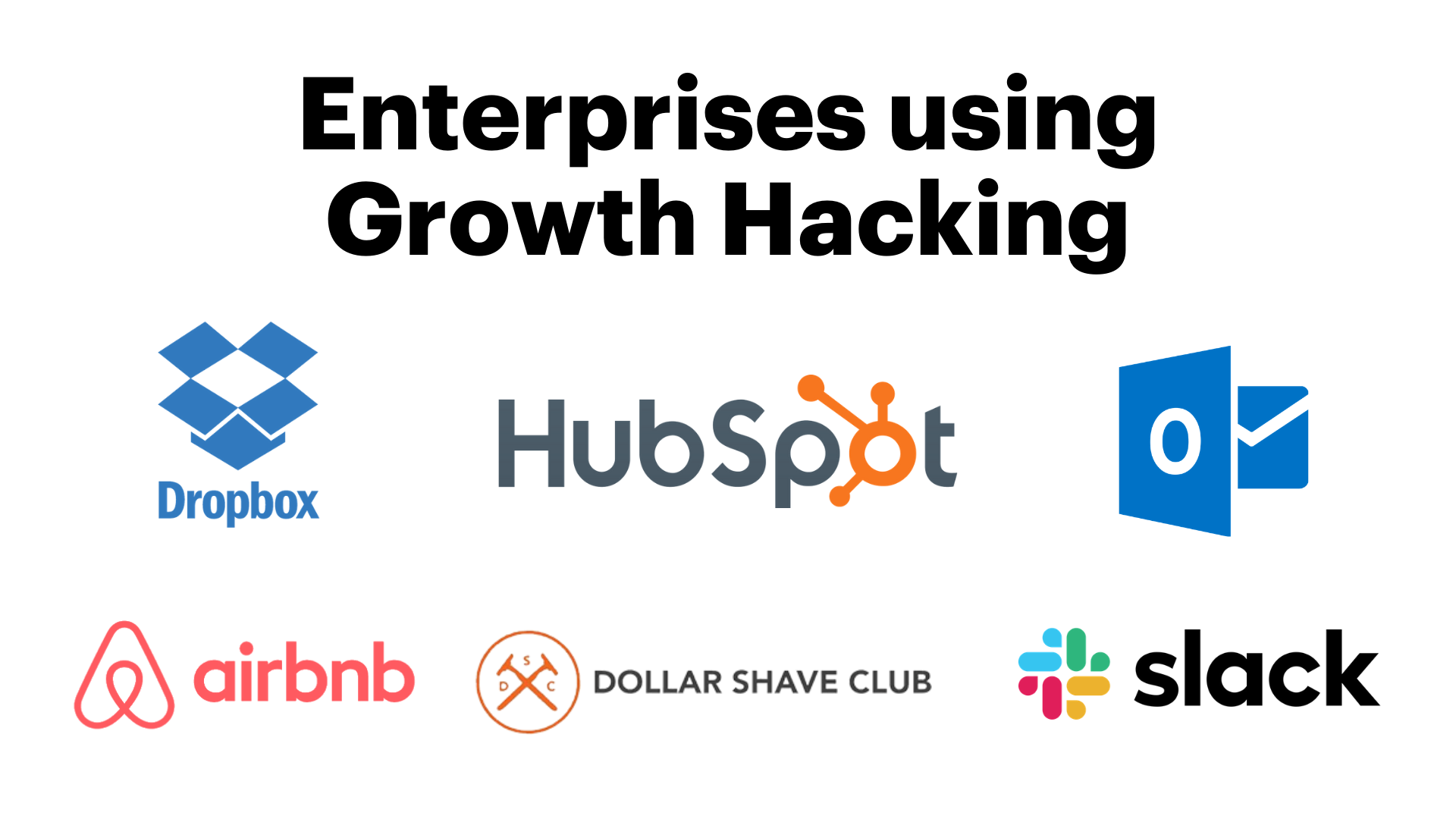 Dropbox
As mentioned, Sean Ellis coined the term 'growth hacking' and is considered the 'Original Growth Hacker'. His key contribution was helping set up Dropbox's referral program which gave users an extra 250mb of storage every time someone else signed up for the service under their reference. The company integrated the program with social media campaigns and saw their users increase by the millions over the next 5 years.
Hubspot
Free tools have a history as solid growth hacks. That's what helped Hubspot grow their customer base exponentially in 2015 when they started offering their 'website grader' tool. It analyzes websites for SEO and other popular metrics to help assess a website's user friendliness and searchability.
Dollar Shave Club
Video marketing works wonders if done correctly, but Dollar Shave Club took it to the next level. They send razor blades to customers at an advertised price of $1 + shipping. And with their viral videos, the company grew from $6 million in revenue in 2012 to selling the company for $1 billion in 2016.1
AirBnB
Craigslist has been one of the top classified ads sites since the late 1990s. And AirBnB used their platform to its advantage when the company first started out. The founders realized that a lot of their potential customer base searched for alternative accommodation options on Craigslist, so they offered an option to their providers to automatically list their place on Craigslist. The rest, as they say, is history.
Hotmail
With a simple email signature, Hotmail implemented one of the first growth hacks before the term was coined—back when email still had a hyphen.
At the bottom of any user's outgoing email, there was a signature that read: P.S. I love you. Get free e-mail at Hotmail. The company name contained a link that invited them to sign up for a free account. It's simple, but it worked as they saw an increase of 2 million users in just 7 months.2
Slack
Slack didn't set out to be the premiere organizational communication tool. In fact, the company's original focus was on a flash game. But when they realized the IRC—internet relay chat—tool they were using internally had more potential than the game, they switched focus.
While this may seem more like pivoting than a growth hack, the actual hack was creating their market. The team at Slack did extensive research and found that when they asked organizations what communication tools they were using, 80% of them said nothing. But that really wasn't true as most were using a variety of ineffective internal communication tools like email lists, Facebook private group chats, and even SMS.3
When they discovered that information, their team built the application and their sales and marketing campaigns around this specific target audience. After all, there were a lot of group messaging applications when they launched, but they were the one of the first to target organizations.
Why growth hacking?
The best answer to this question is, "Why not?" You've seen the process, numbers, and successful examples of growth hacking used by large enterprises.
One of the key objectives to growth hacking is to create low-cost solutions for growth, so the investment is minimal. At the very least, you'll reap useful data to integrate into your current marketing and sales campaigns. Growth hacking is a win-win for any organization—large, mid-size, or small.
Many companies are looking to fill the role of a growth hacker within their organization. If you want your business to keep up with the competition, integrating solid growth hacking practices is key.
And if you need help integrating a growth acceleration plan, Upthrust is here to help. We're a global digital business acceleration office that builds high-performing digital solutions for both SMEs and large corporations. Our team can train your teams to implement growth hacks along with the best tactics to keep your growth on an upward trend.
Do you want to know how we can Growth Hack your Business ? Plan a FREE strategic session HERE!
Sources: