Top 20 Marketing Trends to Watch in 2020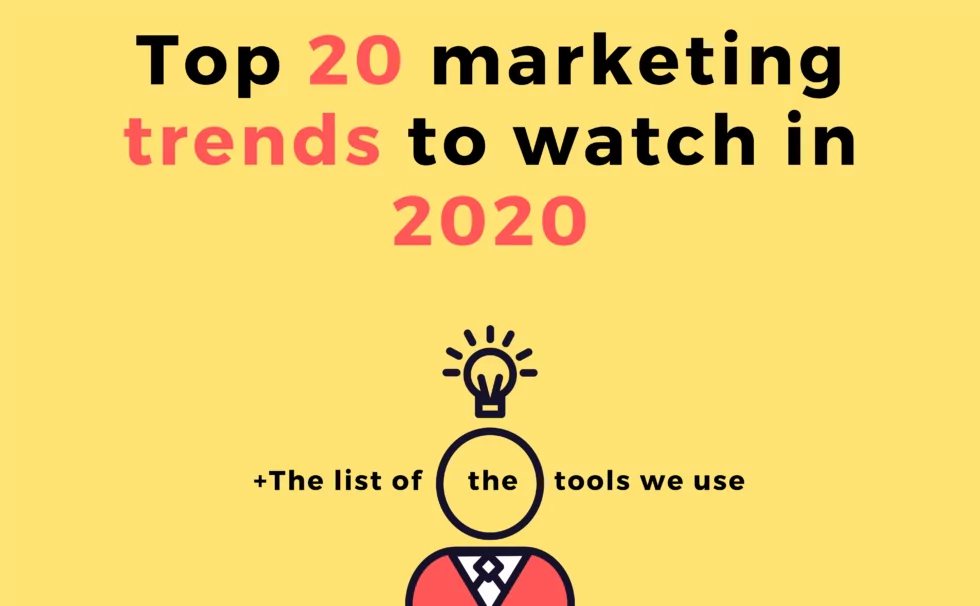 Nobody can singlehandedly keep up with the marketing trends that are rising in 2020. Marketing technology is growing and evolving too fast, too furious. You can't know everything.
First, you have to know what you need. And this blog post will help you to discover what you might need in 2020. That's it, it's a map.
I couldn't predict all the trends singlehandedly. Therefore we united all the forces of Upthrust and made a list of 20 trends.
We're excited because there is some cool new stuff coming.
New trends = new platforms and features to explore = new growth opportunities.
Throughout the year we'll experiment with all new trends and share it with you, our readers. Now, let's count to 20.
Marketing trend #1: Content and relationships.
Content is the number ONE passive lead generation strategy. And it'll remain like that for a very long time.
Your customers are out there, typing some keywords on Google to solve their problems.
So if you want your potential customers to find you, you should definitely consider creating educational content. It's an investment for your company's future. It's the seeds you plant for the future.
Here are 4 important subtrends for content marketing.
1.Quality Over Quantity
In-depth evergreen content is the way to go. 10 detailed evergreen content pieces can outpace 50 trendy topics in the long run.
So focus on unique quality content.
2.Visuals
Writing is a thing that was invented around 7.000 years ago.
But we're visual learners and survivors since the first day of human history. We process visuals faster and store them for longer.
So visuals are important sources to communicate and entertain.
Here is a tweet/quote by James Clear.
"Things that go viral, spread fast. And things that move fast tend to be lightweight.
In the case of information, this means virality prefers fewer bits of information to transfer from one person to another. Virality leans toward the bite-sized and immediately understandable."
That's why infographics stuffed with useful information, carousel storytelling content and interesting graphics go viral.
They're telling a lot and are easy to digest. Create eye-candy snackable content for your visitors.
This is an example of an infographic, I saved a long time ago. I've shared it numerous times with my my friends in marketing. It's snackable and easy sharebale.
3. Data-Driven Content
You can create the best content out there, but if you build it around the wrong keywords, you could end up with nothing.
That's why SEO plays a massive role in your content strategy. So does your analytics.
Always check your analytics to understand which content types your audience engages with the most. Then create more of it.
Relationships
Are equally important. If you have friends in your industry, you can support each other along your journey.
Here is my approach.
Make a list of 20-30 people that contains:
People you look up to
Influencers in your industry.
People who have complementary products.
Engage with them on LinkedIn, Twitter and so on. Buy their books, comment on their articles and be friends with them.
You'll eventually end up as a speaker in a podcast or write a guest blog post or appear in each other's newsletter.
Or even co-write a lead-magnet together. People are looking for friends and business partners. Go and socialize with them, plus it's so much fun.
Marketing trend #2: Voice search
People are starting to use it, but it'll be big soon. Here are some numbers that'll make you rethink your digital marketing strategy.
50% of all searches will be via voice by 2020
55% of all American homes will own a smart speaker by 2022
72% of people who own voice-activated speakers say that their devices are used as part of their daily routines.
Voice shopping is set to jump to $40 billion in 2022, up from $2 billion today.
AI is getting smarter. Voice assistants like Alexa, Siri and Google are now rarely making errors.
Many brands are already experimenting with voice search. Check patron tequila's cocktail recipe assistant.
Right now, they're seeing 6,000 to 7,000 sessions a month.
In addition to that, you can order from Dominos without lifting a finger.
Or you can send money with PayPal using Siri.
Besides the practicality, voice search will also affect SEO. The conversational tone will be more critical. People are searching with different keywords when they're speaking out loud.
Imagine you're hungry and crave a hamburger. The SEO race will start when you say, "Alexa, I want to order a hamburger."
Marketing trend #3: Video Marketing >Static Images
Do you want the throne in the memory palace? Then video will get you the crown.
Because video is all in one. It brings movement, music, noise, text and photographs together to tell a story.
All these elements combined make a memorable experience for your customers. See this study; the average viewer remembers 95% of a message when it's watched. It's sticky.
Here is a feast for left-brainers:
70% of consumers say that they have shared a brand's video
72% of businesses say that video has improved their conversion rate
52% of consumers say that watching product videos makes them more confident in online purchase decisions
65% of executives visit the marketer's website and 39% call a vendor after watching a video
People that see you and your product are more likely to buy. Because video can reflect emotions and therefore increase your credibility. Testimonials might be the most effective type of content to transform your customers into your best salesperson.
Video boosts SEO
Video marketing can increase your SEO. If you have a video on your site, it's 50X more likely to drive organic search results compared to text.
Why?
Because people like videos and Google loves to give people what they like. We've just scratched the surface, if you want to know read more about this topic, you can read this blog post.
Marketing trend #4: Experiment with the power of one.
Multiple objectives create a fractured growth marketing attempt. Because of this, we always have one north star metric in our growth campaigns.
One Target Audience
One Goal
One Problem
One Big Idea
One Solution
That brings clarity and focus to your organization. This way, we can measure what's working and what's not.
Marketing trend #5: Brand transparency
Generation Z cares more about the world. 60% of those born between 1995-2005 want to change the world.
These people are born in the internet era, so their Google skills are top-notch. They can learn anything about the brands they like within 5 minutes.
That's why eco-friendly brands are on the rise.
But this is not something you can implement. It's a culture.
So do the right thing and be transparent about your policies. Pick a role and do your best for society.
Marketing trend #6: Usage of AI for retention and loyalty
This trend in 2020 is more than chatbots. But don't underestimate the bots though, they can sell on autopilot.
And if you don't have a chatbot yet, consider implementing one. Because it's the 101 of this topic and it became super easy to set it up with tools like Intercom and Drift.
Chatbots. Ok. But what's new on the horizon?
Predictive analysis.
AI can help you to understand what your customers love. It can help you to understand purchase patterns, seasonal drops, churns and spikes.
Dynamic pricing.
With AI, you have the chance to take advantage of real-time data to calibrate the price to optimized perfection. It can give you a concrete idea of what the price should be.
Personalization of customer experience.
AI can learn behavioral patterns and predict the user's needs and then shape a website according to that info. If you have the technology, you can create micro-journeys for your customers and make them feel special. The Belgian company Taglayer is doing exactly that.
Marketing trend #7: Measure the ROI (return of investment) of everything. Online and offline!
Little experiments or longer campaigns, every marketing effort is an investment. And you need to know whether it's worth your investment.
How can you measure it? Ask yourself these three questions,
What is the cost of your marketing strategy and implementation?
What is the profit that comes from the campaign?
Do these results meet expectations? Is your strategy worth repeating?
Here is a mini-guide for you.
Identify the metrics you want to track.
Before you launch your campaign, understand what you want to achieve. After you've set your end goal, identify the key metrics.
If it's an awareness campaign, your key metrics could be the number of visitors to your site. Or unique page views.
If it's a retention campaign, it could be the number of coupons redeemed. You got the idea.
Set a specific timeline.
How long is this campaign going to last? You need to set a start and end date to measure your campaigns.
We like shorter experiments around one to two weeks. Then we analyse the experiment and decide to pivot, scale or kill it.
Use smart marketing tools.
There are hundreds of marketing automation tools out there that could help you to measure your ROI.
We use autopilot to measure the performance of our drip email campaigns. Or Instapage to design lean landing pages.
Marketing trend #8: A/B testing
A/B testing is a method for testing to find out which version of a campaign performs better. It's one of the core elements of growth marketing, we A/B test everything!
To convey one, you create two different creatives for your campaign, run both and evaluate the data on performance. Then you pick the best performing variant.
It can teach you a lot about your audience's behaviour.
You can A/B test almost any marketing campaign, here is a list of examples.
Marketing emails
Banner ads
Social ads
Mobile ads
Social media posts
E-newsletters
Website pages
Here are some of the elements that could change the impact of your campaign:
Headlines
Subheadlines
Body copy
Time
CTA text
CTA button
Email subject lines
Product descriptions
Ad copy
Layout
Images
Color scheme
Subheadings
Offers
Free trial lengths
Pricing
And so-on
Here are two variations from our last email newsletter. And thanks to A/B testing we increased our open rates.
Marketing trend #9: Experiment with new channels: TikTok, Discord, Twitch
TikTok is the new TV for Millenials and Gen-Z. It's hard to resist the crazy addictive nature of the platform.
And many brands know it. Some early adopters like Chipotle, Guess, Apple Music, NFL and Calvin Klein are rocking on TikTok.
Those brands create content with TikTok influencers and celebrities. And they watch the TikTok trends very closely and try to surf new trend waves right away.
But influencer marketing on TikTok is not a "thing" yet. Because the majority of the brands are still not on the platform.
That means your competitors aren't using it. And you could possibly find budget influencers to grow your brand. Also, virality on the platform is very high. If you can land a cheap viral campaign with an influencer, your ROI can skyrocket.
You can experiment with ads on the platform right now. There are also rumours that the TikTok team is now working on shoppable videos. So watch closely!
Discord and Twitch are very specific platforms. If your audience consists of gamers or they have kind of a community on these platforms, definitely experiment with those platforms.
You can use it as a feedback, community management and social listening channel.
Marketing trend #10: Proper targeting is 90% of the battle. If you are aiming for everyone, you're hitting no one.
You may have the best product, marketing team, sales team and the knowledge in your business field. But none of them could save your business if you don't know how you want to target.
This is one of the biggest challenges for many businesses. It's important to understand none of those big names were serving EVERYBODY at the beginning.
You can keep your vision big but first, you need to specify your target. Here is an article we wrote about this topic. It can help you to spot your niche!
Marketing trend #11: Dynamic ads
Generic social ads are annoying. Brands keep on showing these ads to their target audience, hitting high ad-frequencies.
The outcome is often ad fatigue. To solve this, You can use dynamic ads to show them what they like in the right place and at the right time.
No two users are the same and their shopping journey shouldn't be either.
What you can do with dynamic ads?
Demographic Data Targeting
People visit places for different purposes. One family could visit Paris for Disneyland, while another couple might want to visit the museums.
So it would be waste to show the Eiffel Tower and Louvre Museum to every demographic.
Craft your campaign based on your audience location and target them with specific ads. You can localize your content by picking familiar images, videos or copy depending on cities you target.
You can serve local promotions depending on the closest shop to where he currently is.
Location and Weather Data
You just woke up and saw it's raining. You want to do your daily run but at the same time, the weather is kind of bugging you.
Then you start scrolling through your feed and saw an ad that suggests the ultimate sports rain-gear while referring to the current weather. You can do this with dynamic ads.
Source: Hunch
The possibilities are endless for dynamics ads and many features are on their way! Consider to add it to your marketing plans!
Marketing trend #12: Micro-influencers
Micro-influencers are people that have 1.000 to 100.000 followers. Yes, they are smaller but their influence on their own audience is more significant.
They have fewer followers because they target narrow niches. Here is an example.
A is a fitness influencer with 300.000 followers.
B is a jump rope fitness influencer with 20.000 followers.
If you're a jump rope brand, it would be costly to sign a deal with A. It's pricey and the shotgun approach would not work so well for you here.
Because he has all kinds of audience. Newbie, expert, runner, CrossFit and pilates people are all in the same bucket.
But if you work with B, you'll know for sure, these 20.000 people who follow B will be interested in your jump ropes. So you'll get stronger engagement and tons of opportunities for better price.
Micro-influencers are also perceived as "people like me."
Since their pool is small, they can engage back with their audience. That makes their engagement rates even higher.
Here is a study,
Influencers with 10,000 followers or more have just a 3.6 percent engagement.
Influencers with 5,000 to 10,000 followers have 6.3 percent engagement.
And influencers with 1,000 to 5,000 followers have the highest engagement at an 8.8 percent engagement rate.
Go and find your micro-influencers; there are possibly thousands of them!
Marketing trend #13: Play with shoppable posts.
It was a pain in the ass for brands to get their followers to visit their online stores. Well, not anymore.
Now consumers can buy products directly through social media posts or ads. They don't have to leave the platform and this makes the whole experience super easy and intuitive.
Source: The Verge
Most of the consumers are scared to purchase things from unknown stores for security reasons. So shoppable posts will also help them to complete their purchases in a secure platform.
This can also help E-commerce brands to reduce the number of abandoned carts or bounces.
Here Instagram points out 90% of the users follow active shopping brands and many interact daily. So if you are selling stuff online, defenitly experiment with shoppable posts.
Marketing trend #14: Create content on LinkedIn as if it's were your blog.
We started to treat LinkedIn like our blog.
Right now, we're investing 50% of our content efforts on LinkedIn.
Why?
People started to use it as a business inspiration channel.
It brings more organic traffic.
It has higher engagement.
It gets more eyeballs.
And it eventually brings in new customers.
Use the momentum of LinkedIn. Viral channels come and go. (E.g. Myspace and Facebook)
Don't miss the fastest going B2B train and show your connections some love with awesome content. We already wrote some detailed posts on how you should create content and expand your network.
Here you can start your LinkedIn journey by following these three blog posts:
Marketing trend #15: Social proof will be even more important.
If you ever booked a hotel online you probably saw something like this.
36 people are looking at this room right now.
Is it true? Sometimes.
Does it create scarce? Yes, every time.
Social proof is an old concept but it's evergreen. And it's even becoming more effective because we have enhanced accessibility to other opinions and reviews.
For whom who doesn't know what it is.
"It's a social phenomenon referring to people's reliance on the feedback and actions of others to determine what is right and what is wrong in a given situation."
So when you don't have your opinion on a subject, you are more likely to be influenced by others. Whether you are B2C or B2B you should consider adding social proof to your marketing strategy.
Any positive remarks about you, your business and your product function as social proof. You let your customers take brand advocate roles and add credibility to your services.
Like this.
Here are some examples of social proofing.
Social likes and shares
Video and textbase testimonials
Customer reviews
Trust signals
Case studies
Celebrity or influencer endorsements
Earned media
Logos of the companies you work.
Number of followers you have in social platforms
Number of people downloaded your product
Leverage your credibility and trustability with social proofs when you can. Implement social proof to your marketing strategy and make it future proof.
Marketing trend #16: SERP position zero
Is there a better place than the first position on Google search. Yes, there is, and it's the position zero.
SERP position zero became more important because of the voice searches. Whenever you ask a question to Google, it answers you back by reading the featured snippet. Such as this one:
There are three featured SERP types:
Paragraph featured snippets: An answer in the form of a paragraph.
The list featured snippets: A bulleted or numbered list.
The table featured snippets: Answer delivered in the form of a table.
What should you do to get this spot?
Hubspot research team experimented with SERP zero and found out what it takes to optimize your SEO.
Here is the list:
Provide simple, consistent HTML code that makes it easy for users to add content optimized for featured snippets to any blog post or website.
Limit paragraph snippets to 50 words or less and keep the sentences in list snippets short.
Ensure any headers (specifically H2s and H3s) used in posts (and especially list posts) contain clean formatting.
If possible, use <li> formatting for the items in a list post as opposed to headers
Include the keyword you are optimizing for within the answer part of the featured snippet code.
Marketing trend #17: Interactive content
Text content will always be a thing but in 2020, you'll definitely see more dynamic content. Interactive types of content that engages with the audience.
What are some of these types of content?
Quizzes
Embedded content (like forms, generators and calculators)
Augmented reality content
360-degree videos
Polls
Right now, Instagram is breaking with interactive content such as "which pokemon are you?" or "Which celebrity are you".
It's just a beginning.
Source: hindustantimes
Marketing trend #18: Personal branding
Look around you. You'll see more faces than brand logos.
Because once you know the person, it's easier to make commitments. It's easier for consumers to believe, trust, buy and eventually become loyal advocates.
In fact, 66% of them say that they feel connected when they trust.
It'll be more important in 2020 because of Google's E.A.T ranking factor. Let's demystify E.A.T first:
Expertise:
If you are not a doctor and are giving medical advice to your target audience, Google will know it and flag your content. It'll not show it to others.
So your content on your blog should be written by an expert. Google will try to identify how knowledgable the site owner or post author is.
Authority:
Your site needs to have some authority on the subject.
Your site should have some credibility on the topic you're talking about. This includes any credentials, outside reviews, testimonials etc.
Trustworthiness:
Are other sites on the internet recognising your expertise?
You should have authoritative links that are pointing to your site from trusted sources.
Plus, your site should be secure in terms of web security.
Google will definitely evaluate the sites on major industries, specifically in industries like health and finance, where the proper information is critical.
If you want to optimize your website for E.A.T update you should consider:
Focus on creating content in your expertise.
Build backlinks
Writing guest posts on authoritative sites.
Get testimonials.
Speak at conferences and add them to your website.
Showcase your awards and successes on your website.
Make everything related to credibility and expertise visible (and indexable) on your site.
Marketing trend #19: Marketing Tools
Here at Upthrust, we never manually send emails, find people, follow-up leads, move folders and so on. We use over 30 tools and glue everything together with Zapier.
Here are some of the favorites we can't work without:
Phantombuster – To scrape data and automate networking (adding, messaging people etc) on LinkedIn, Twitter, Instagram and other platforms.
Salesflare – Amazing CRM tool. It allows us to automate a lot of manual data entry.
Webscrape.io – Basically, to scrape all data on the internet.
Autopilot – To create mail flows and automated mail campaigns. And even send SMS messages. It also provides good analytics afterward.
Plann3r – A highly customizable tool to schedule calls and meetings on autopilot.
QWILR – It helps you create interactive and mobile-friendly sales documents. Saves a lot of time and enables you to win more work by replacing traditional PDF proposals, quotes, and presentations.
Instapage – It helps you to create stylish landing pages very fast and easy. It also runs A/B tests and measures the success of your campaigns.
Ahrefs – The best and affordable SEO tool for content marketers.
Sumo – Helps you to add social proofs, exit-intent and any kind of opt-in form to your site. Totally free.
ManyChat – a tool that allows you to easily build messaging flows on Facebook messenger.
Coupon Carrier – Distribute unique coupons to your customers using email, custom links or chatbots.
Leadfeeder – It shows you which companies are visiting your site, how they found you and what they're interested in.
Skrapp – It finds you the email of prospects.
Every industry has its needs. Keep an eye on new tools because they can help you to increase your ROI and save you hell a lot of time.
Marketing trends #20: Augmented Reality (AR)
You're going to buy a couch. But you are uncertain and trying to choose between three colors.
Aaah, you wish, you could just see how it fits of rest of your room decoration. Well, with the IKEA place app, it's possible.
Smart right? This huge help from IKEA alone can transform you into a lifetime customer.
Or with Sephora Virtual Artist, you can understand how different colors look on your face. You don't have to go to the store anymore, just try it out and order online.
But this is just a beginning, you'll see and even use more AR applications in 2020 for sure!
One more marketing trend before we close the curtains
It's a long list and full of new things. It could be enlightening and frightening at the same time. But fear not.
Experiment instead. Experimentation will help you to understand what is good and bad for you.
We'll be experimenting throughout the year and share the results, new playbooks, and blog posts about these 20 trends for sure.
Tell me, what do you think? If you want to add trends or discuss new trends, I'm waiting for your comments here!
Also, please share this article with your friends if you find it valuable. It helps a lot. (You can do it by pressing buttons below or the buttons on the right side) 
Ready to make a Real change? Let's build your business together!