DESelect Case Study: A lead magnet + LinkedIn campaign that brought 289 leads to a SaaS company in two weeks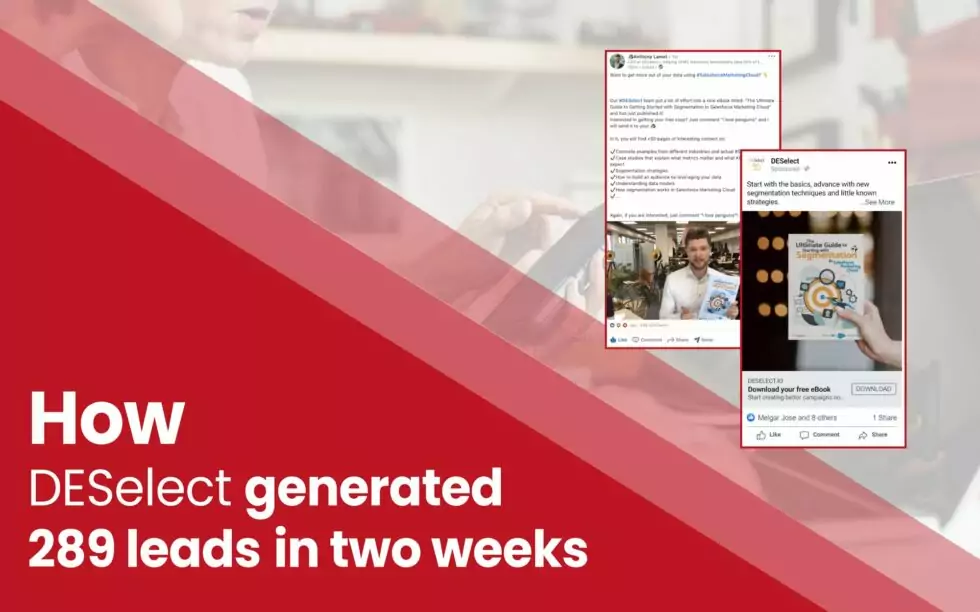 By using the same strategy, we've generated 10.000+ leads on LinkedIn in 6 months. We've experimented with this blueprint seven times and got outstanding results each time.
Every comment you see in the pictures above is a lead, we'll explain it further in the case study LinkedIn campaign. As you can see, this strategy has proven itself over and over again, we decided to call it "Lead Booster" and implement it for our customers. DESelect was the first customer ever to try the Lead Booster. Here are the results of their campaign.
289 leads in two weeks.
3% meeting rate, which translates to 9 face to face meetings.
143 people were enrolled in the email sequence after downloading an ebook.
The conversion rate of the eBook was 9.17%
Five deals created where the eBook was the first touchpoint.
Seven deals were created where the conversation was related to the eBook.
DESelect closed three contracts in total.
Now, we'll reverse engineer what we have done for DESelect in the following paragraphs.
But before we get into details, we want you to know more about DESelect and its challenges
DESelect is a SaaS tool that makes segmentation easier and faster in the Salesforce Marketing Cloud. It helps users skip writing long and annoying SQL queries to launch campaigns 20% faster and save almost 50% of their time.
The challenge
The tool is innovative and helpful, but the target audience didn't know that it even existed.
Therefore, DESelect didn't have enough leads.
The holy goal: schedule a product demo.
The solution
A lead magnet that helps the target audience get better in their work life.
A distribution plan around the lead magnet to spread awareness.
A series of hooks that guides the target audience to schedule a demo.
What have we done?
The ideation and writing process of the eBook.
Finding the right channels to distribute the eBook.
LinkedIn marketing automation.
Facebook advertising campaigns.
Ideation and writing process of the lead magnet
This is the most crucial part of the campaign. If the eBook we are going to create doesn't resonate with our target audience, the outcome would be a disaster. So to understand the environment, we studied the audience and their needs by:
Having a brainstorming session with DESelect.
Studying all the material DESelect already has, such as personas, marketing strategy, internal presentations, customer insights, etc..
Conducting market, competitor, and audience research.
After three days of intensive research, we knew what would resonate with our target audience. We went deep into social listening to understand our audience.
Eventually, our head of content came up with three different ideas. DESelect chose the one named "The Ultimate Guide to Getting Started with Segmentation in Salesforce Marketing Cloud". Afterwards, we structured the eBook and started to write it. Even though it was a technical topic, our in-house copywriter was able to write the eBook in four days.
In the last chapter of the eBook, we compared how DESelect performed vs the normal segmentation process, which was a sales pitch for our tool. In a week, we were ready for the distribution.
Finding the right channels to distribute the eBook.
As you've seen in the first two pictures above, LinkedIn is the primary distribution channel of this lead generation campaign.
In short, a first tactic we did on Linked was
Post a video with the eBook
Get the highest amount of engagement to the post in the first one hour. (yes, we have some great strategies to get them, and no, they're not black hat strategies.
Offer the eBook for free in exchange for comments.
Scrape the information of all the commenters.
Message each commenter (on autopilot) and collect email addresses to send the eBook.
But of course, this is a simple overview of the campaign. If you want to see many invisible steps behind the scenes, you can read the detailed guide of this LinkedIn lead generation strategy. There, we share all the details step by step with 100% transparency.
We also configured LinkedIn automation and sent automated messages to Anthony's (founder of DESelect) LinkedIn network to let them know that we had a new eBook that could be valuable for them.
But now we have this insightful eBook, keeping the distribution limited to LinkedIn borders would be a shame. So we found new distribution channels and ways to capture new leads for DESelect. Here we've used all the information we saw in the research phase of the eBook. Here is what we've done together with the DESelect team to get the most out of the campaign:
Answering dozens of questions on Salesforce Marketing Cloud communities. (we linked the eBook in those questions)
Answering related questions and topics on Quora and Reddit.
Getting backlinks from other websites to increase organic traffic.
Implementing eBook pop-ups and opt-in forms to the website to capture new leads.
And here is the distribution board if you want to get closer.
If you liked what you read so far and want to know more about this process, you can contact us to talk further. Check up our B2B marketing mentorship academy
Facebook advertising campaigns.
Apart from the lead magnet campaign and organic distribution, we also wanted to experiment with FB advertising. We've created 2 different creatives, here you can see the one below.
As a result of this Facebook campaign, 104 people downloaded the eBook and joined the emailing sequence of DESelect as potential future customers.
Wrapping up
From the day we met to the end results of the campaign, everything happened in a month! If you want to fill your agenda with sales calls in a short time, you can schedule a call with Nicholas to discuss details.
P.S. Our expertise is extensive. You can read the case studies below to see how we helped B2B, B2C, and eCommerce companies in different platforms with various growth marketing strategies.
Here you can check other case studies to see more growth marketing strategies:
Ready to make a Real change? Let's build your business together!