Embracing Evolution: Why Drupal 10 is Your Next Big Step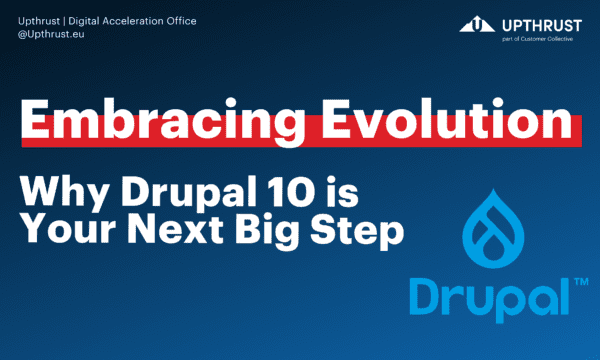 The Drupal platform, globally renowned for its robust security measures, speediness, and scalability, has been the trusted partner of over 1 million users worldwide. The release of Drupal 10 on December 14, 2022, has heralded a new era in this open-source CMS, promising an array of features and upgrades that make it even more powerful than ever before.
In this blog post, we will explore the remarkable differences between Drupal 9 and Drupal 10, the benefits of upgrading to the latest version, and why Upthrust is your perfect ally in navigating this transition.
Drupal 9 vs. Drupal 10: Unpacking the Differences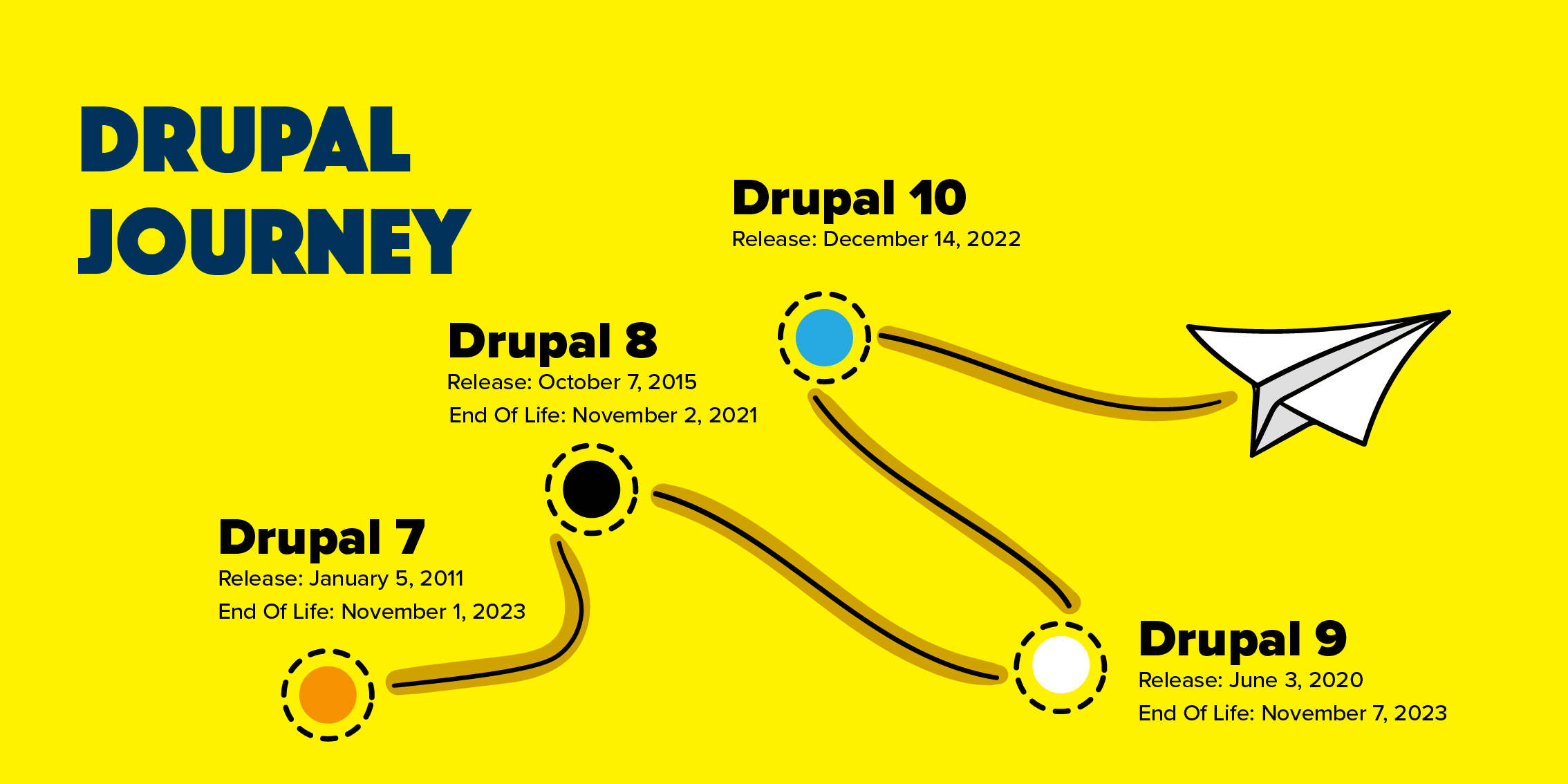 To appreciate the value of migrating to Drupal 10, it's essential to understand the key distinctions between it and its predecessor, Drupal 9.
Release Timeline
Unlike the four to five years it took for Drupal 8 to follow Drupal 7, the time gap between the release of Drupal 9 and Drupal 10 has been much shorter. Drupal 10 builds upon the solid foundation laid by Drupal 8 and 9, taking an innovative leap forward with refined and reinvigorated components.
Updated Dependencies and Deprecated Code
Drupal 10 follows the pattern of Drupal 9 with some crucial modifications, such as updated dependencies and the removal of deprecated code. This practice aligns with Drupal's standard upgrade policy for improved compatibility.
Key Feature Upgrades
Several critical features distinguish Drupal 9 and Drupal 10:
Administration Theme: Drupal 9 used the Seven administration theme, while Drupal 10 introduces Claro. Olivero is the new frond-end theme.
CKEditor: Drupal 9 utilized CKEditor 4, which is replaced by CKEditor 5 in Drupal 10.
JavaScript and PHP Support: Drupal 10 features advanced JavaScript components and supports PHP 8.2, which is a step up from the jQuery and lower versions of PHP supported by Drupal 9.
Symfony: Drupal 9 relied on Symfony 4, a dependency that is reaching end-of-life in 2023, while Drupal 10 has upgraded to Symfony 6.
Why Should You Upgrade to Drupal 10?
Upgrading to Drupal 10 will benefit your website by providing access to new features and tools that can dramatically enhance user experience.
1. Automatic Updates
The task of updating Drupal sites has often been a complex process for novice developers. With Drupal 10, updates are entirely automated and secure as long as the installation meets all requirements. This initiative ensures no safety or security concerns associated with automatic updates for your websites, making it most suitable for small-to-medium enterprises.
2. Enhanced User Experience
Drupal 10 introduces Claro, a groundbreaking administration theme that comes with an efficient layout builder and media library. This new theme helps to create remarkable designs with innovative tools, making life simpler for web admins, editors, and site builders.
3. Enhanced Decoupled Menus
One of the ways Drupal 10 is transforming the landscape of headless CMS is through its improved decoupled menus feature. This initiative enables developers to construct JavaScript projects with greater simplicity. It empowers content creators by allowing them to make changes to menus directly via their user interface, without the need for coding expertise. This capability positions Drupal 10 as a top choice among headless CMS platforms. In addition, any changes made can be dynamically updated in the frontend JavaScript, ensuring seamless functionality for conventional websites.
4. New Front-End Theme
Drupal 10 introduces the modern-looking Olivero theme, which replaces Bartik from Drupal 9. The design is carefully crafted to appeal to audiences of all ages, featuring second-level navigation capabilities, an inbuilt media player, and a layout builder. With its careful selection of font types, animations, and color palettes, Olivero offers a fresh look and feel for your website​.
5. Extended Support
One crucial consideration for upgrading to Drupal 10 is the end-of-life (EOL) dates for the different versions. Drupal 9 will reach its EOL on November 28, 2023, while Drupal 10 will continue receiving support until August 2, 2024. Upgrading to Drupal 10 ensures that you will continue receiving security updates and improvements for a longer period​.
Why Upthrust Is Your Ideal Drupal Migration Partner
At Upthrust, we understand that the process of migrating from Drupal 9 to Drupal 10 involves more than just a simple upgrade. It's about embracing a new set of features and tools that can redefine the digital experience for your users. Our Digital Product Studio has everything in-house to make this transition seamless, and here's why we are your ideal partner:
Expertise: We bring a deep understanding of Drupal's architecture and the nuances of the upgrade process.
End-to-End Support: From planning the migration to implementing it and providing post-migration support, we take care of every step.
Custom Solutions: We offer tailored solutions to meet your specific needs and objectives.
Proven Track Record: Our successful projects and satisfied clients bear testament to our quality of work and commitment.
Continuous Improvement: Even after the migration, we help you leverage Drupal 10's features to their fullest potential, ensuring your website stays ahead of the curve.
In conclusion, the transition from Drupal 9 to Drupal 10 is more than an upgrade; it's a strategic move towards a more robust, efficient, and user-friendly digital presence. Upthrust is here to guide you on this journey, ensuring a smooth transition with minimal downtime.
Ready to take the leap with Drupal 10?
Contact us today at Upthrust to kickstart your digital transformation!