LinkedIn Marketing Strategy: How To Generate Leads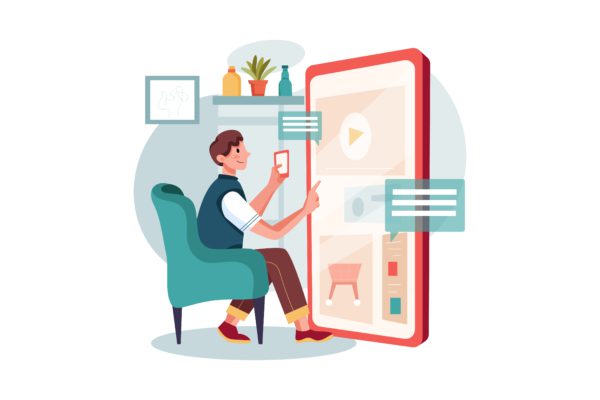 As of this writing, there are over 750 million LinkedIn users in 200 countries. While it trails Facebook and some of the other larger social networks, LinkedIn is a powerhouse platform for b2b growth marketing strategies.
So let's ask the question: does your business use LinkedIn? Or one step further: does your business use LinkedIn to its maximum potential?
Businesses who know how to market on LinkedIn have a huge advantage over their competition. The platform can help to build an extensive network and increase brand awareness, leads, conversions, revenue, and so much more.
There will always be new social media networks, but there's only one that's tailored for those who are serious about networking and marketing from a business standpoint.
If you're not sure about a LinkedIn marketing strategy, Upthrust was able to take SD Worx from 0 to 52 qualified sales leads in 3 months using LinkedIn as a key part of the strategy.
In this article, we'll define a LinkedIn marketing strategy and break down how to effectively generate leads for your business with this channel.
Do you want to know how we can use LinkedIn and growth acceleration at your business? Plan a FREE strategic session HERE!
What is a LinkedIn marketing strategy?
LinkedIn marketing strategies use the platform to increase your professional network, generate leads, create business relationships, maximize your content marketing strategy, drive traffic to landing pages or your website, and ultimately increase your profits and revenue.
Knowing how to use LinkedIn for business marketing is a key point for companies of all sizes today because it helps your business narrow its focus to find and nurture solid b2b business relationships.
Last, a solid LinkedIn marketing strategy can help you find top talent in addition to generating leads, which can save your business money and generate more revenue in the long run.
How To Develop a LinkedIn Marketing Strategy with LinkedIn Marketing Solutions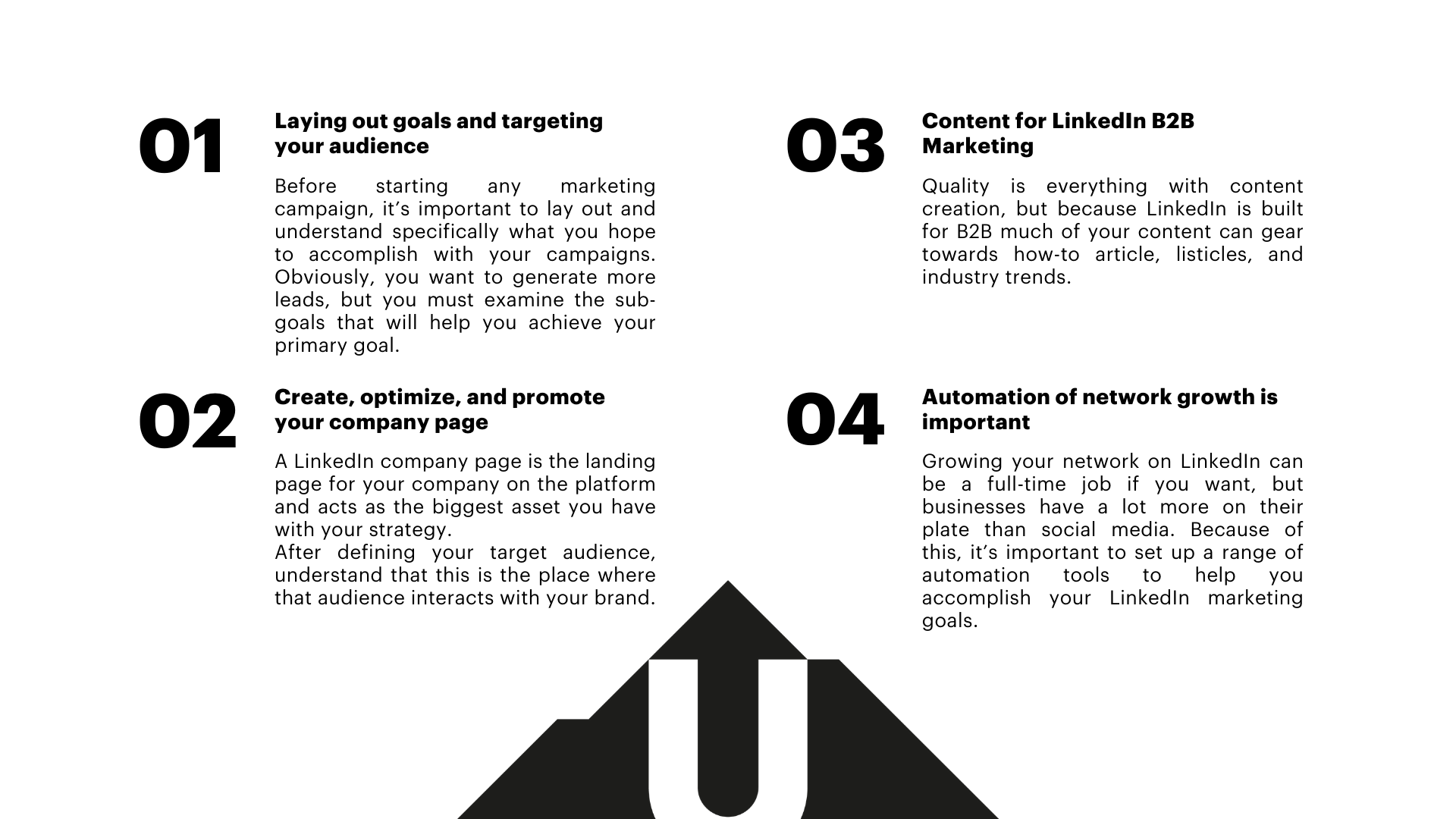 With the concept of a LinkedIn Marketing strategy defined, let's explore some steps to developing a strategy for your business and look at some of the tools, hacks, and solutions that will help you accomplish your goals.
1. Laying out goals and targeting your audience
Before starting any marketing campaign, it's important to lay out and understand specifically what you hope to accomplish with your campaigns. Obviously, you want to generate more leads, but you must examine the sub-goals that will help you achieve your primary goal. We listed some of these potential goals in the definition of a LinkedIn marketing strategy.
With marketing goals in mind, you can now shift your focus towards targeting the right audience, which is a function of any marketing campaign. You can create your target audience from a wide range of traits including:
Age
Job or industry
Salary
Location
Interests
These are broad indicators, but LinkedIn allows you to get very specific about who you want to target with your strategy. You want to understand who your target audience is and get very specific about their relationship with your product or service.
For example, if you're selling a new SaaS—software as a service—program that helps with travel expenses, then you want to target decision makers who deal with travel expenses like CEOs, CFOs, and high-level internal accountants acting as managers or executives.
But don't forget about your existing audience either! The point of this step is to carefully examine and understand the profile of your audience and what it is that they're looking for.
2. Create, optimize, and promote your company page
A LinkedIn company page is the landing page for your company on the platform and acts as the biggest asset you have with your strategy.
After defining your target audience, understand that this is the place where that audience interacts with your brand. They'll learn everything they need to know about your company here, so include everything you can about your products, services, employees, and brand.
The page should include all aspects of your branding including your webpage, logo, industry information, company size, and a treasure trove of other important details about your company. Take some time to create your 'About' section and include the important details about what your company can do for potential clients.
Optimize for SEO
Like any website or landing page, a company profile page should be SEO optimized to drive even more traffic to your page. One of LinkedIn's greatest growth hacks is that it's algorithm allows companies to become discoverable on searches via LinkedIn in addition to their actual website.
Because of this, be sure to include SEO keywords within your 'About' section and with your company profile. You can use an SEO optimization tool like Ahrefs, SEMrush, Moz, or Google Keyword Planner.
LinkedIn Marketing Hack: Analyze your competition to optimize your own page
To better compete, you need to know what your competitors are doing with their LinkedIn pages as well. Fortunately, LinkedIn offers a feature called "Companies to track" that will create a profile list of companies similar to your own.
This allows you to track their followers, growth, and engagements and can help you understand how your own company page is doing versus theirs. The feature is a great way to help you understand and identify what you need to put on your page to drive traffic.
Promotion
With the company page created and optimized, encourage your team and colleagues to follow the company page. From there, you can add LinkedIn buttons to your website, email signatures, newsletters, and in your blog content. This will allow people to follow your LinkedIn page in one click. You can even run a campaign that reaches out to existing customers.
3. Content for LinkedIn B2B Marketing
Getting followers for your LinkedIn page is nice, but that's just the set up and not the main focus of your marketing strategy. This isn't Twitter or Facebook after all.
The key way to engage with your target audience is through content. This is another reason why it's important to understand your audience so well and know what they want to see, hear, and read.
LinkedIn Marketing Techniques and Ideas for Content
Quality is everything with content creation, but because LinkedIn is built for B2B much of your content can gear towards how-to article, listicles, and industry trends. Your LinkedIn content best practices should follow these guidelines:
Document your entire LinkedIn content marketing strategy for easy access to the entire team.
Be consistent with your content posting schedule. If you're going to post two times a week, then make sure to follow that schedule—two times per week is optimal.
Use images and videos in your content. Text is great, but we live in a YouTube world where video is king.
Diversify your content and have a good balance of what you produce. Don't just post a ton of promotional content. Be sure to add in industry related and 'feel-good' content too!
If you're not sure of what to post, LinkedIn has a free 'content suggestions' tool on the top navigation bar of your company page.
4. Automation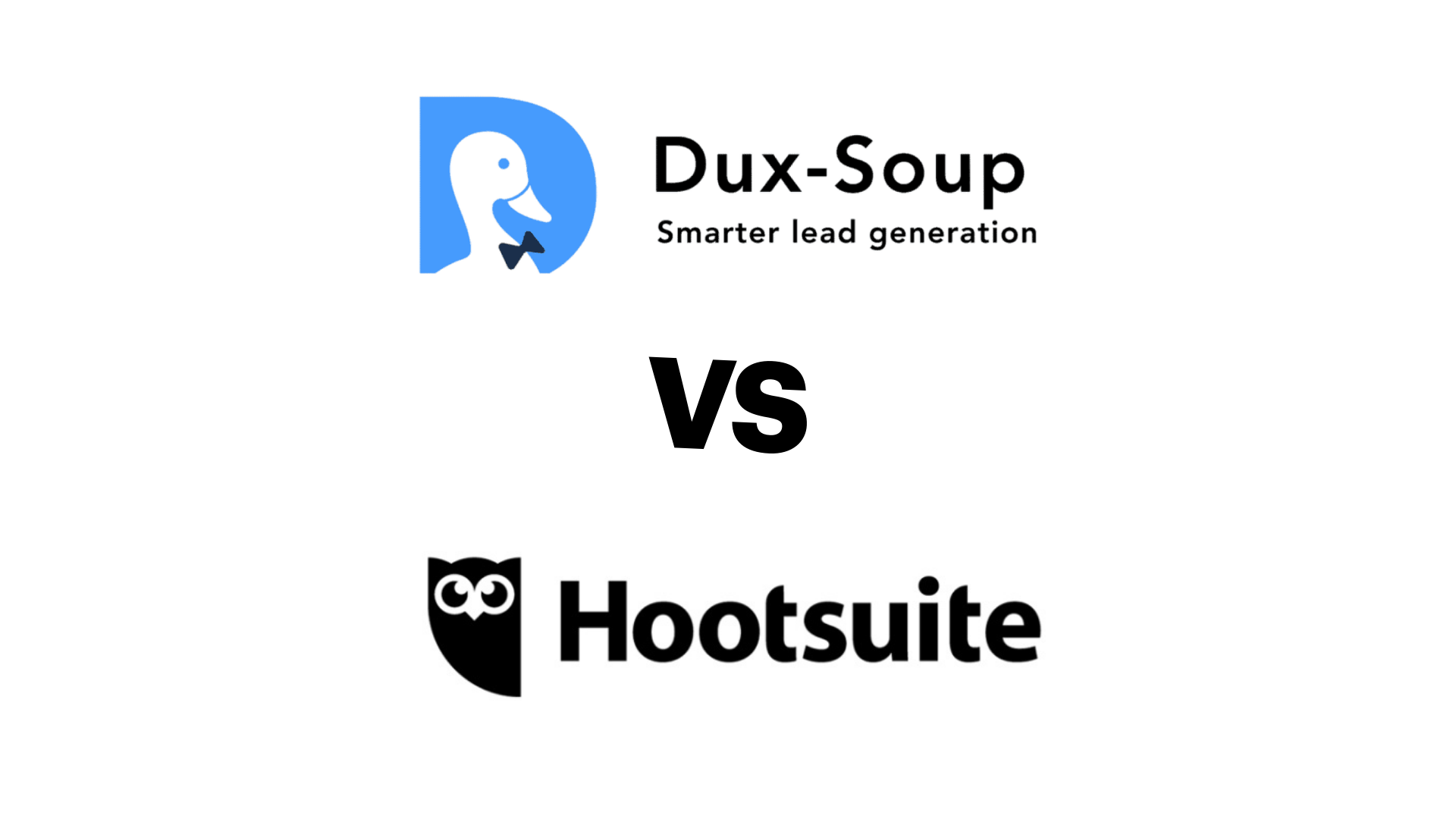 Growing your network on LinkedIn can be a full-time job if you want, but businesses have a lot more on their plate than social media. Because of this, it's important to set up a range of automation tools to help you accomplish your LinkedIn marketing goals. Here are two tools to help you automate your strategy:
Dux-Soup
This is one of the best LinkedIn growth hacking tools. With Dux-Soup you can keep track of potential clients on LinkedIn and set up personalized message drip campaigns for generating leads. Also, this tool will auto visit profiles based on your target audiences and endorse their skills as an attention grabbing tactic.
Hootsuite
As stated, it's important to consistently post content on a regular basis and Hootsuite is the application that can help you create and schedule your posts. You can also use the tool along with LinkedIn analytics to create well-rounded social media marketing metrics tailored for your business.
5. LinkedIn Ads
With your profile complete and optimized, outreach automated and content creation in full swing, the last step to a LinkedIn marketing strategy is to create and utilize LinkedIn's ad platform.
There are several different types of LinkedIn ads including:
Sponsored Content and Messaging
Text Ads
Dynamic ads
And there are 11 different LinkedIn ad formats to choose from including:
Carousel ads
LinkedIn Conversation Ads
Follower Ads
Spotlight Ads
Job Ads
Lead Generation Forms
Message Ads
Single Image Ads
Single Job Ads
Text Ads
Video Ads
Each ad has its own purpose, character limitations, placement, CTA (call-to-action) placement and text limit. The platform runs a bidding system that's a lot like other social media platforms and allows you to show ads to your target audience based on a wide range of demographic and location choices.
LinkedIn Marketing Solutions Ad Targeting
Knowing the different types of ads and understanding their formats will help you to better interact with your target audience and make the right choice when it comes to spending your LinkedIn Ad funds. Here are some best practices to consider when ad targeting:
Choose the right location. It's the only mandatory setting for your ad, and in many ways, it's the most important.
Select your audience based on the right factors. LinkedIn allows you to choose from categories like: company, demographics, education, job experience, and interests.
Don't hyper-target. While those audience choices are nice, don't target so specifically that you don't generate leads.
A/B test your ads. It might cost a little more, but at least you'll know what works and what doesn't.
Conclusion
Understanding how to master LinkedIn for marketing and optimal lead generation is a complex process, and with this article, you should be able to get started. But if you really want to accelerate the growth of your company using LinkedIn and a whole host of other growth marketing strategies, why not work with an expert like Upthrust.
Upthrust is a growth acceleration office that can help you build high-performing digital marketing products. We use a straightforward 5-step approach and train your teams internally on the processes and tactics we use. With Upthrust, you can master your LinkedIn marketing strategy and do so much more.
Do you want to know how we can use LinkedIn and growth acceleration at your business? Plan a FREE strategic session HERE!