10+ B2B Email Marketing Examples And How To Increase Open Rate With AIDA Framework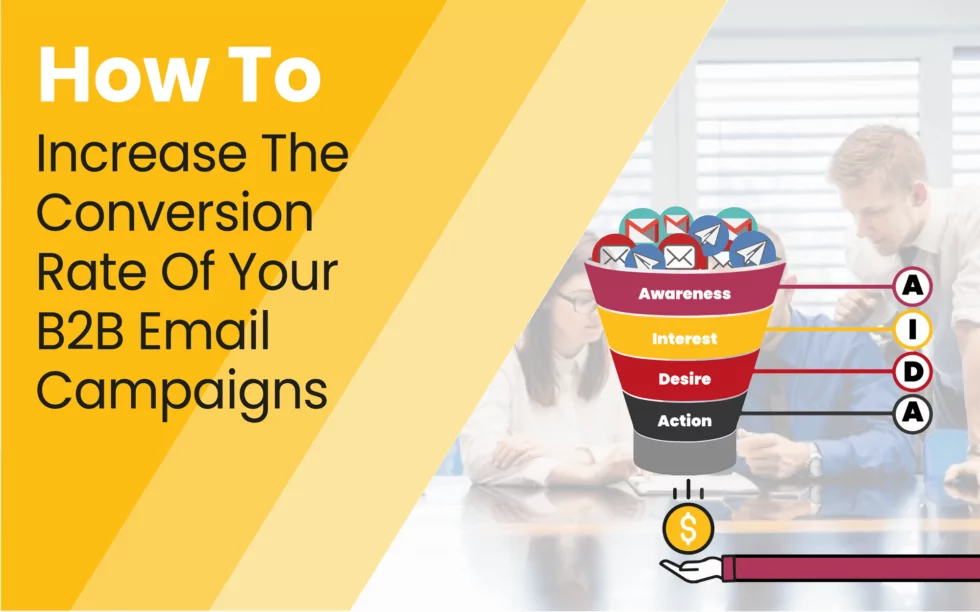 So, you are a marketer looking for B2B email marketing examples? I am sure you have browsed through many other articles and read various email campaigns that have worked. But you are still looking around for more examples that you can get inspiration from for your B2B email campaign.
This is because you haven't learned what works in those B2B email marketing campaigns and why they are used as good examples.
In this article we will cover the following topics:
Teach you the 4 important steps of B2B emails (AIDA Funnel)
Provide some B2B email examples
Deconstruct these examples to show you why they work
Email ideas for your B2B email campaign
With further adieu, let's get started with the steps that matter.
Learn how to write a B2B email: AIDA funnel
Before we give you B2B email marketing examples, it is important to understand the basics. We can give you great examples of emails, but this won't help you write your own emails. So instead of giving you a fish, we'll teach you how to cast a net with these 4 steps:
Awareness
Interest
Desire
Action
#1 Awareness
Awareness (aka attention) is the first and most important step of creating your B2B email marketing campaign. It is the first thing your customers will notice when they open your emails. In some cases it determines whether your customers will open your email or throw it straight to the trash.
It goes without saying that your subject line determines whether your email will be read. A great way to visualise this is go to the trash folder and check out the subject lines of the emails you deleted. There is a good chance that you deleted them because they were either irrelevant or that you felt that they were spammy advertisements.
If your email subject is not relevant and appealing then no matter how good your email content is, it might still end up in the trash folder.
Here are the 4 tips you can use to create your subject line and also the first paragraphs of your email:
💡 Personalise your email: A study shows 74% of customers are frustrated by seeing irrelevant content from brands. 79% won't consider an offer unless a brand crafts a message based on their previous interactions. So, customer experience really matters.
💡 Use the curiosity element: Make your target customer curious about something. So that they feel inclined to click on your email.
💡 Use offers or discounts: A study shows that 58% of customers sign-up for email list just to receive discounts or special offers.
💡 Sense of urgency: A lot of users have a fear of missing out (FOMO), and would read an email just to make sure they don't miss out of something interesting.
#2 Interest
Now that you have the attention of your target customer, you need to get them interested to read about your new product to service.
Interest is what will keep your reader hooked to your email. It is what will make them read the next paragraph and the paragraph after that. Add features that your target customer is interested in.
Here are a few elements you can use to generate interest:
👉🏻Give statistics: Use different statistics that are relevant to the content of your email. Even better, give statistics about your business that you are proud of.
👉🏻 Address the problem: List a problem that your target customers are facing. If they can relate with the problem, they are more likely to keep on reading.
👉🏻 Tell stories: inform them about your latest success story. Everyone likes good stories, so hook them up with one.
#3 Desire
At this point, your customer is already interested in what you have to sell. But it is time to make them desire what you have to offer.
This is the part where you need to show the benefits that your product or service has to offer. Show them what a day with your product would look like. Or how using your service will benefit their sales.
These are great examples of creating a feeling of desire among your customers:
🔥 Show testimonials: ask some of your happy customers to talk about the favourite parts of your product or service
🔥 Show your innovation: show them something that they haven't seen before. Something that makes your business better than your competitors.
🔥 Address the problem: show them how using your product or service is a direct solution to the problems they are facing.
🔥 Use hype/ urgency: prove them why you are worth the hype. Get them interested enough to join the hype.
#4 Action
Final step: your target customer knows about you, is interested in your product/service and wants to make a buy from you. All you have to do is show them what to do next.
Add a link to your signup page. Show them where they can find your product. Give them your contact information and let them know that they can reach out to you.
This is the step where you actually make a sale, generate a lead or add a signup.
Deconstruct some emails to show you why they are working
Next, let's look at some successful B2B email marketing examples and learn about why they work.
Example 1
Subjece: Free workshop at [[Company name]]
Hi [[First name]],
Are you offering free workshops at [[Company name]]?
Attending workshops and/or keynotes is a great way to activate your coworkers productivity, build their skills and empower the community.
Do you have a partner who facilitates such workshops/ keynotes? We would love to organize a free inspiration session about growth marketing if you are interested.
Let me know if I can give you a call about this.
Cheers,
[[Signature]]
Subject is the first thing you see in this message. Notice how it is personalised to include the target company's name. The word free also attracts attention.
This makes the reader feel curious making them think: "There is something at my company which is free? Tell me more about it!"
The receiver opens the email and reads the opening sentence, which is a question. This is a great way to start your welcome email.
Asking questions opens up the possibility of a conversation, making the conversation active. This will lead the receiver to read the next paragraph.
Here, there is an interesting fact presented which would benefit the reader's business. This makes him curious to find out more about the workshop.
Lastly, there is a call to action at the end of the email. There are two parts to it. The first one is asking for help, to know if the reader has a partner who can facilitate workshops or keynotes.
The second part of the call to action is showing interest in doing business with them and having a chat about it. Who doesn't want to talk about their business and seize an opportunity of possible sales in the future.
Notice the ending sentence, it does not say "call us", but instead says "let me know if I can give you a call". Most executives are very busy and they would not bother calling someone else from a cold email. But here it is more like: he's going to call me, no harm in that.
Key Learning from this example:
👉🏻 Show interest
👉🏻 Provide benefit to them
👉🏻 Open up a conversation
👉🏻 Keep it short and to the point
👉🏻 Initiate the action instead of asking them to do something
👉🏻 Don't push the sales of your products or services in the first conversation
Example 2
Here is another b2b email marketing example:
Hi [[First name]],
I am contacting you since you are listed as the contact person for [[Customer company name]]. Is this correct?
[[Your company name]] is [[Introduce what your company is up to]]. We [[Show how you benefit other businesses, personalise it to the company receiving it]]. We do this by [[Explain the process you use to help other businesses]]. We have worked with [[List the customers you are most proud of]].
We would like to organise a free inspiration session about [[Topic]] for companies who are a part of [[Customer company name]].
During this 1-hour power inspiration session, we would like to [[In detail explain the benefit to the customer]]
If your schedule permits, I would love to talk to you about this.
I look forward to hearing from you!
Regards,
[[Signature]]
This B2B email is from a marketing campaign similar to the first example with a different approach. Let's find out why this approach also works.
The opening sentence immediately provides the context of the email. Showing context is a great way of engaging and getting the attention of the reader. It makes them know that you are contacting them with purpose. "Is it correct" is trying to confirm the context, great for opening a conversation using email.
The second paragraph is where you can generate interest about your business. This is where you try to impress the reader. Show them the cool projects you are working on, tell them about your biggest customers.
In the third paragraph the word free is made bold to make the reader notice it. Everyone loves free stuff. Getting something for free from an impressive company, that too which benefits them greatly is like icing on the cake.
Finally, the email ends with a clear call to action. Here the action for the reader is to reply to the email. This is again creating a conversation and not a one way communication to push sales.
Key learnings from this example:
👉🏻 Impress your customer
👉🏻 Offer them benefit
👉🏻 Give context to engage in a conversation
👉🏻 Open up a conversation
👉🏻 Highlight the benefit to the customer
👉🏻 Show credibility
The B2B email marketing examples above were great for personalisation. The receivers know that those mails are not sent by bots, but actual humans (They were automated, though 🤫).
They are great examples of B2B marketing campaigns that don't make the receivers feel like they were forced to buy a product or service. Such emails are great for building long term loyal customers. The upcoming B2B email marketing examples are great examples of using more visual.
Example 3:
A B2B email marketing example that uses great visuals:
The first thing that the viewer would notice is the rocket cutting the edges of a traditional business card. This is a great attention grabber.
Visually noticing the difference between a traditional and a MOO business card is an amazing way to make the viewer interested.
The sentence below the gif is great for creating a sense of desire for the viewer. Who doesn't want their business to stand out with their business card?
There is also a pronounced button that the viewer can click to try the design for themselves. This is a great way of taking the viewers to your website, where you can surprise them with great out of the box designs.
They could have added the name of the viewer and the company logo they were sending the emails to. Doing this would make the email more personal and better engaging.
Key learnings from this example:
👉🏻 Use visuals to get attention
👉🏻 Think out of the box with your approach
👉🏻 Let your product speak for itself
👉🏻 Keep it simple and sweet
Example 4
Another B2B email marketing example with good visuals:
The blue background with large text of what the email is aiming for is good for grabbing attention.
They do a great job of interesting the viewers by showing them the key features their company offers. These features are listed with symbols next to them. Great for visualising.
The desired element in this email is the extending trial. This tells them that they enrolled for some free trial, and that they can extend it. Again, who doesn't want free extension?
Also notice that their action is repeated many times. It is a psychological trick. If you see the same action multiple times at different locations, you are more likely to click on it.
Key learnings from this example:
👉🏻 Make sure your key features (value proposition) are visible
👉🏻 The CTAs should be clear
👉🏻 Show the benefits your customers will get
These are not the examples you are looking for? Schedule a FREE call with our B2B email marketing experts to get recommendations specific to your business!
Self-deconstruction
You should now have an idea of what to look for in B2B email marketing examples. Here are a few more B2B email marketing examples that you can go through for inspiration.
Example 5
This example by Litmus shows the viewers the code behind the emails. It encourages them to analyse their own emails to optimise them. The call to action here is very clear. It generates interest for the readers and also incentivises them to refer their service to others to get free 1 year membership.
Example 6
This is a good example of a welcome email. It tells the viewers about the beneficial features of Asana. Further, it encourages the viewers to try it out for themselves. If they are stuck somewhere, Asana team is there to help them.
Example 7
Here's another wonderful B2B email marketing example from Asana
This email directly addresses the problem. It shows the viewers that Asana team is there to help their business goals. They also create the first task for the readers. Making it rewarding for the viewers to use their service.
Example 8
Another great welcome email. This one goes straight to the point without any unnecessary talks. It also presents a great ice breaker to inform the viewers of the features of their business.
Example 9
Again a straight to the point example. This email lists a few ideas already to inspire the readers to get started. The call to actions are also very clear. Notice how they add the link to download their app as well as their social media accounts.
Example 10
This email by Mint boasts the new design of their app. It shows screenshots of the app. Makes it easy for the readers to visualise how easy to use and intuitive their design is. A feedback form on the bottom shows that they care about their customer feedback.
Example 11
An example where your work speaks for itself. In this example, MailChimp presents one of their beautiful email templates that their customer can use to create their own emails. The value proposition is also clear: spend less time on creating emails and make time look good.
Example 12
This email by Adobe is inviting their potential customers to a conference. Where they demonstrate the cool work created using adobe softwares. This is a good example of getting readers excited about a summit and indirectly marketing their product.
Additional B2B email marketing ideas
It might be possible that you are very inspired about sending your own B2B email marketing campaigns. But you don't know how you can use email to generate more business.
In this section, we will give you a few B2B email marketing ideas that you can use for your business:
Launch new product
You can use email to introduce your target customers about your new products or services. In this mail, you can use visuals to show how your product or service would benefit the receiver.
You can also send email about any new updates that your products or service have. Inform your customers how they can benefit from these changes. Provide them with clear actions that they can take through the email.
In the email, you can add the link to your web-shop, where they can make the purchases. You can also offer discount codes. This will encourage your customers to purchase using email.
Notify about trial expirations
You can use a B2B email campaigns to inform your customers about their trial expiration. This will help remind them of your business. A great call to action for such an email would be to show your core values and benefits you offer to your customers.
Remind them how they can use your products or services to grow their business.
Case study emails
Sending case study emails are a nice way to show your customers the benefits of using your product. A case study is a great proof of the benefits of your product.
Share your content
An email is a great place to invite your customers to read your blog posts. Blog posts are good representatives of your content on the internet. A blog post can help your customers identify your business offerings and your expertise.
Welcome new customers
You can send a nice welcome email you all of your new customers. In this email, you can also include the most popular features of business and also the value proposition. Use this email to let your customers that you are there to help them get started.
If you have multiple products or services, inform your customers about other products your business offers.
Ask for referrals
You can send an email to your existing customers to ask for referrals. You can incentivise them to refer your business to other businesses that could benefit from you offerings.
A good practice is to offer discount codes if they recommend your offerings to someone else. This is great to build loyal customers. Loyal customers are great for bringing more business.
Event email
If you host an event, webinar or workshop, then it is a very good idea to invite all your customers. You can also invite your potential customers.
Events are always great to show your audience how fun your company is. If you co-host the event with another business serving similar clientele, it would mean that you are reaching new customers.
You should now have a few solid B2B email marketing ideas that you can use for your business.
Conclusion
To end this article, let's go through all the learnings. In order to write a B2B email campaign, you need to make sure that you:
Grab the attention of the reader
Get them interested in reading the email
Make them desire your product/service
Show them what actions they should take
I am sure you might also have received numerous B2B email marketing campaigns, some good, and others in the trash. Adapt the good parts and avoid the non interesting parts.
We are a growth marketing company and we help businesses automate their lead generation processes. We can write, automate and manage your emailing campaigns.
How We Generated 700+ Leads on LinkedIn With Zero Budget » Upthrust (wpengine.com)
How To Write A Blog Post Fast (And Good) – 15 actionable tiHow To Write A Blog Post Fast (And Good) – 15 actionable tips » Upthrust (wpengine.com)
Brand storytelling: How to sell more with the proven 7-step frameworBrand storytelling: How to sell more with the proven 7-step framework. » Upthrust (wpengine.com)
Ready to make a Real change? Let's build your business together!