3 Marketing Articles and One Big Surprise – Growth Snacks Vol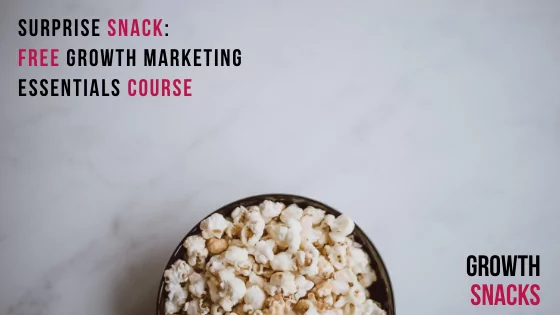 This week on Growth Snacks
Surprise first: Free Growth Marketing Essentials Course
If you're curious about whether growth marketing is something for your business or career, this is your ticket.
We created a free growth marketing essentials course to help you to make the right decision. We have nothing to sell you.
This 90+ minute video course is designed to educate you about growth marketing. You can learn everything below instead of watching Netflix tonight:
What growth marketing can do for your company.
How to think like a growth marketer.
Pirate funnel with inspirational campaigns from us and results.
Customer value proposition and buyers persona design
Ten quick wins you can implement tomorrow to start your growth
This course is also designed to prove the power of growth marketing. You'll have actionable strategies and even get your first results in a few days.
You'll all see it by yourself.
Click the link and start upskilling yourself.
See you in the class!
Your Linkedin is your sales channel. And this article shows you how to design your conversion funnel with advanced strategies.
It's an in-depth guide and you'll see some strategies you've never seen before. But fear not, every step is guided with images and examples. Get your profile ready for lead generation here.
Bootstrapping To $25k MRR – The VEED Story
Every bootstrap story is full of actionable growth hacks and VEED's story confirms what I have just said. So take a seat, grab your favorite drink and enjoy the read.
BLUF: The Military Standard That Can Make Your Writing More Powerful
In World War II, messengers had no time to babble with less important things. Information was a matter of death and life.
So they needed to deliver their core message as short as possible. And this article shows you how to implement this strategy in your work life.
We're out of snacks for this week.
If you enjoy this reads, please share it with your darlings. And let me know what you think in the comments.
Give and take, have a lovely day!
Ready to make a Real change? Let's build your business together!