Why Drupal 9?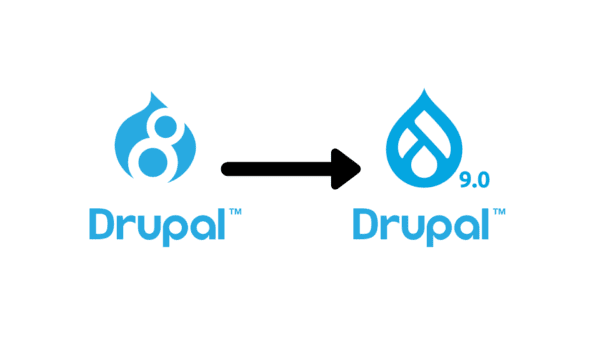 With over a million users, Drupal is one of the most widely used free content management systems (CMS) in the world. Companies all around the globe use the software to maintain and develop the backend of their websites and manage their content posting.
Drupal has been a staple since 2001. While many other CMS software programs out there seem to make things difficult or have a steep learning curve, Drupal is a simple, free, open source software that anyone can use.
Recently, Drupal announced it's update from Drupal 8 to Drupal 9, so let's explore why your company should update. And if you need a little help, we'll steer you in the right direction too!
What is Drupal 9?
Drupal 9 is the newest version of the open source Drupal CMS. It was released at the same time as Drupal 8.9 and is described by Drupal as "a cleaned up version of Drupal 8."
Drupal 9 Release date
Drupal released Drupal 9 on June 3, 2020 and Drupal 9.1 was released on December 2, 2020.
Is Drupal 9 stable?
Drupal 9 is completely stable and features the removal of a lot of depreciated code from Drupal 8. Drupal continues to release updates of the software to keep things running smoothly and is up to Drupal 9.1.8 as of May 5, 2021.
What are the Drupal 9 New Features?
Drupal 9 has some new key features that will make it even more accessible to users without technical backgrounds. Here are some features that highlight that accessibility and user-friendliness.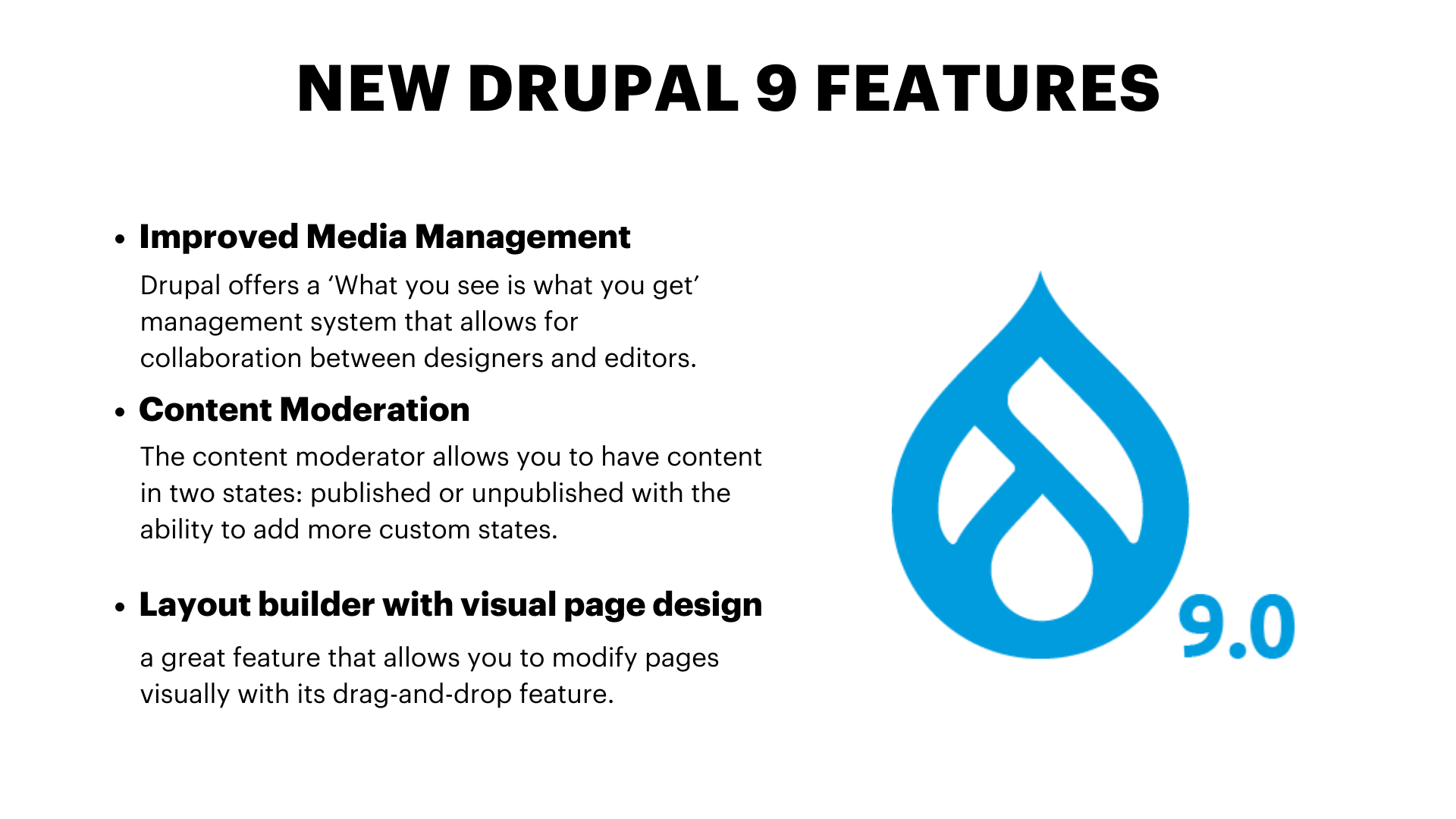 Improved Media Management
Drupal offers a 'What you see is what you get' management system that allows for collaboration between designers and editors. In the Drupal 9 media module, you can switch between table and grid views to help customize your media libraries.
Content Moderation
The content moderator allows you to have content in two states: published or unpublished with the ability to add more custom states. With the new Moderated Content feature, users are able to assign roles and permissions to the various states which can speed up your content process and match your editorial process.
Layout builder with visual page design
Though the layout builder is an optional mode, it's a great feature that allows you to modify pages visually with its drag-and-drop feature. This makes the software even more accessible to non-tech savvy users.
Drupal 9 Themes
Another improvement with Drupal 9 and 9.1 is in the available themes. The new Claro and Olivero themes give users a clean UI that allows you to create clean, accessible pages that are both user-friendly and visually appealing.
Drupal 8 vs Drupal 9 & Drupal 9 Changes
As stated by Drupal, the biggest difference or change between Drupal 8 and Drupal 9 is the removal of deprecated code. Drupal 9 is faster and sets your company up for future updates.
Why upgrade to drupal 9?
Drupal 8 support ends on November 2, 2021 which means you have a limited amount of security support for the rest of the year. It's a no-brainer to not risk your cybersecurity over a simple upgrade.
Also, many third-party applications and plugins will start to migrate over to Drupal 9 which will make support on their side either difficult or impossible due to the newer versions.
Drupal 9 Migration
If you're not on Drupal and are looking to migrate, there are some key steps to take before switching over: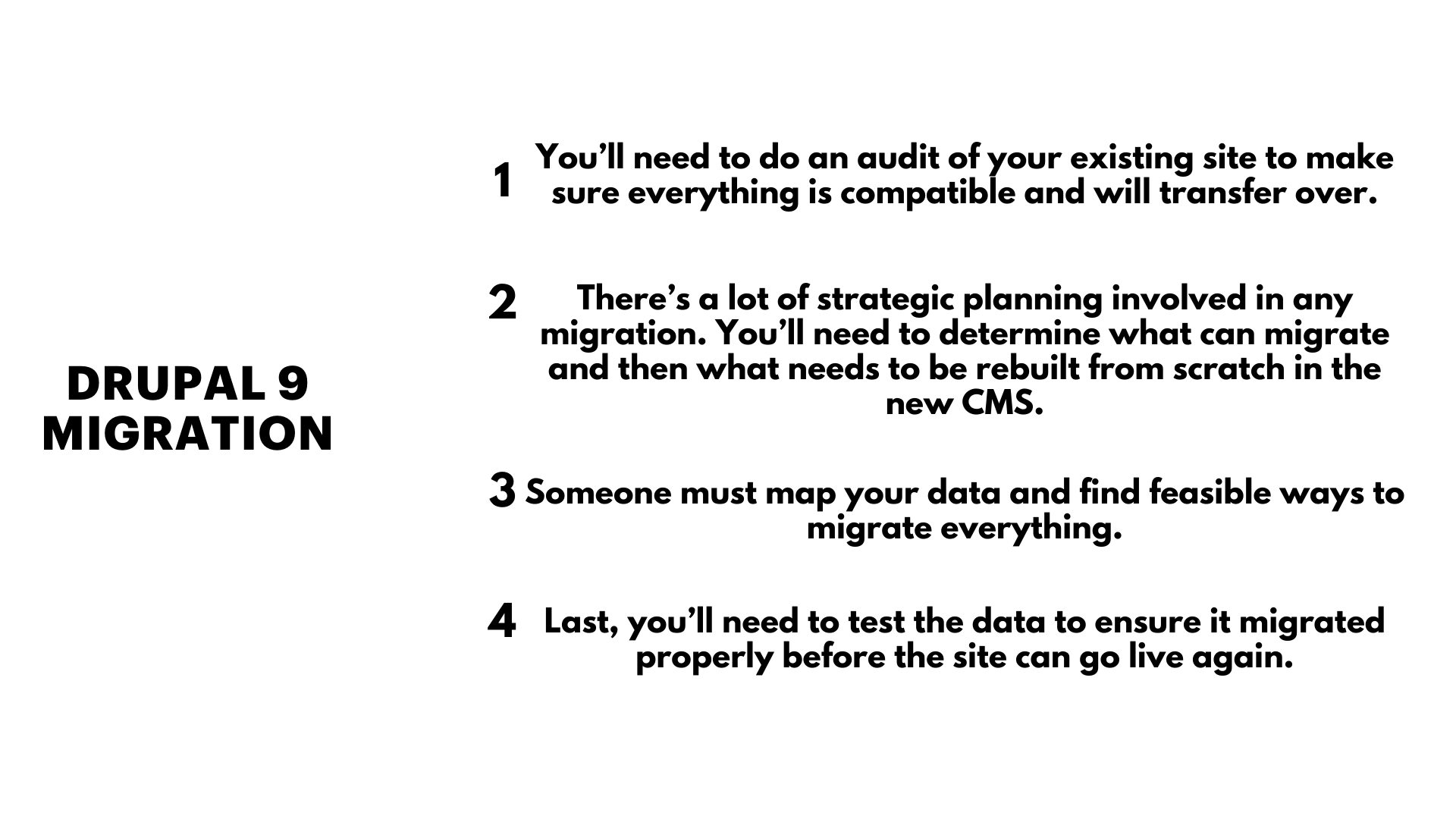 You'll need to do an audit of your existing site to make sure everything is compatible and will transfer over.
There's a lot of strategic planning involved in any migration. You'll need to determine what can migrate and then what needs to be rebuilt from scratch in the new CMS.
Someone must map your data and find feasible ways to migrate everything.
Last, you'll need to test the data to ensure it migrated properly before the site can go live again.
Upthrust Digital Studio for Migration or Upgrade
We created a entirely free Drupal 9 E-guide where we summed up all the reasons why you should start upgrading to Drupal 9 right away. Get your free copy HERE!
If your company needs to upgrade or migrate to Drupal 9 and require an expert to complete the steps above, don't take a chance with your site and data. We're experts in Drupal and can ensure a smooth transition to the newest version.
Support for Drupal 8 stops at the end of the year, so don't wait, get in touch with us now! Plan a FREE strategic session HERE!