Why is conversion rate optimization important? A-Z guide to CRO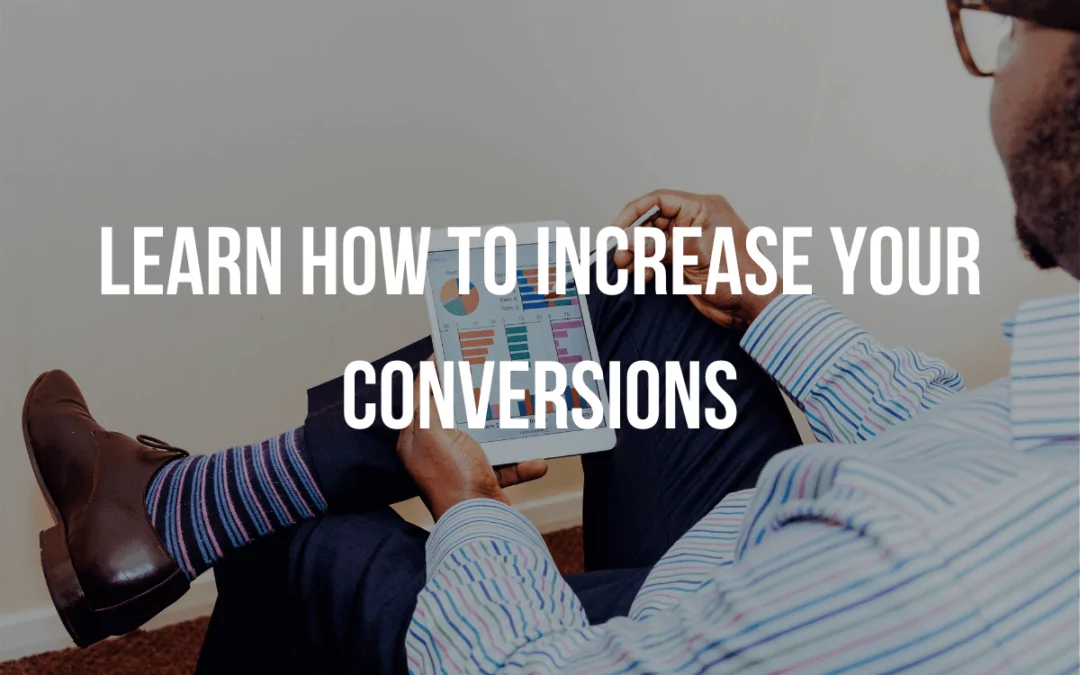 84% of landing pages have navigation bars. But studies show that removing navigation can boost conversion rate by up to 100%.
Surprising but reasonable:
By removing the navigation bar, you remove all the clickable actions on the page.
Now your visitors have one focus: the call to action button on the page. And they're more likely to click that button.
As you see, people make decisions based on reasons.
They buy things, leave their items in the shopping cart, click the download button or leave your site without touching anything, all for a reason.
Once you understand the reasons, you can affect the results and you will be able to:
Make decisions based on your visitors' data and behavior.
According to that data, you can do experiments to increase your conversion rate.
Eventually, you can make more money without spending any money. Because all you need to do is optimize your website for current visitors.
This is why conversion rate optimization is seen as the most critical activity by top marketers. And with this A-Z guide, you'll learn everything you need to start this evening.
Onwards.
What is conversion rate optimization?
Conversion rate optimization (CRO) is the process of increasing the percentage of website visitors who complete the desired action.
In other words, conversion rate optimization is making a website or page that is designed to sell. But this design doesn't have aesthetic concerns, it is based on your customer needs and opinions.
CRO takes out the guesswork and eliminates the HiPPO (Highest Paid Person's Opinion) driven decisions. It allows you to make decisions that are based on data.
There are two kinds of conversion types in conversion rate optimization.
Micro conversions
Aka secondary goals are lower-level commitments such as a newsletter subscription, eBook download or page views of specific pages and so on.
Macro conversions
In other words, your primary goals include checkout, sales call or member sign up(for freemium software or social media platform) and so on.
It seems like macro conversions are the primary goal of CRO. But micro conversions are like the first few dates between you and your customers.
On these dates, you'll get to know each other and eventually determine the next steps of your relationship.
The goal of CRO is to track and increase micro and macro conversions.
How do you calculate your conversion rate?
The conversion rate is a ratio that tells you what percentage of visitors to your website has been converted.
Here is the formula:
Let's say you have an eCommerce store called ShoeDog that sells (obviously) shoes. You had 300,000 visitors last month, and 30,000 of your visitors bought a product from you.
30,000/300,000*100 = 10. Then your conversion rate would be 10%.
The three main benefits of conversion rate optimization
Many business owners and marketers don't appreciate the power of CRO. But it the most important marketing activity that every business should apply.
You'll see why in three steps:
Benefit #1: You get customers for free
CRO increases the conversions from the traffic you already get to your website. You don't have to spend more money on advertising to increase your conversion rates.
Let's see how it will impact ShoeDog. The price of a shoe on average is $100, and after the first CRO analysis, ShoeDog came up with the idea that increased the conversion rate by 5%.
This means 15,000 more people bought a shoe and ShoeDog produced gross revenue of $150,000.
It's the free money on the table that you can generate from the same amount of traffic. In other words, your marketing budget won't change, and you'll get more customers. So your customer acquisition cost (CAC) will decrease.
Benefit #2: Increases the profit
Profit=Revenue-Costs
When your conversion rate increases, all your costs don't increase.
Your advertising and fixed costs will remain the same.
Image source: Making Websites Win
ShoeDog made extra $150,000 gross profit and now you'll deduct the variable costs such as
Cost of extra units.
Cost of additional workers.
Cost of more customer support people.
Cost of extra distribution.
And the rest of the money is yours to grow your business, which leads us to the third benefit.
Benefit #3: Increases your traffic and helps you to beat the competition.
Out of nowhere, ShoeDog made $100,000. And now you know you can invest this money in advertising channels.
Once you start to invest and continue to apply new CRO strategies to your site, you'll create a growth loop. Eventually, you'll get more traffic, conversion and more profit.
Adopting CRO often brings a breakthrough to startups and SMEs and transforms them into big companies. This transformation can also help you kill the competition in the advertising space.
As you gain more profit, you'll have a chance to outbid and outgrow your competitors.
But don't forget the other side of the coin. If your competitors start CRO before you do, you could be the loser in the story.
Now, these are the last words of the theory class. But before we move on to the action-packed scenes, I want you to take a look at that mini conversion rate optimization dictionary below.
This will help you to read more efficiently and remove "Hmm, what was that?" from your reading process.
📘 Conversion rate optimization dictionary
Call to action (CTA): a button or signal that tells visitors to take the desired action.
Click-through rate (CTR): a rate that measures how often users click a link compared to how many impressions the link has.
Bounce rate: a metric that shows how many users leave your site without interacting.
Conversion funnel: a series of steps that a person takes to complete your primary goal.
Social proof: evidence that a product or service is popular with a large number of people.
Usability testing: a method of evaluating a website readiness before release by testing it with real users.
Above the fold: the top portion of a webpage that is visible without users having to scroll.
Below the fold: the portion that is not immediately visible when the page loads.
Analytics: quantitative tools for measuring visitors' behavior.
Heatmap: a qualitative report that shows where people click on a page.
Now to the most famous term of conversion rate optimization. We'll talk about A/B testing separately because it deserves special attention in the CRO world.
What is A/B testing?
Imagine you have two headlines for your new landing page. Half of the team members think headline A will perform better and the other half thinks B is more powerful.
In this situation, you could run an A/B testing to see which headline works best.
With A/B testing tools, you can create two (or more) versions of a page to show your visit and test what works best.
At the end of the test, you can measure the conversion rates and see which headline brings the best results. Then you can comfortably double down your marketing efforts with the winner version.
The example was about headlines. But you can change and run different versions of any element in your page to what performs best.
Here are some of the elements:
Headline
Subheadings
Copy
Call to action
Page length
Images
Video / Images / Text
Or you can add an element that doesn't normally exist.
And the list goes on.
It might sound like you'll do heavy coding and mess around with technical stuff. But not at all.
There are a variety of drag and drop tools that are super easy to use and don't require a single line of coding.
🛠️Here is the list of our favorite tools
💡 Additional material to increase your conversion rates.
You can check our 14 point landing page checklist to learn more about the strategies we use to increase our conversions.
Also, you can read this value proposition guide to how to write a great one. We made it easy with templates and canvasses.
The three main benefits of A/B testing
#1 You'll learn more about your target audience
This is what most marketers are trying to achieve by filling persona sheets. But let's face it, these buyer personas are a product of market research and gut-feeling.
But A/B testing supports everything with proof. It's a great opportunity to validate your personas or reiterate them.
You can reflect your learnings to improve your content, sales, marketing or any part of your company, from sales presentations to social media presence.
#2 You'll avoid making mistakes
You might feel like you don't need conversion rate optimization when something is already converting well. But when you do your next campaign, you might unintentionally remove the parts that are working.
However, when you do CRO, you'll know what you're doing and can iterate what's already working and increase your conversions.
#3 You'll be less stressed, thanks to data-driven approach (the best benefit)
Months of labor went into your new campaign or launch idea. Are you ready to pull the trigger?
Whether you're the business owner or marketing manager, this responsibility could put a lot of weight on your shoulders. And you don't have to make this hard decision alone.
Because you can test it first, run A/B or usability testing first before you take the big leap. It can reduce the risk and tension at the same time.
How to understand your visitors' behavior: qualitative and quantitative research
To fix a problem, you need to find a problem. That's why everything starts with deep-dive CRO research, so you can create a hypothesis and run experiments to increase efficiency.
In this section, you'll wear your analyst glasses and learn how to investigate to come up with a meaningful conversion-rate optimization strategy.
Where to start?
There are two types of research methods and they're equally important. They exist because of each other.
Quantitative and Qualitative
Quantitative research can tell you "where the problem is" meanwhile, qualitative research can tell you "what the problem is."
Quantitative research
(what?) Data is information about quantities, It is expressed in numbers and graphs. Therefore it is measurable and used to test or confirm theories and assumptions.
🛠️The most effective CRO tools that you can use for qualitative analysis:
Google Analytics: helps you measure everything that happens on your site and gives you insights to improve your campaigns. This is the most important tool in your toolbox. And it's free.
KISSmetrics: connects all data to one person by providing an overview of the entire customer journey. Google Analytics tells you what's happening. KISSmetrics tell you who's doing it.
Adobe Analytics: helps you create a holistic view of your business by turning all customer interactions, including offline data, into actionable insights to increase your conversion rate.
Qualitative research
(why?) Data is descriptive. This data can be observed and measured (but it's not about hard numbers). In the CRO world, it's more about behaviors.
🛠️The most effective CRO tools that you can use for qualitative analysis
Now an example:
Your Google analytics can tell you that visitors have a high exit rate on your pricing page. – Quantitative
Your session recording tool can show you how visitors behave on the pricing page and can help you to understand the reason. – Qualitative.
As you see, two methods are assisting each other to find and fix problems. Quantitative research brings up the major issues in the bigger picture.
Then qualitative goes deeper into the source by observing the behaviors of your visitors.
Now we'll give you real-life examples to make it more vivid. So you can see how little changes can make vast differences.
Four examples of conversion rate optimization
We picked these case studies from different industries and business models. These four examples will give you some ideas on how to increase your conversion rate.
#1 An image of a person that increases sign-ups by 102%
In most cases, a human element can increase engagement and conversions. Because we tend to reflect the feelings when we see an image or video.
So if we see a happy person, it could evoke happiness and trust in us. It happens in seconds and automatically.
Here 37Signals(Now it's Basecamp) tried different landing pages but didn't get the results they wanted. Eventually, they decided to show a smiling picture of a woman to make the page warmer and inviting.
And they increased their conversion by 102.5%.
Now that's a radical change from a crowded page to another format. And 102.5% is an outstanding result, but should you stop testing?
Well, they didn't. They tested the page with different people and smiles. You see, there is always a room for improvement in CRO.
#2 A proactive live chat that increases conversions by 211%.
Intuit is accounting software and the name of their product is QuickBooks.
Customers were upgrading the product after the initial buy. After research, they found that the buyers were frustrated because they realized the product they bought didn't match their needs.
This was affecting both customer happiness and sales. So they made some changes in the product sales funnel.
"Review the order" and "Product Comparison Pages" had the highest purchase intent, so they decided to implement a live chat to help their prospects.
And this new strategy brought a game-changer 211% increase in conversions.
#3 A little detail that brought 15% more conversions to an eCommerce brand.
Now, this one isn't as flashy as a 100% or 200% increase in conversion. But this example will open your eyes to other possibilities and show you the process of CRO.
After analytics check-up, CRO experts say that a specific product page had lower conversions rates than other product pages.
So after this quantitative finding, they implemented some heatmaps, sessions recording tools to the page. And they realized that users gave up in the size chart section.
Then they saw a roadblock; the size chart was the US only. After they added EU sizes, the conversions increased 15% more.
#4 A fictional story that shows the importance of micro conversions.
People like to see big numbers to understand the importance of CRO. So it's hard to find a study case about micro-conversions.
So we'll improvise here to show why micro conversions are as crucial as their macro relatives.
Let's say you're selling a B2B service. And let's face it, it's harder to sell than B2C, eCommerce or SaaS products.
You need to show your expertise, prove that you know the job, and show that you worked with big brands who were happy with you.
So it could be a long nurture journey. We know it because that's what we're doing with every piece of content we publish.
BUT. he last detailed case study we published, we saw the page had a 70% bounce rate.
Well, It's not just a piece of content, it can take weeks to create one quality piece. It's an investment.
Inside that content we have:
Social proof
Trust signals
eBook download pop-up related to that subject.
Schedule a call, call to action in between lines.
CTA for newsletter sign-up
It's part of our sales funnel. If we can understand why the bounce rate is high and fix it, we can nurture our prospects then open the floodgates for macro conversions.
The solution
CRO Experts visited the page and saw it took 3 seconds to open it. Then they found out the page had too many high-res images (the image size should be under 300kb). After they reduced the sizes of images, the bounce rate dropped to 10%.
I believe all the pieces you saw started to come together with these examples. Now, you have some ideas about where to look and how to approach problems.
To lay what you learned into a strong foundation and consolidate every piece, we'll share the 6-step framework we follow.
But before you apply the framework, you should know the difference between tactical and strategical CRO.
Differences between tactical and strategical Conversion rate optimization
Here are the main differentiators between the two methods.
Tactical CRO focuses on the solution by asking "What happens if I do this?"
Strategical CRO focuses on the problem by asking, "How do we do it?"
Tactical CRO is using best practices, shortcuts and competitors' research for short-term wins.
Strategical CRO uses data and insight (including past experiments) to create long-term wins.
So you can say, strategical CRO requires profound research and requires more time than tactical CRO.
You can try doing tactical CRO by yourself and still can get good results. (We'll share our five best practice at the end of this book). But keep in mind, these are best practices and they don't work for every company.
But for strategical CRO, you could be a one-person orchestra. Or you could hire an orchestra.
Because it deserves special attention and a dedicated team. Here are the required people and skills needed:
Conversion rate optimization manager: in charge of creating an end-to-end plan.
Data analyst: uses the right tools to analyze the data and behavior of your visitors.
Web graphic designer: designs the page based on insights gathered.
Copywriter: writes customer-centric copy that could increase your conversion rate.
Web developer: runs A/B tests and makes campaigns more efficient by using optimized code.
Now, let's check out the conversion rate optimization process step by step.
6-step systematic CRO framework to increase your conversion rates.
#1 Identify your potential customer
You can't sell if you don't know who you are selling to.

You need to know how they talk, so you can speak their language.
You need to know what they like, so you can design your page according to things they like.
You need to know what they don't like, so you can avoid doing the things they don't like.
You get the idea.
The more information you have about your customers, the better conversions you can get.
#2 Do your research and analyze your data.
You already know. The research is the beginning of everything. You also know the quantitative and qualitative CRO tools that you can use.
As you gather more data, you'll start to see similarities and patterns. For example, if 70% of your visitors transformed into customers after visiting your pricing page, voila.
#3 Identify high-opportunity areas.
Thanks to research, you know where to focus now. It's a pricing page.
But seeing this as a page would be not strategic. That's why you need to label your funnel as landing → browsing → consideration → purchase.
This order is not untouchable.
You can change it, create new funnels and so on. Remember the live-chat example that brought 211% conversion? It was successful because they managed to identify the opportunities.
#4 Determine the goal/metric of your campaign.
Increasing sales is the end goal. That is what most businesses want to achieve with CRO.
But what if you want to increase more profound things, like loyalty or lifetime value?
What if you need to increase micro-conversions first? The table below can help you determine your campaign goal.
#5 Create your hypothesis
Remember, CRO is a scientific approach.
A hypothesis is a three-part statement that will help you test your idea in a specific timeline. Here is an example of a hypothesis:
I believe changing the background image and using a real person on the landing page will result in 20% more downloads because it evokes trust in the visitors.
Here are those three parts:
A specific change based on the insights you gather from your research.
That will have an effect and improve the conversion metric by X value.
Because of the rationale that you believe will cause the desired result.
So the schema is "I believe________ will result in_______ because of.
Doing that will bring you a systematic process in all your campaigns.
#6 Run A/B tests
You already know why it is important to run A/B tests. But from a strategical point of view, here, you'll do it to validate your hypothesis.
If it's false, you'll try to understand what went wrong and came up with a new hypothesis.
If it's true? Run A/B tests again.
You saw it recently, even changing the picture of a person with another person brought more than a 4% conversion rate. You can optimize your page until you're happy with your conversion rate.
Now, we'll give you the five best practices that you can apply this evening to increase your conversion rate.
The five best CRO practices that can give you results right away.
You might be a tech-savvy person. Or you might get nervous when the thought of learning a new thing hits you. Both are fine.
Because these 5 CRO practices are foolproof strategies. If you can make a video call on your mobile phone, you can apply them in minutes; they're that easy.
#1 Set up an Exit intent
It happened to you hundreds of times. You wanted to leave the site and dragged your cursor to X and you saw a POP-UP that says
"Hold on, I have one last offer for you."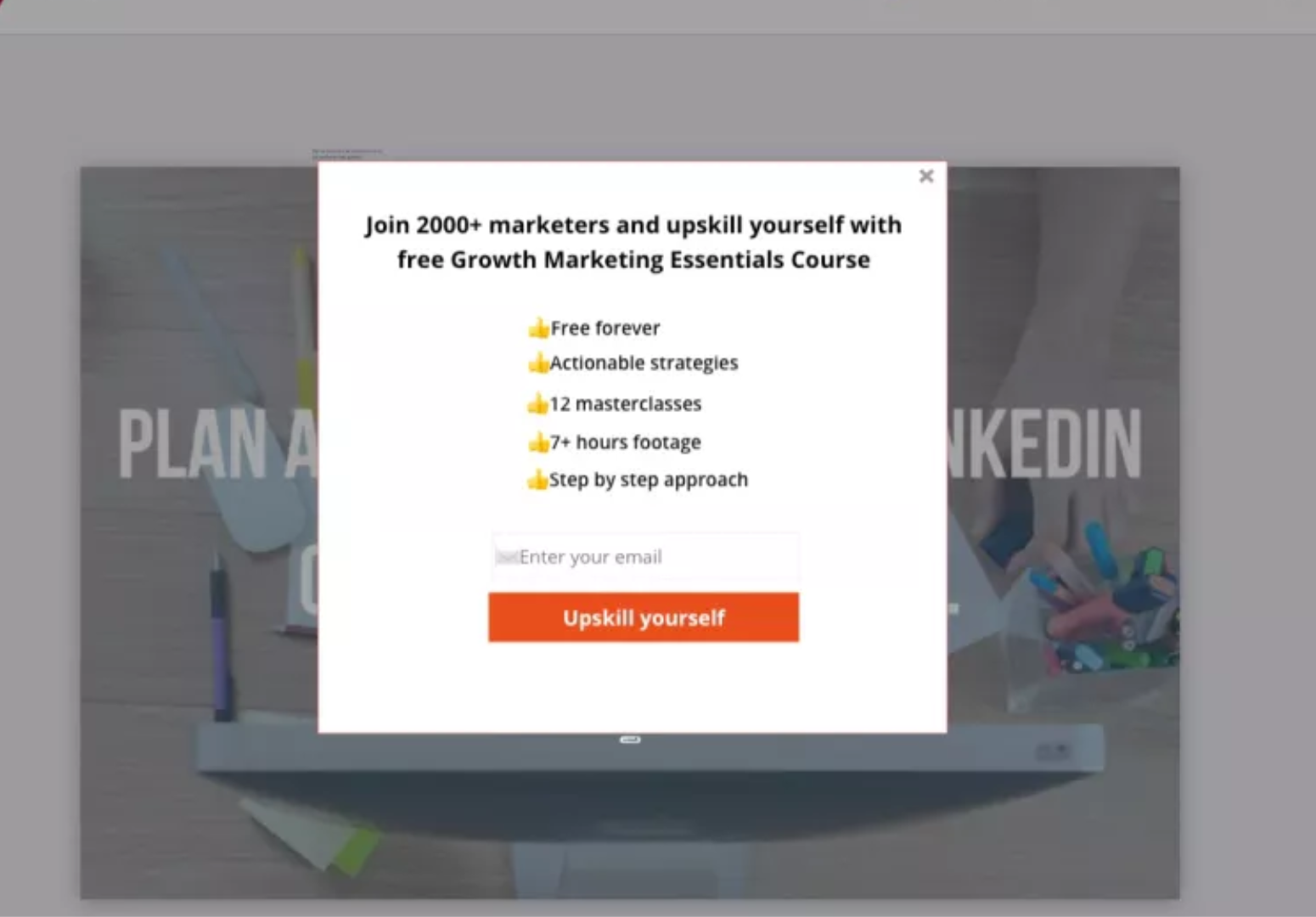 This is an exit intent. It's one of the best tactical CRO practices because it gives you a chance to transform a loss to win.
Here are three exit-intent tools you can use to set your CRO campaign in minutes:
Just follow the instructions. All of them are drag & drop and already come with tens of templates.
#2 Set up a heatmap
Do you have an existing campaign? Set up Hotjar.
Do you have a landing pages? Set up Hotjar.
The "About me page is the second most visited page on your site. Definitely set up Hotjar.
Hotjar is free up until 1.000 visitors to a specific page. And it is more than enough to give you meaningful insights about how people behave on your website.
You can also have lots of session recordings in the free version.
#3 Place pop-ups in your blog posts.
This is another free and simple way to increase your conversions. You can set up smart pop-ups that pop when a visitor scrolled x% of a page.
Tip: make sure your offers match with the content. For example, we offer a free LinkedIn eBook in all our LinkedIn marketing articles.
You'll do fine with the same three tools here:
#4 Increase your conversion rate by showing social proof
People trust other people. They're more likely to buy a product that is already bought by thousands.
That's why many booking sites show you "40 more people are looking at this room".
Or online courses show "3000 people bought this course" or even "James Brown from San Francisco bought the course now."
The best tools to use here are:
#5 Implement a Chatbot
Chatbots are everywhere. And they're everywhere because they can increase conversions, customer happiness and many more things.
They could be your 24/7 customer support or help people to find what they're looking for. Or if you can build a sharp one, it could help you to sell.
Chatbots are surprisingly easy to set up. All you need to do is write some copy on chat bubbles and put them in the right order. The two chatbot tools we love to use are:
Why starting with CRO could be a game-changer for your business.
I hope you enjoyed the read and learned new things. And I also hope these things can help you to make the right decisions about your business.
We keep CRO apart from other marketing activities. Because
It's not connected to creativity
It's not about spending more money
It's not gut-driven.
It's not a hack.
It's a science of getting the most conversions from what you currently have.
Like we mentioned in three benefits of CRO before, once you increase your conversion, the rest will follow. It'll open the floodgates of customers and new opportunities.
Like you, we're doing business to make our customers happy. We won't try to convince you to buy something you don't need.
Cheers,
Published with StoryChief
Ready to make a Real change? Let's build your business together!