Top 10 AI Copywriting Tools to Leverage Your Content Creation: Updated list for 2023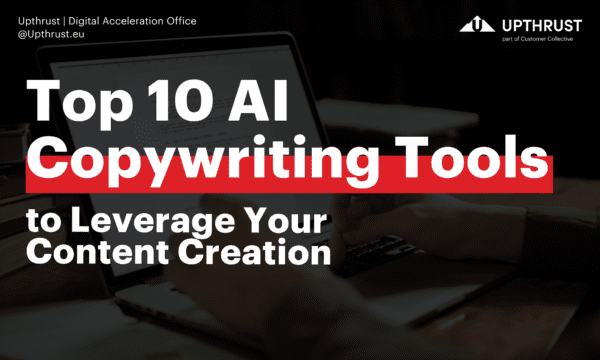 We can say that the landscape of AI copywriting has evolved remarkably. In this updated list, we're showcasing the cream of the crop in AI copywriting tools that not only elevate efficiency but also craft high-quality, compelling content. Dive into our top 10 favorites (mostly free) picks for this year:
#1 ChatGPT
ChatGPT is undeniably a prime example of the best AI copywriting tools available today. Positioned as a leading AI copywriting software, it has firmly established itself as the go-to resource for crafting persuasive ad copy and creating engaging social media posts that captivate audiences. Whether you're in the business of drafting SEO-friendly blog posts to elevate your online presence or seeking an abundance of fresh content ideas to invigorate your marketing strategy, ChatGPT consistently delivers.
Distinguished by its advanced language understanding capabilities, ChatGPT goes far beyond the scope of typical AI writing tools. It doesn't just generate content; it opens the door to automated customer service responses, ensuring swift and efficient interactions with your audience. Moreover, it offers valuable insights into content quality, aiding content marketers in refining their strategies and producing top-notch material.
But that's not all: ChatGPT's versatility knows no bounds. It can venture into the domain of code generation, making it an indispensable AI copywriting tool for a broad spectrum of tasks, whether you need content for landing pages, content ideas or assistance with generating content tailored to your target audience. As you explore the multifaceted capabilities of ChatGPT, you'll discover a world of possibilities for creative content generation and beyond.
When to use ChatGPT?
You should use ChatGPT if you want to:
Craft creative ad copy and engaging social media posts.

Write SEO-friendly blog posts and explore fresh content ideas.

Automate customer service responses and quality content insights.

Versatile AI writing, Chat GPT can even generate code.

AI copywriting assistance within popular tools like Microsoft word and Slack.

Catchy hooks or Twitter thread ideas, ChatGPT's Catchy Hook tool can help brainstorm engaging one-liners.
Pricing:
Free: You can access ChatGPT (3.5) for free. Keep in mind that this model has certain limitations.

ChatGPT Plus: This subscription plan costs €20 per month and includes benefits like general access, faster response times, and priority access to new features and improvements.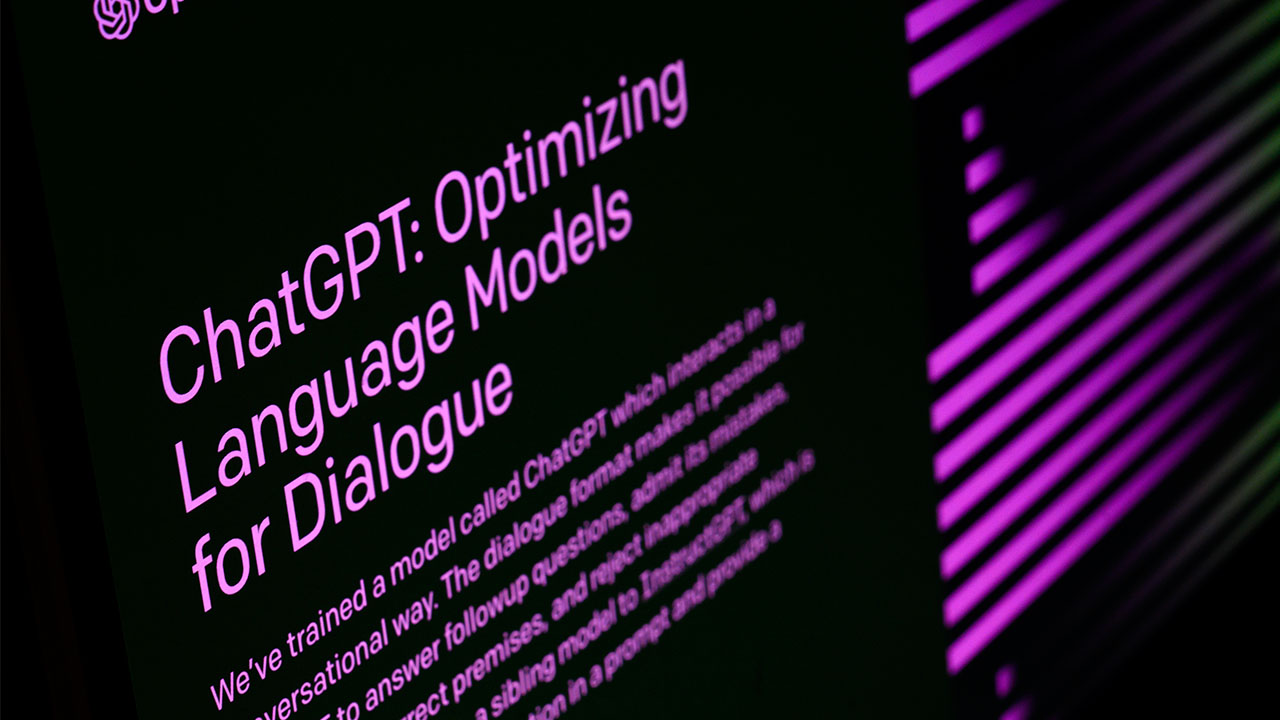 #2 Copy.AI
Copy.ai is a premier AI copywriting software that revolutionizes content creation. Dive into a vast sea of possibilities – from compelling ad copy and insightful blog posts to in-depth product descriptions. Need a boost for your Google ads or innovative ideas for long-form content? Copy.AI seamlessly blends creativity and efficiency. Hunting for the right touch for your social media marketing copy or a fresh take on existing content? Copy.AI's ability offers endless inspiration. Test its capabilities with a free trial and delve into features tailored to modern needs – from SEO meta descriptions to plagiarism checks. Its adaptability in word count, multi-language support, and custom templates makes it a favorite among content aficionados in 2023.
When to use Copy.AI?
You should use Copy.AI if you want to:
Create persuasive sales copy that drives conversions and boosts revenue.

Craft compelling and effective digital advertisements for various platforms.

Generate detailed and persuasive product descriptions to enhance online shopping experiences.

Use it as a versatile freestyle copywriting tool to create various types of content.

Produce engaging long-form content, such as articles, reports, and essays.

Develop informative and captivating blog posts that resonate with your target audience.

PRICING:
Free: Ideal for individuals, with a 2,000-word limit and basic features

Pro: Designed for teams, priced at €36/month or €432/year, offering unlimited words and advanced features.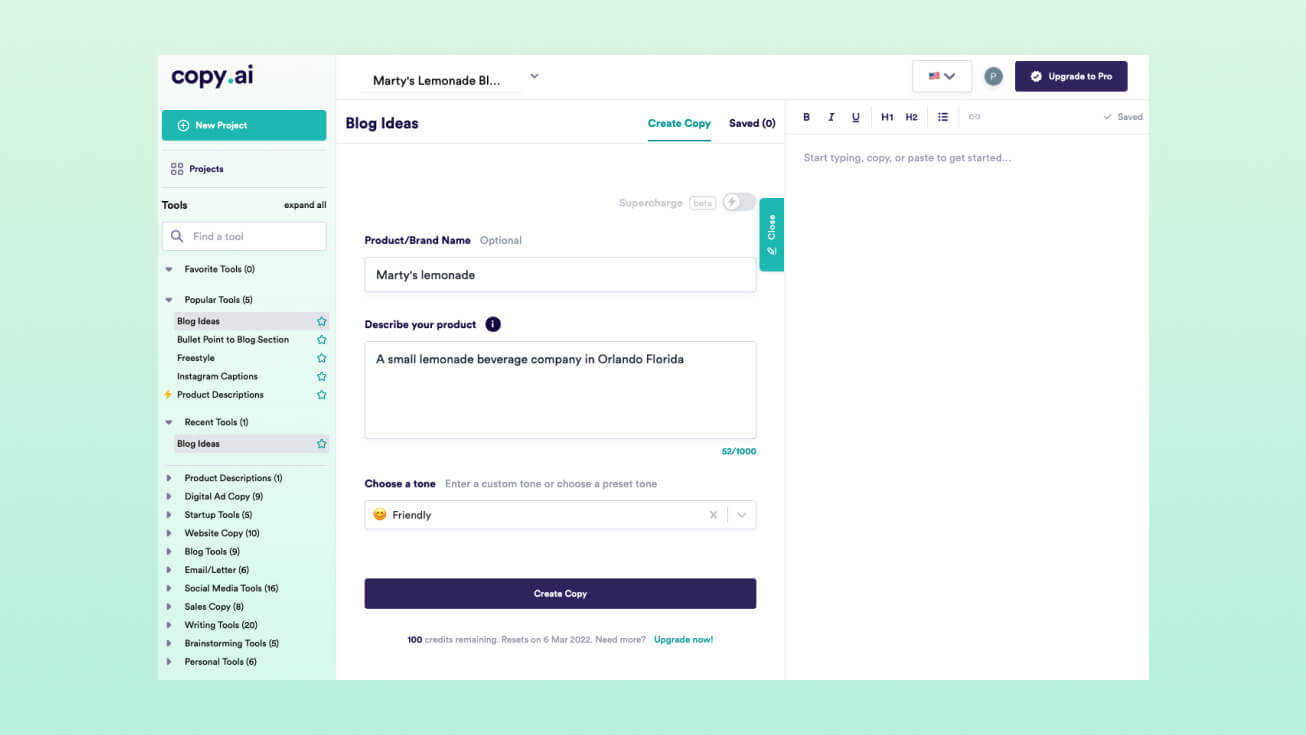 #3 SmartWriter
SmartWriter, a pioneering AI tool, has been engineered to revolutionize your outreach game. Whether you're crafting cold emails, LinkedIn messages, or follow-ups, Smartwriter takes the reins of personalization with finesse. It leverages cutting-edge AI copywriting technology, diving deep into recipient research and deploying advanced techniques to generate AI-written content that's not only personalized but also profoundly impactful.
In the world of AI writing software, Smartwriter is clearly an excellent option. It's particularly advantageous for sales and content marketers who want to enhance their outreach campaigns. By placing a strong emphasis on creating content that resonates with a specific target audience, this tool simplifies the often daunting task of writing. With Smartwriter by your side, every piece of written content emerges as a standout, designed to capture attention and drive engagement.
When to use SMARTWRITER?
You should use Smartwriter if you want to:
Automate personalized cold emails and LinkedIn outreach.

Craft follow-up messages efficiently.

Need cutting-edge AI copywriting software for research-driven content.

Desire personalized content that resonates with your audience.

Are a sales or content marketer looking to maximize outreach.

Simplify content creation tasks for a target audience.

Need to ensure every piece of written content stands out.
PRICING:
Basic plan: Ideal for marketers: €56/month or €46,55/month (annual), 15 personalized lines per lead, 400 leads (credits), full AI tool access.

Popular Plan: Perfect for marketers and scale-up businesses: €141,55/month or €118/month (annual), 15 personalized lines per lead, 1,200 leads (credits), and full access to all AI tools.

Pro Plan: Great for agencies and large marketing teams: €341/month or €284/month (billed annually), 15 personalized lines per lead, 3,500 leads (credits), and full access to all AI tools.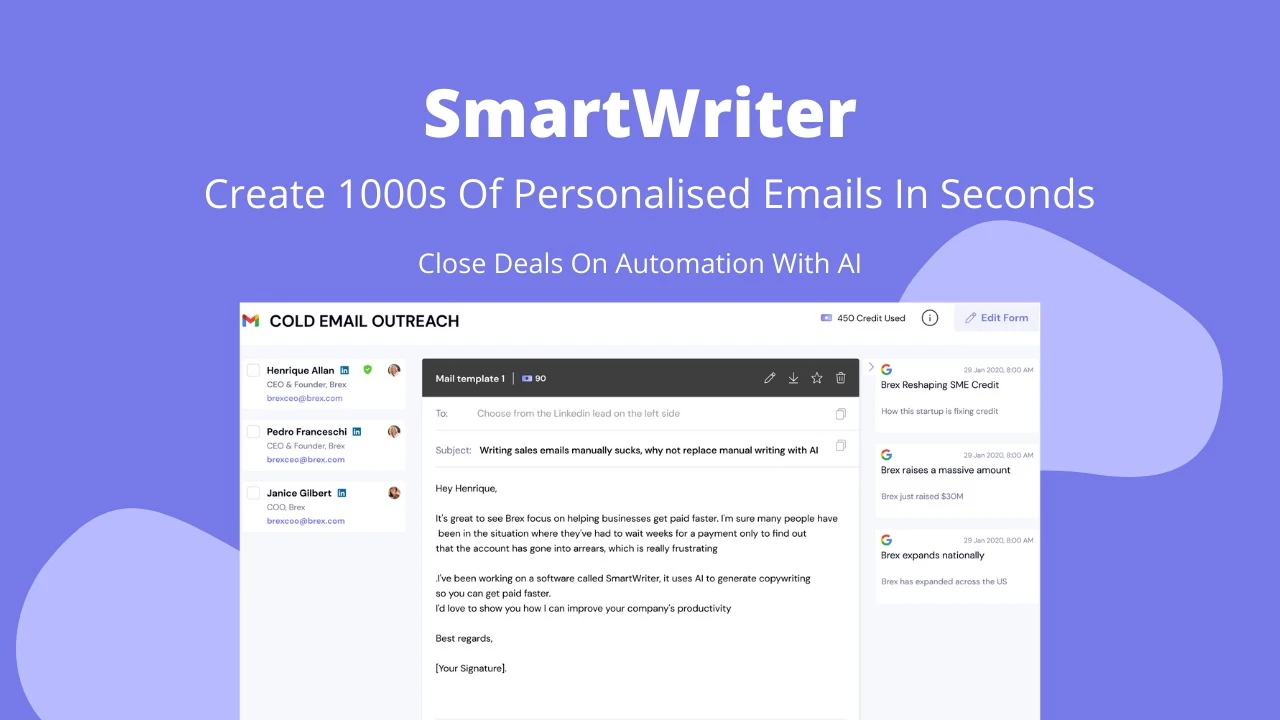 #4 Copysmith
Copysmith stands out as a quintessential tool designed for enterprise and e-commerce marketers. It's more than just an AI tool; it's a holistic platform that efficiently handles content creation and distribution. Users can access ready-to-use templates for tasks such as crafting social media posts or generating captivating ad copy.
More brave users might gravitate towards the Customer Content Generator, allowing for a tailored content experience. Notably, Copysmith integrates seamlessly with platforms such as Google Docs, ensuring content is not only original (thanks to its plagiarism checker) but also easily distributed. A perfect blend of innovation and efficiency, it's a must-have for content marketers aiming to streamline their writing process with AI-generated content.
When to use COPYSMITH?
You should use Copysmith if you want to:
Easily draft product descriptions

Quickly create memorable taglines

Effortlessly optimize SEO metatags

Generate engaging ad copy for Instagram, Facebook and Google
PRICING:
Starter Annual: €274/yr. Unlimited AI copy, Chrome extension, 1user, basic integrations, level 1 analytics, plagiarism checker.

Pro Annual: €465,50/yr. Enhanced features for 5 users, product manager for 25 items, level 2 analytics, bulk generation, API level 1.

Enterprise Plans: Custom pricing. Tailored to large teams (20 users), enterprise analytics, full API, custom templates, full support.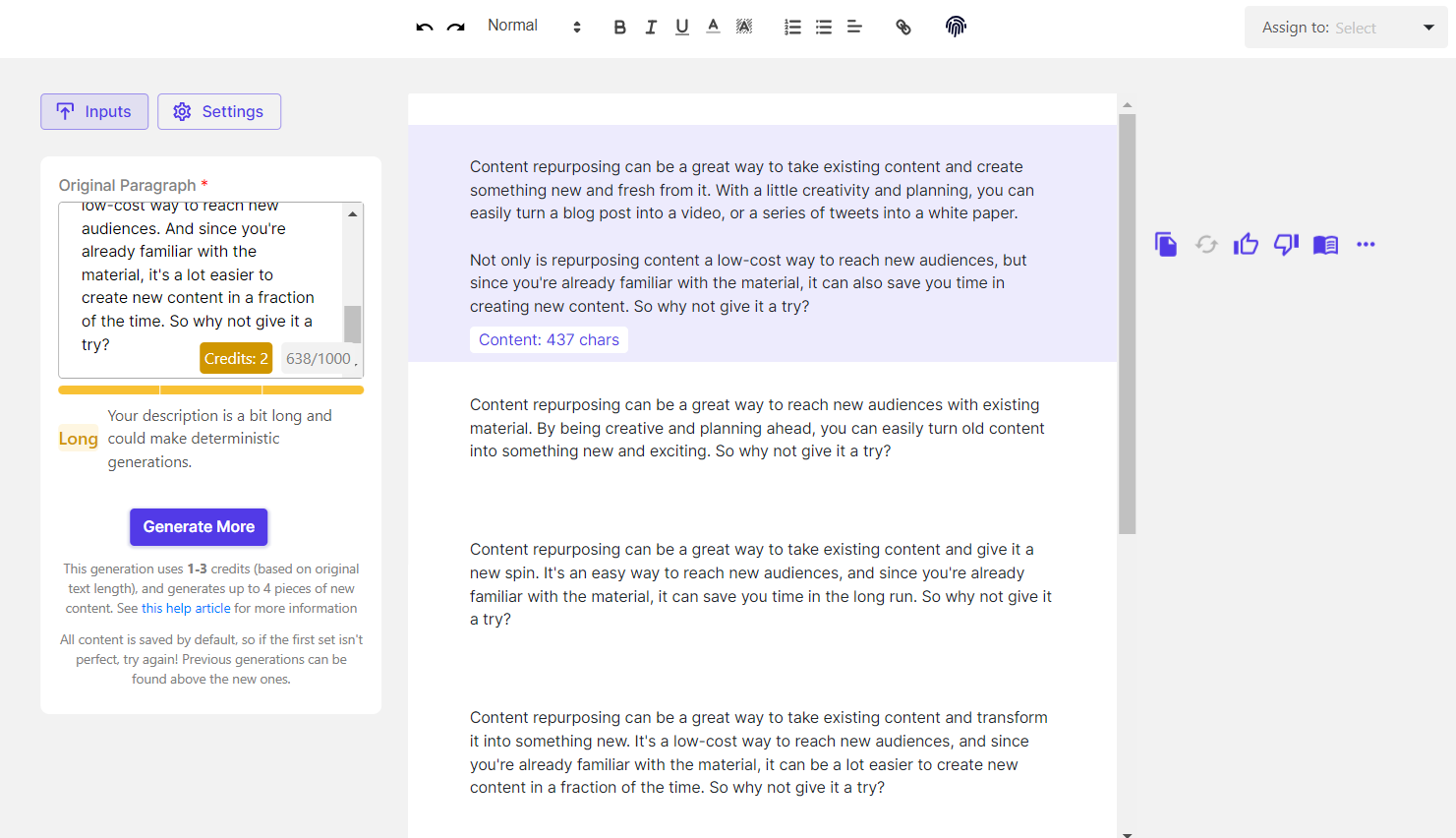 #5 Jasper
Meet Jasper, a refreshing breath in the world of AI copywriting tools. Designed for the modern content marketer, Jasper effortlessly ranks among the best AI copywriting tools. Need a snappy ad copy or compelling social media posts? Jasper's got you covered. Thanks to its advanced AI capabilities, it simplifies the content creation journey, making it easy to generate high-quality content tailored to your target audience.
It's not just about creating content; Jasper becomes your brainstorming partner, offering innovative content ideas when you hit that writer's block. Whether you're crafting a blog post or diving deep into the intricate world of google ads, Jasper ensures your content stands out. Plus, with its seamless integration features, working with platforms like Google Docs becomes a breeze. In a world buzzing with content, let Jasper be your beacon, illuminating the path to outstanding content creation.
When to use JASPER?
You should use Jasper if you want to:
Generate a variety of marketing copy, from blog posts to social media captions.

Choose from a vast selection of templates, eliminating the stress of a blank page.

Benefit from the integrated tools, like Grammarly and image generation, for enhanced content creation.

Ensure originality and authenticity with features like a plagiarism checker and brand voice customization.

Collaborate seamlessly with features like document sharing and multi-user login.
Price:
Free trial: Enjoy a five-day trial with a 10,000-word limit.

Starter: Pay €23/month for 10,000 words and access over 50 templates. Perfect for individuals and entrepreneurs.

Boss: At €46,50/month, get 50,000 words and over 50 templates. Designed for marketers and small businesses.

Business: Seek custom pricing tailored to teams aiming to ramp up their content output.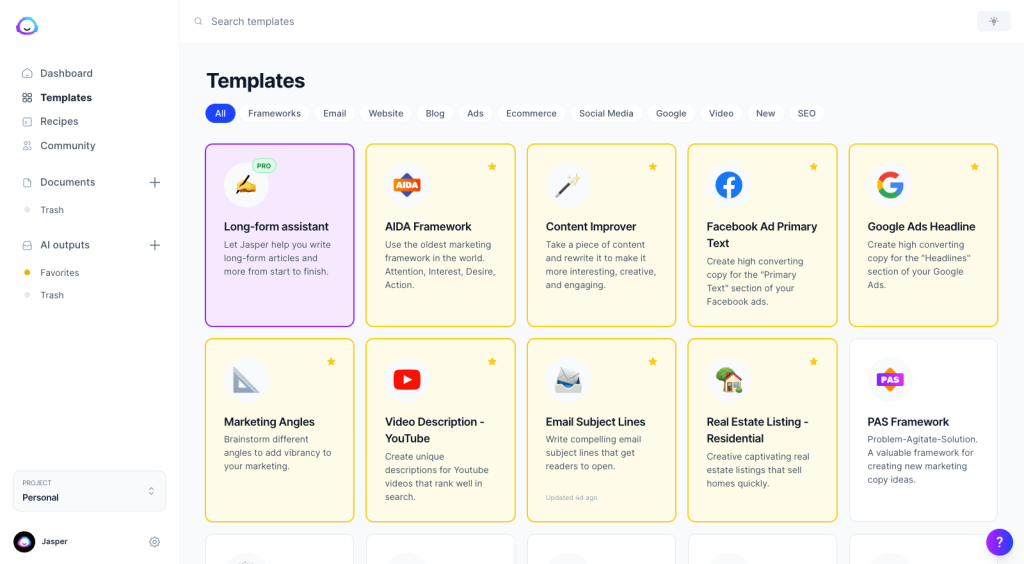 #6 GoCharlie
GoCharlie is an AI-powered email assistant that helps you write effective emails in less time. As you navigate the expansive domain of AI copywriting tools, this platform emerges as a distinct leader. Harnessing the power of advanced language processing, it's fine-tuned to enhance your email writing process. For professionals bogged down with copious communication tasks, GoCharlie ensures that emails aren't just messages, but pieces of high-quality content.
Beyond emails, its capabilities extend to crafting compelling ad copy, social media posts, and insightful blog content. Content marketers will cherish its ability to transcend writer's block, delivering a consistent brand voice that resonates with the target audience. Amidst the vast cosmos of AI tools, GoCharlie stands tall, promising unparalleled content generation. Dive in and experience its transformative impact!
When to use GoCharlie?
You should use GoCharlie if you want to:
Draft blog posts: Quickly generate 1000+ word articles using either one-click or a step-by-step blog wizard.

Enhance Social Media Presence: Efficiently create posts and ads for platforms like Facebook, Instagram, and LinkedIn.

Design Images: Convert text to 4K images, modify existing visuals, or produce new image variations seamlessly.

Boost Copywriting: Access extensive features for generating company bios, press releases, brand missions, startup pitches, and more.

Optimize E-commerce Content: Generate insightful product reviews, descriptions, benefits, and pros and cons.

Create Targeted Emails: Effortlessly draft sales pitches, welcome emails, promotional content, and new product alerts.
PRICING:
Free Tier: Includes web research, content creation, meme/stock image tools, and up to 5 projects.

Pro Yearly: €19/month (billed annually). Unlimited capabilities, projects, and workspaces, with posting integrations and priority support.

Pro Monthly: €28,50/month. Same features as Pro Yearly, but ons a month-to-month basis.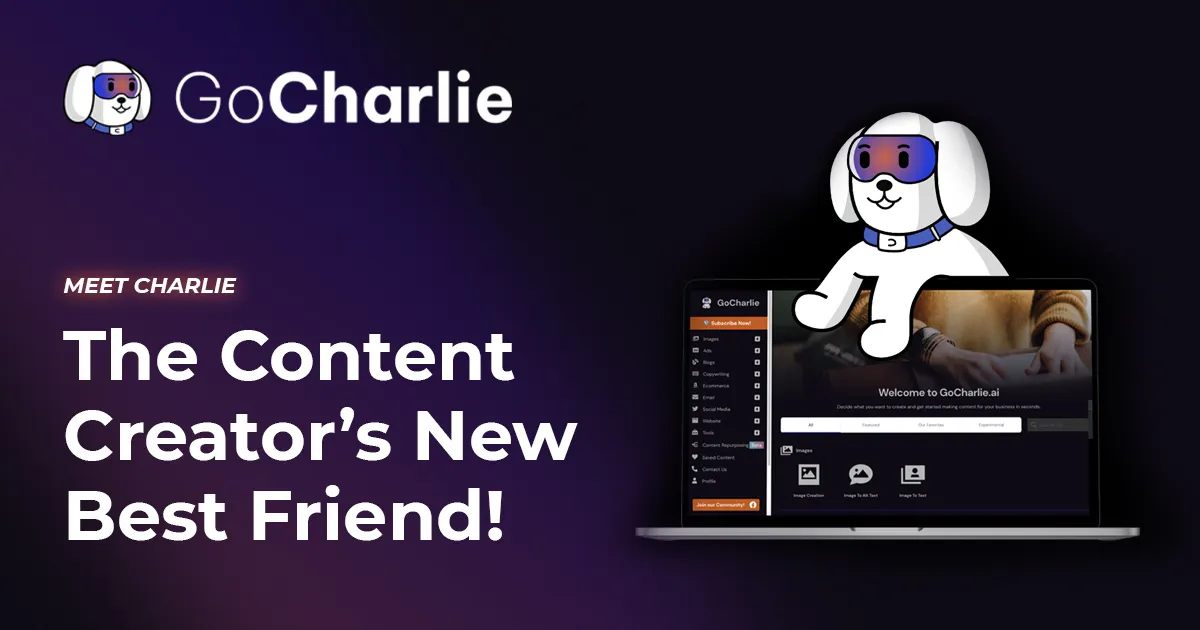 #7 Rytr
Rytr, a standout in the landscape of AI copywriting tools, is designed to revolutionize your content creation journey. This AI writing tool doesn't just generate content – it crafts high-quality content tailored to website copy, marketing campaigns, and even intricate blog posts. Through its intuitive online portal, Rytr employs advanced natural language processing, making it a preferred choice among the best AI copywriting tools.
Whether it's compelling ad copy, social media posts that resonate, or overcoming writer's block for a lengthy blog post, Rytr delivers with precision. Content marketers will appreciate its knack for maintaining a consistent brand voice, ensuring every piece aligns perfectly with the target audience.
When to use Rytr?
You should use Rytr if you want to:
Content Creation: If you're looking to draft blog posts, social media ads, product descriptions, newsletters, or even song lyrics.

Idea Generation: When brainstorming for brand names, business ideas, story plots, or video concepts.

Copywriting Frameworks: For those who want to craft engaging content using proven strategies like AIDA or PAS.

Text Editing & Refinement: If you need to expand, shorten, improve, or reword existing content.

Engage Your Audience: From crafting call-to-actions, responses to reviews, to creating SMS notifications.

SEO & Metadata: When aiming to enhance your web presence.
Pricing:
Free Plan: Includes 10k characters, 40+ use cases, 30+ languages, 20+ tones, plagiarism checker, up to 5 AI-generated images, and premium community access.

Saver Plan: €8,50/month or €85,50/year. Offers 100k characters, 40+ use cases, 30+ languages, 20+ tones, plagiarism checker, up to 20 AI-generated images, custom use-case creation, and premium community access.

Unlimited Plan: €27,50/month or €275,50/year. Features unlimited characters, 40+ use-cases, 30+ languages, 20+ tones, plagiarism checker, up to 100 AI-generated images, custom use-case, dedicated account manager, and priority support.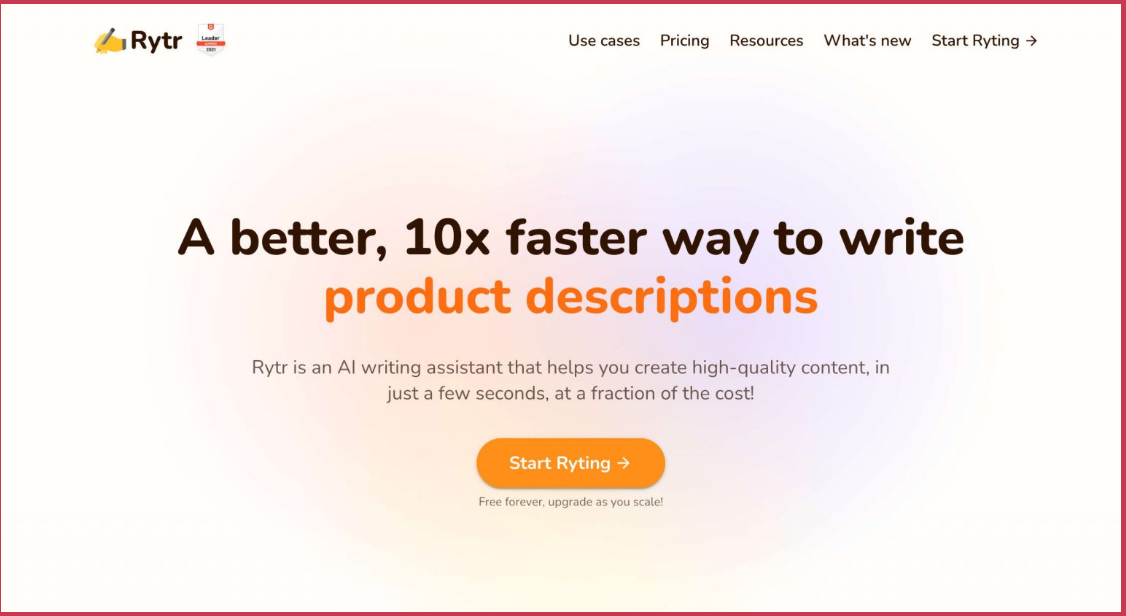 #8 Writesonic
Writesonic embodies the latest advancements in AI copywriting tools, harnessing GPT-3's power. Whether you're crafting ad copy, social media snippets, blog post outlines, or SEO meta descriptions, this platform offers tailored solutions. The dashboard simplifies content selection, easily leading users to appropriate tools and templates.
A distinguishing feature is the "Content Rephrase" tool, ideal for rejuvenating existing content or avoiding unintentional similarities. However, while Writesonic has a diverse template range, it lacks in some social media offerings. Despite minor setbacks, it ranks amongst the best ai copywriting tools of 2023, merging quality with efficiency.
When to use Writesonic?
You should use Writesonic if you want to:
Draft compelling articles or blogs.

Are going to create engaging ads or marketing materials.

Need detailed e-commerce product descriptions.

Generate catchy social media posts.

Are going to develop persuasive website copy.
Pricing:
Free Plan: Includes 10,000 words, GPT 3.5, Chatbot, AI Writer 4.0, Sonic Editor, AI Image Generator, 100+ Templates, and 30 languages.

Small Team Plan: €37,05/month. Includes everything like in the Free plan plus 400,000 words, GPT 4 models, GPT-4-32K Writer, 5 brand voices, high-quality images, and API access.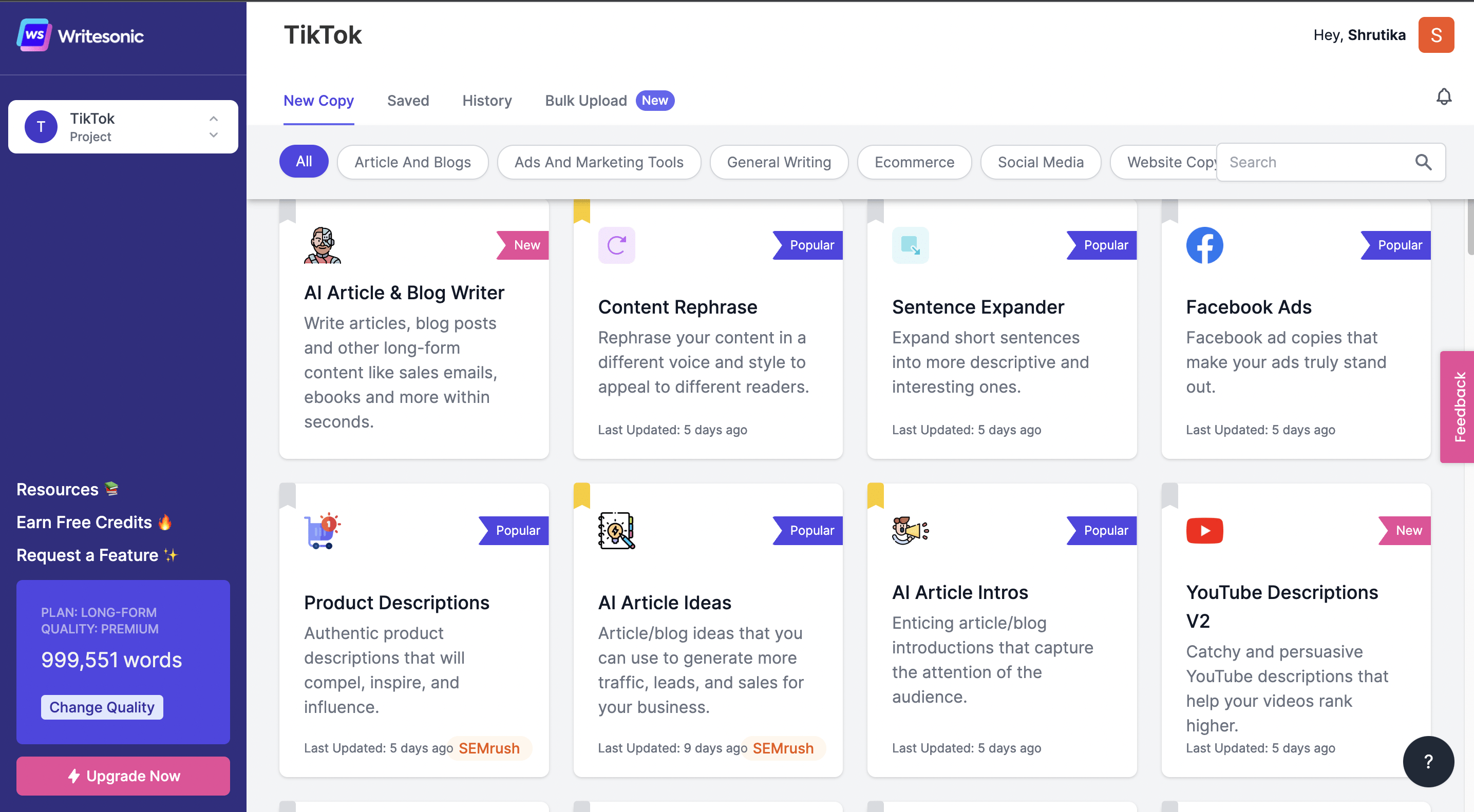 #9 Hypotenuse AI
Hypotenuse AI undoubtedly shines in the AI world. Leveraging sophisticated natural language processing, it's an asset for anyone seeking to produce high-quality content. Be it engaging blog posts, compelling landing pages, or ad copy that genuinely speaks to a target audience, this tool delivers. Its unique aspect? A keen sensitivity to user preferences. When you input specific keywords, outline your categories, and define the demographics you want to reach, Hypotenuse AI gets to work, crafting content that often needs just a touch of refinement.
What makes it a popular choice among content marketers is its adaptability. Whether you're focused on search engines or tailoring content for a niche audience, this tool has you covered. Yet, while its ability is evident, potential users should note a couple of things: its template offerings could benefit from more diversity, and the detailed setup process might take a moment longer than some alternatives.
Nevertheless, for those with an eye for perfection and the patience for precision, Hypotenuse AI offers an experience few other AI content writing tools can match.
When to use hypotenuse.ai?
You should use Hypotenuse.ai if you want to:
Craft Effective Ad & Social Content: Tailor-make content for channels like Google Ads, Instagram captions, Facebook ads, and more including video hooks and introductions.

Elevate Your Website's Copy: Generate captivating website headlines, slogans, landing page content, meta titles, and descriptions, and craft engaging bio sections.

Optimize Newsletters & Communications: Create standout email copy and draft compelling press releases to make your messages stand out in crowded inboxes.

Dabble in Imagery: Experiment with an image-generation tool, though it might be less advanced than text-generation tools.

Capture Audience Attention: Utilize specialized templates to produce content that resonates with a specific audience across various platforms.

Streamline Content Creation: Make use of a template system for fast and effective content generation across multiple channels.
Pricing:
One-time: €28,50. Includes 3,000 credits, 2-year expiry, AI/Plagiarism/Readability scans, 30-day history, and shareable reports.

Base Subscription: €14.20/month. Includes 2,000 credits, 1-month expiry, AI/Plagiarism/Readability scans, unlimited history, shareable reports, file uploads, API, full site scans, team management, future feature access.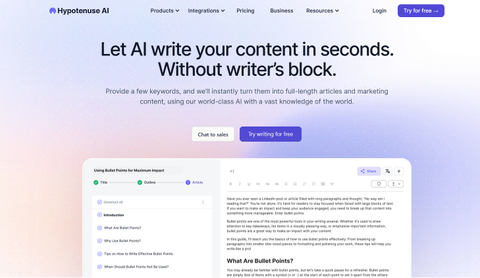 #10 Frase
Frase is a standout, hailed as one of the best content optimization & AI writing tools we have seen, it harnesses the might of GPT-3, crafting persuasive ad copy, social media posts, and blog content that resonates deeply.
Its unique feature set positions it perfectly for content creators, entrepreneurs, and marketers, making it invaluable for individual creators and teams alike. With a plethora of templates and robust SEO tools, content marketers can truly optimize for top SERP spots. Add to that the Frase Answers chatbot and audience engagement is taken to new heights.
When to use FRASE?
You should use Frase if you want to:
An advanced content editor to optimize your content.

Seek insights into content gaps to improve your writing.

Need a reliable keyword research tool to target specific terms.

Aim to enhance your content score and SEO ranking.

You're looking for comprehensive content insights tailored to your business.
Pricing:
Solo Plan: €14,24/month. Includes: 1 user, write and optimize 4 articles per month.

Basic Plan: €43/month. Includes: 1 user, write and optimize 30 articles per month.

Team Plan: €137,74/month. Includes: 3 users, write and optimize unlimited articles.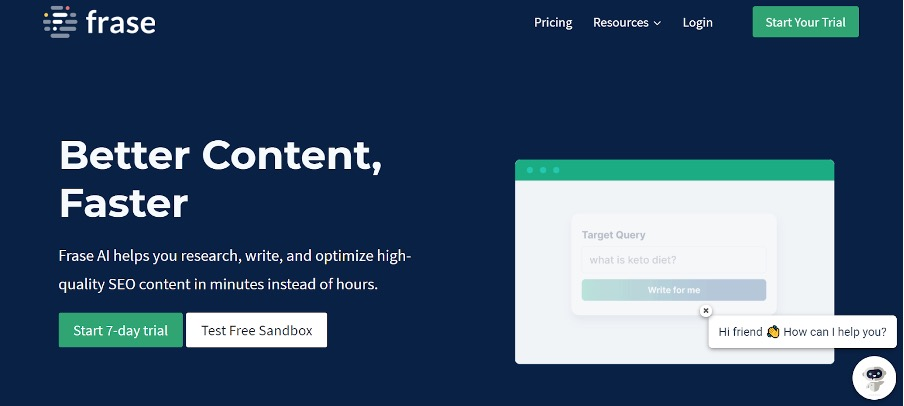 #Extra: Unbounce
Unbounce's Smart Copy emerges as a powerful AI-driven ally, seamlessly integrated into Unbounce's conversion intelligence toolkit. This innovative tool offers over 45 meticulously designed templates to craft captivating meta descriptions, social media posts, employee feedback, and brand taglines.
Smart copy comes equipped with Grammarly, ensuring impeccable grammar throughout your content. Real-time SEO insights score your content based on chosen target keywords, optimizing your Google SERP rankings. Available as a desktop app for Windows, macOS, and Linux, with a convenient Chrome extension, it fits your work style seamlessly.
Smart Copy integrates into various applications like Microsoft word, Slack, and Photoshop. The Catchy hook tool sparks engaging one-liners with ease.
When to use unbounce?
You should use Unbounce if you want to:
Digital Advertising: Quickly craft compelling copy for both Google and Facebook ads, ensuring your promotions stand out.

Efficient Landing Page Creation: Instantly generate content for landing pages, speeding up campaign launches.

Content Creation On-the-Go: Utilize the integrated Chrome extension and desktop app to seamlessly generate and edit content across platforms, be it for emails, shared documents, or website updates.

E-commerce & Sales: Enhance e-commerce platforms with catchy product descriptions and send out impactful sales emails to boost revenue.

Blogging & Social Posts: Effortlessly brainstorm and draft entire blog articles, as well as generate content for social media posts/

Tailored Template Use: Choose from over 45 templates tailored to various content needs, making the writing process streamlined and context-specific.
Pricing:
Free Plan: Includes: 45+ templates, 30+ languages, 40 Credits/month, 1 Project, 3-day trial Writer.

Essential Plan: €8,50/month. It also includes the same number of templates and languages, but you get 200 Credits/month, 3 projects, and Writer.

Unlimited Plan: €46,50/month. It also includes the same number of templates, and languages, but you get unlimited credits and projects.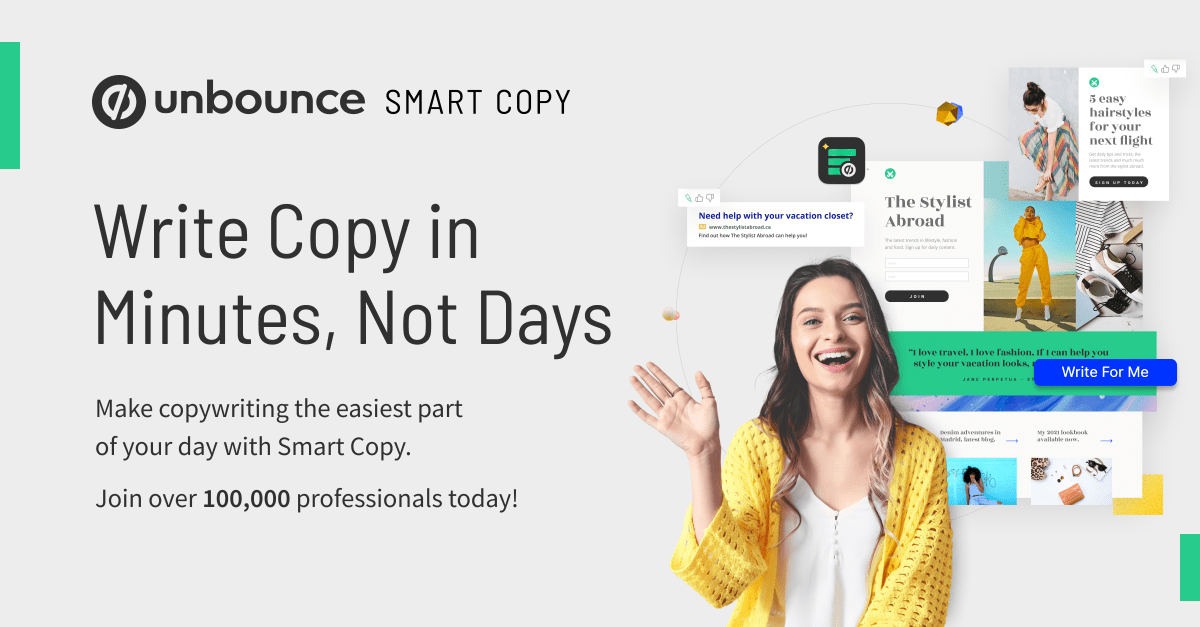 ---
Each of these tools has its unique strengths and can significantly enhance your copywriting process. They can help you generate creative ideas, write engaging copy, optimize your content for SEO, and much more. By leveraging these tools, you can create high-quality content that resonates with your audience and drives conversions.
Remember, while AI tools can greatly enhance efficiency and productivity, they are not a replacement for human creativity and insight. They are best used as a supplement to your own skills and expertise. Happy writing!
Want to learn more about how to leverage AI for growth? Read here!