The 30 Must-Have Growth Hacking Tools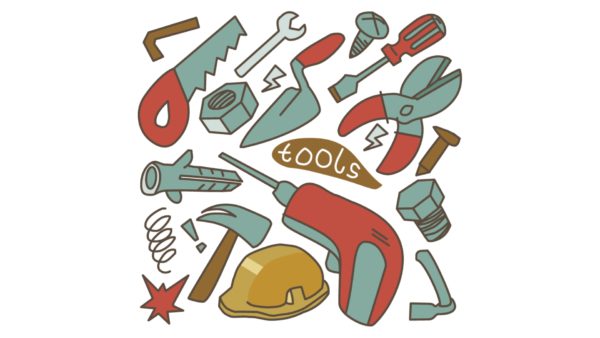 We recently explored Growth Hacking and explained what it is and how to use it. But now it's time to give you the tools you need to put it into practice. This is our list of the 30 must-have growth hacking tools.
Note: This list is divided into tools that work best for:
B2B
B2C
Social Media
General Digital Marketing
However, every business is different. If you see a tool that works for your business, use it! The list kicks off with the best of the best.
Do you want to know how we can Growth Hack your Business ? Plan a FREE strategic session HERE!
Best Tools for Growth Hacking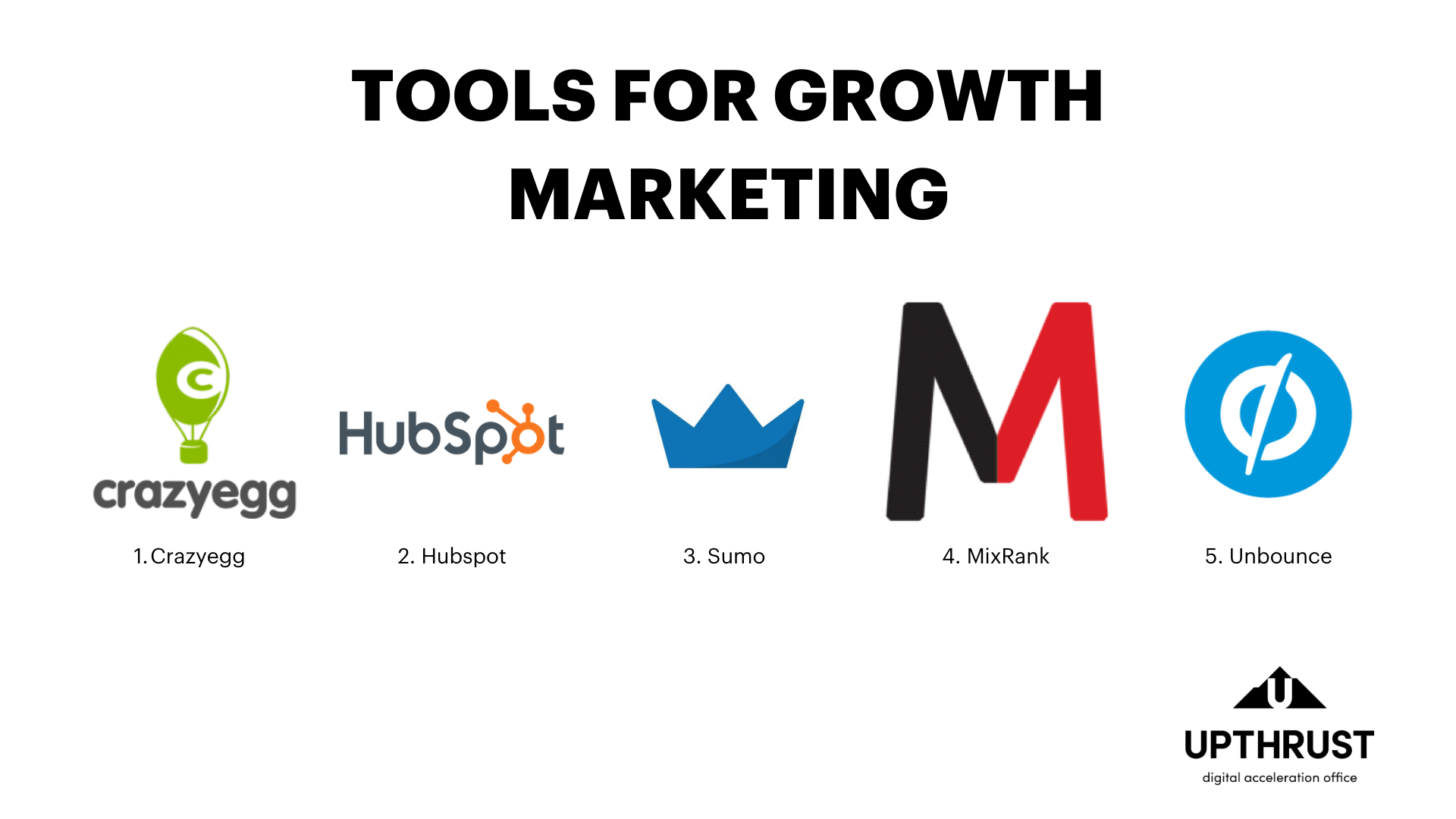 1. CrazyEgg
CrazyEgg's developers built a hack to help businesses reach their website goals quickly. It's a heat mapping tool for websites. What's a heat map? Heat maps track the interactions users have with your site so you can see what's working and what isn't. With the data, you have the ability to greatly improve your site, test new ideas, and increase conversions.
2. Hubspot
Hubspot is the ultimate B2B customer relationship management (CRM) tool. You can use it for lead and deal tracking and to monitor the performance of your marketing and sales teams and inbound marketing automation. The beauty of this tool is that everything is done from a single dashboard which is easy for sales and marketing teams to adapt.
3. Sumo
Building lists is an essential element for any business. Sumo makes the process easy by giving you tools to create a range of non-intrusive scrolls and pop-ups on your site. The tools help you drive traffic to your site, capture potential leads, and work your magic on converting them into sales.
4. MixRank
If your business needs the full growth hack package, MixRank is the tool. It combines both sales and marketing tools to help your business find new customers and zero-in on the top sales leads. It's almost like a spy tool in that it allows you to monitor the traffic of your competition and see what's happening on their landing pages and ad copy. If you need to identify the origin of your traffic, MixRank will tell you.
5. Unbounce
Companies looking to easily A/B test landing pages can rest easy. Unbounce gives you the ability to drag and drop elements into templates so you can constantly create and publish landing pages. There are loads of customization options, and it even has a pop-up and sticky page builder. The best part is that it only requires minimal technical skill to implement this tool.
Growth Hack Tools for B2B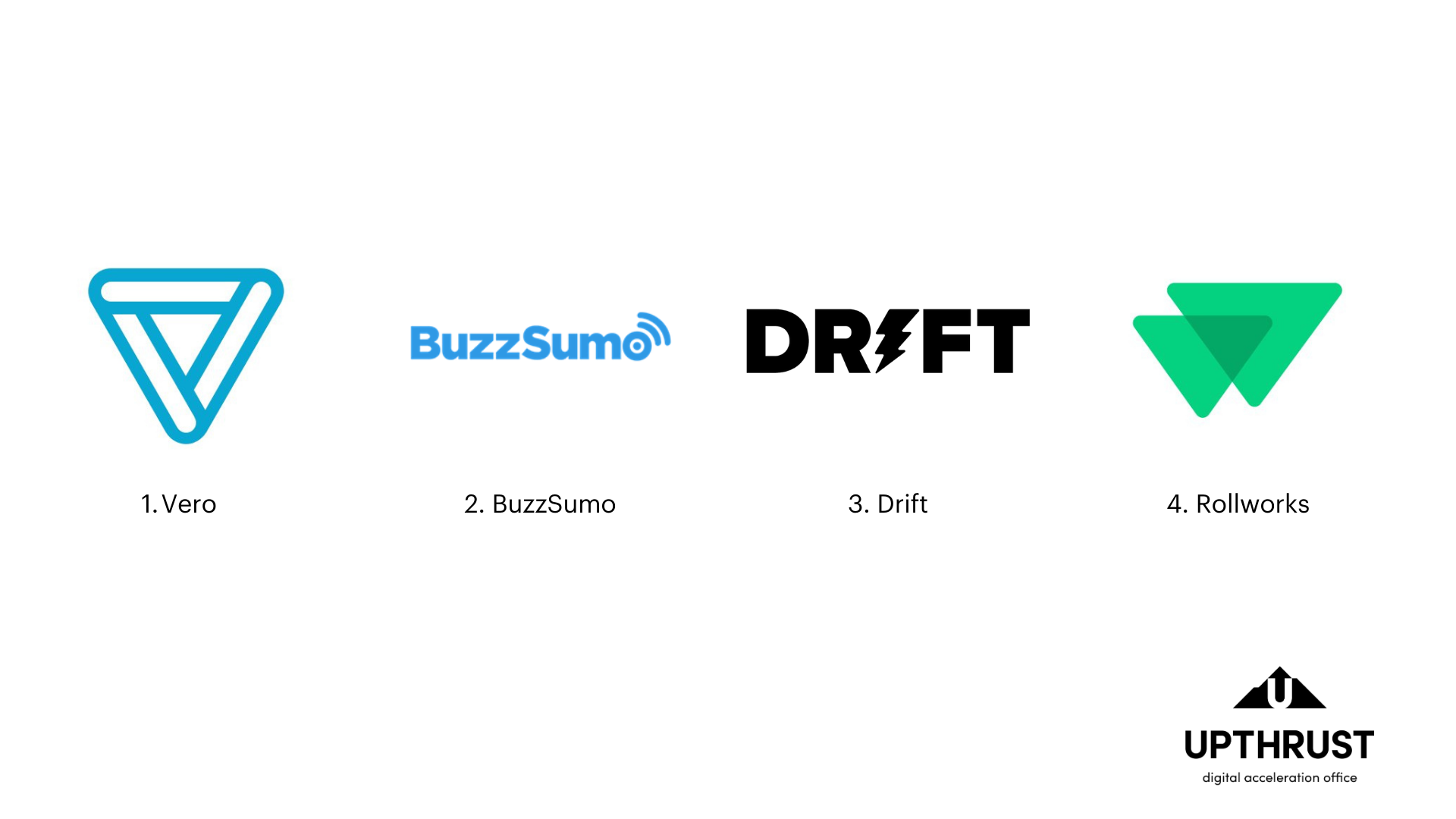 1. Vero
B2B businesses often work with email campaigns, and sometimes reaching out to all of your customers and potential customers can be a hassle. Vero is an automated email tool that analyzes people who visit your site and then sends targeted and highly personalized emails. As they advertise, their product is a way to scale personalization. Plus, there are A/B testing features on the platform to let you see what's working and what isn't.
2. Buzzsumo
With content marketing, no other tool compares. Buzzsumo is a tool that lets you search for the highest performing content topics on multiple platforms like Facebook, Twitter, LinkedIn, Pinterest, and Reddit. From there, your marketing teams can make better decisions on trending topics to write about. It also provides total engagement and Evergreen metrics to let you see what topics are good for the long term.
3. Drift
Drift grew exponentially over the past few years because they're at the forefront of bot technology to help businesses convert. Their concept is called 'conversation marketing' which incorporates loads of chatbot software. The idea is that a customer arrives on your site and even when you're not available, the bot can take them through a large part of the buying process. Then it can forward that information with analytics to your sales team. This tool is Growth Hacking 2.0.
4. RollWorks
Many B2B businesses work on an account-to-account basis, and Rollworks is the tool to help with account based marketing, or ABM. With the Rollworks platform you can identify target accounts and then implement marketing strategies like digital ads, email signatures, and personalized web visits. It all integrates into sales automation features and then allows you to analyze the effectiveness of your campaigns. If your B2B business has an account-based approach, this is the tool for you!
Growth Hacking Tools for B2C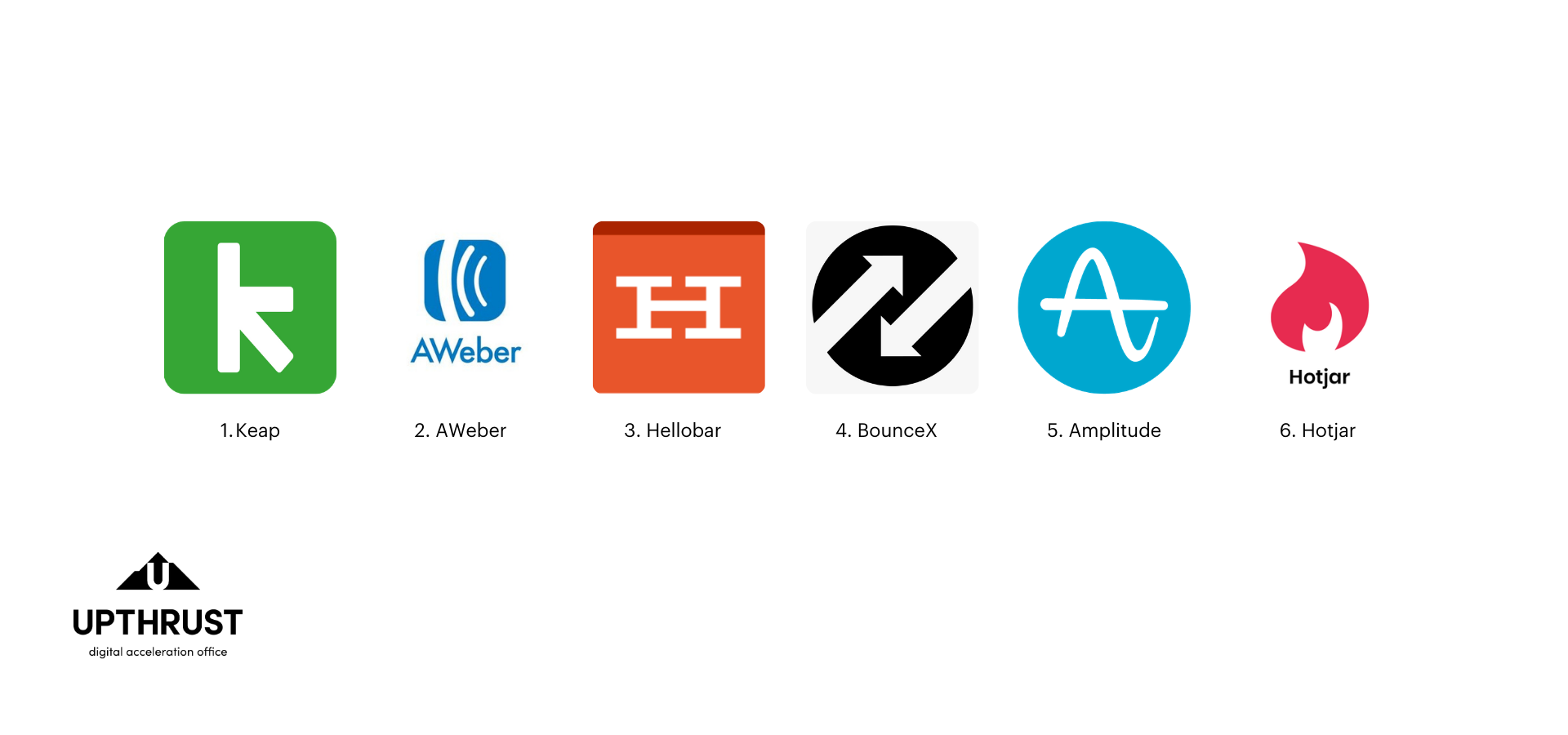 1. Keap
While Hubspot is a CRM better suited for B2B, Keap is the CRM growth hack tool for B2C companies. Keap has a treasure trove of sales and marketing tools to help you create pipelines and automate marketing campaigns so you can focus on other tasks. What makes it a B2C option is the large amount of integrations with other B2C marketing software—even Hubspot if you only use it for marketing campaigns!
2. AWeber
AWeber is a powerhouse when it comes to email marketing campaigns. This tool allows you to create mailing lists that capture useful data. Also, you can design creative newsletters and landing pages that work with email capture applications. Last, you can automate your email marketing campaigns with auto response tools and effectively analyze data from your campaigns.
3. HelloBar
Hello Bar is a web or site based tool that allows you to design messages and pop ups that engage with your website visitors. It combines the growth hacking mantras of lead generation and conversion and helps to enhance your site. If you're looking for a tool to capture a lot of emails and convert with a highly targeted marketing campaign, this is one! Plus, CrazyEgg purchased the company back in 2012, so it integrates well with their heat mapping and A/B testing features.
4. BounceX
B2C businesses must understand customer behavior, and BounceX is one of the most comprehensive tools to fulfill that need. Its 'Exit-intent' technology is so intuitive that it actually can detect when someone is about to exit your page, which allows you to take action before they go. The tool also integrates some amazing A/B testing features for calls-to-action (CTAs).
5. Amplitude
Looking for the premiere data analytics tool? You found it. Amplitude can help your team to dissect data and provide you with the key information needed to set up a good product strategy, improve your engagements, and optimize your marketing and sales pipelines to increase conversions. Why is this a hack? Because data is only good if you can properly analyze it and take action.
6. Hotjar
Where CrazyEgg is one of our best growth hacking tools and better suited for B2B, Hotjar is the best alternative heat mapping tool suited for B2C business. While CrazyEgg is great for tracking individual site visitors, HotJar can help you gather and analyze data that tilts toward large scale user behavior as opposed to individual. It doesn't get all the A/B testing elements involved. Instead, you can use surveys and feedback polls which work much better for B2C.
Social Media Growth Hacking Tools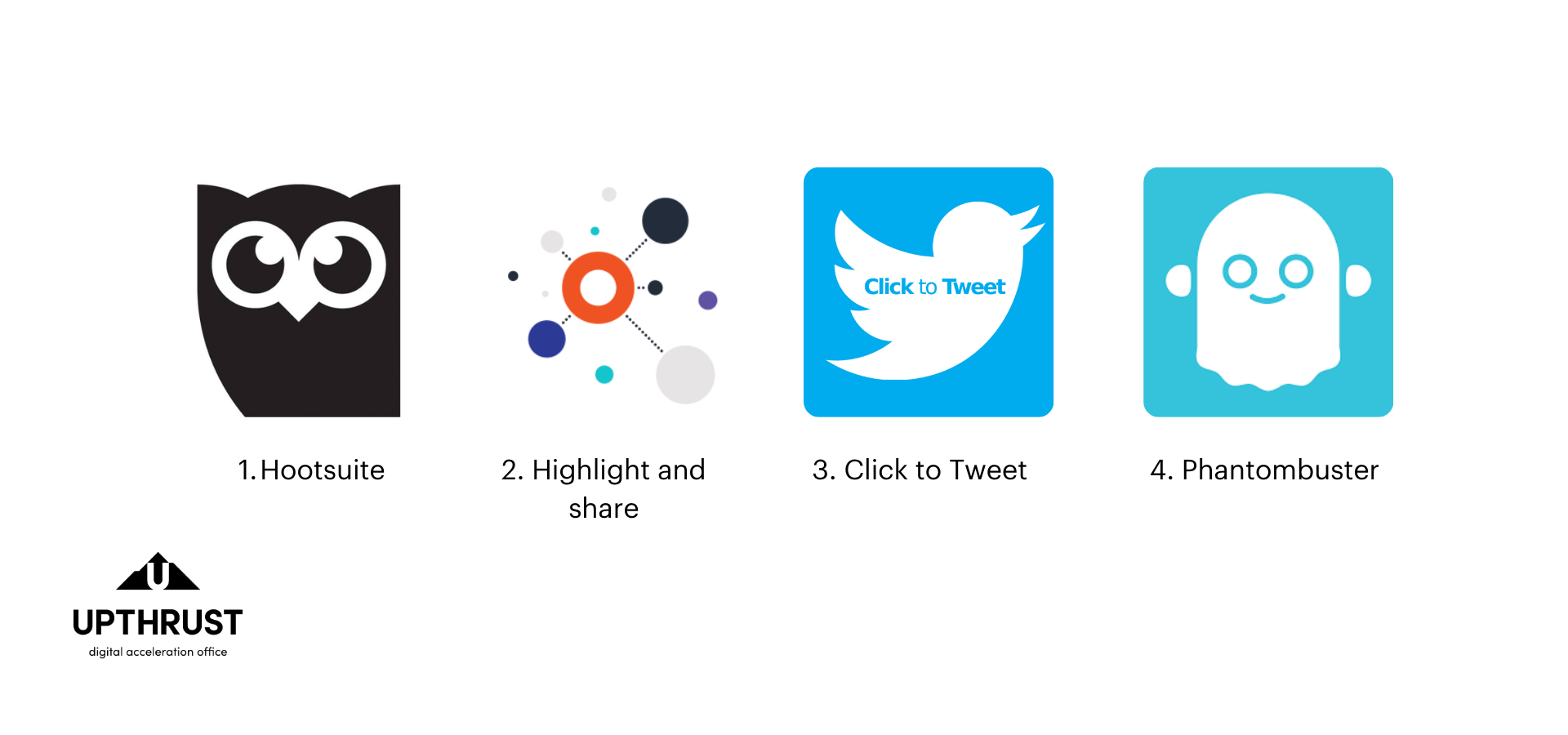 1. Hootsuite
Hootsuite is the ultimate social media management tool. With it, you can schedule posts on multiple platforms and monitor your engagements in real time. It also provides a lot of quality analytics tools that integrate with other platforms so you can streamline your social media marketing campaigns.
2. Highlight and Share
Highlight and Share is a WordPress plugin that helps you grow traffic by making things on your site or within your content marketing easy to share on social media. The plugin allows visitors to highlight things on the page and then share them immediately on any social platform.
3. Click to tweet
Twitter isn't high on the priority list for a lot of businesses, but this plugin is free and easy to apply to any content marketing campaign. Buzz on social media for your business can't hurt right? Click to Tweet allows you to embed a link to a pre-constructed tweet that users can post to their account. The platform has analytics to help you track the tweets.
4. Phantombuster
If you're looking for full automation with lead generation through social media, look no further than Phantombuster. It helps you to scrape data from most social media platforms. From there you can link it to your social media accounts and automatically interact with the prospects when they post things. It has customized messaging functions, and the best part is that you don't have to know how to code to use it.
LinkedIn Growth Hacking
1. Expandi
Expandi is an automated outreach tool that helps businesses find leads on LinkedIn. You can choose your target audience according to preferences and manage an outreach campaign of personalized messages to potential clients. You can even import a .csv file full of leads and create an ad campaign that targets the list.
2. Dux Soup
Dux Soup is similar to Expandi, but it takes things a step further for lead generation. With Dux Soup, you can also set up drip campaigns for prospecting leads that stop once the potential lead responds. Plus it will automatically visit profiles and endorse skills to grab their attention.
Facebook Growth Hacking Tool
1. Sendinblue
Technically, Sendinblue is an email marketing tool, but that's not the real beauty of it. Sendinblue has a Facebook ads feature that integrates with your contacts list and allows you to retarget those contacts or to target a brand new audience based on the old list. If your customers are on Facebook, this is a great way to connect.
2. Manychat
As you can see from some of the hacks on this list, bots are becoming a big part of growth hacking. With Manychat, you can set up chat bots to respond to incoming Facebook messages. They work for marketing campaigns, sales, or support and can be a key element to your Facebook business.
Growth Hacking Tools Instagram
1. Instaranker
As with most social media growth hacking tools, it's all about automation. Who has time—or wants to pay someone—to sit and like, subscribe, comment and follow all day? Instaranker does all of that for you and can help more visually oriented businesses grow their Instagram following.
2. NinjaOutreach
Influencer marketing is becoming a key part of many businesses' digital marketing plans. But if you're going to spend money and work with an influencer, you want to know they're legit. With NinjaOutreach, you can filter through all the influencers on Instagram or YouTube and figure out which one is best for your target audience.
More Growth Hacking Tools for Digital Marketing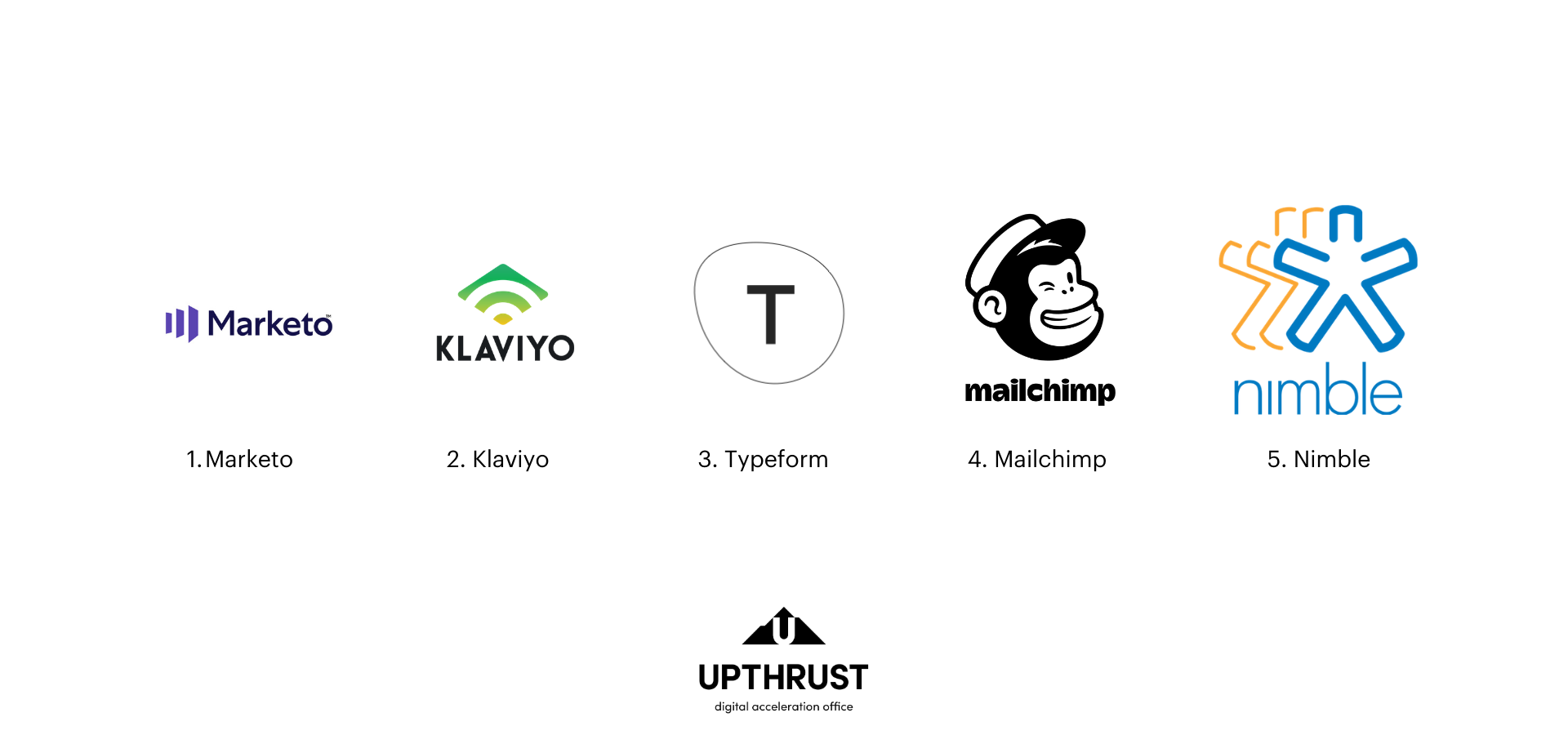 1. Marketo
Owned by Adobe, this is their step into the marketing automation world. This growth hack comes pre-installed with a scoring system to help you determine where leads exist in your pipeline and how well they fit with your target audience. There are a lot of other automation features for emails and lead nurturing. If you want to measure the return on investment (ROI) of your campaigns well, this is the tool for you.
2. Klaviyo
Klaviyo is yet another marketing automation tool on this list, but this tool is highly specified with email marketing campaigns and companies that deal in ecommerce. It can help you to segment your audience and then send target emails to them based on their purchase history and behaviors.
3. Typeform
Surveys are an integral part of digital marketing campaigns and help measure their effectiveness. With Typeform you have the ability to easily create online surveys via drag and drop, and the survey templates are well thought out—meaning the customer or client won't get bored or angry. The platform integrates with a ton of other applications so you can distribute the surveys with ease.
4. Mailchimp
Mailchimp used to be only a go-to email marketing service and service provider for startups. But the company has evolved over the years and now has growth hacking tools worthy of any list. With Mailchimp, you can now integrate it with your site and send emails based on a visitor's web activity. It also helps with audience segmenting and provides recommendations for optimal send times based on when the receiver opened your previous emails.
5. Nimble
Digital Marketing involves a lot of relationship management and Nimble is a great tool to help you accomplish that goal. It allows you to combine all of your contacts on multiple platforms and channels and manage them all within one convenient platform.
Conclusion
That's our list of the must-have growth hacking tools. But remember: the thing about tools is that you have to know and understand how to use them. If your business is trying to accelerate growth and needs some help along the way, why not work with a global digital business acceleration office like Upthrust?
Upthrust uses a five-step approach to implement growth marketing within your organization. There are four programs that we can tailor to your needs to implement data-driven approaches to growth marketing solutions.
Do you want to know how we can help you Growth Hack your Business ? Plan a FREE strategic session HERE!