The 5 Must-Read Articles of This Week – Growth Snacks Vol 6.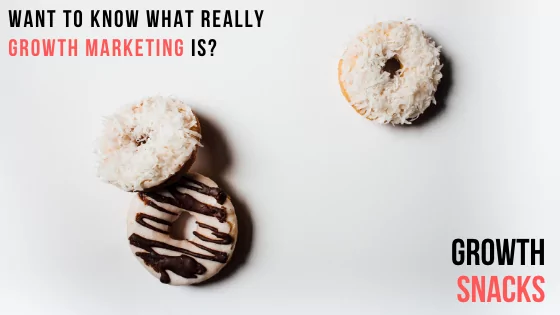 This week on Growth Snacks
What is Growth Marketing and Why Is It So Effective?
For some growth marketing is an oversaturated marketing term. For some, it's the new and only way of marketing.
For others, it's a bunch of kids that are too excited about marketing trends. And so on and so on.
Do you want to know what it is for us? As experts, we explained what growth marketing really is and why it has gotten so popular. You can read it here.
What happens when the best bits of growth marketing and sales join forces?
Something supernatural. Because these two often seemed separate, ideally, they could form the ultimate sales machine with an ever-growing skillset, right.
What if I told you there is a program out there that combines the know-how of growth marketing and sales to create an innovative way of marketing?
And they train the new MMA (mixed marketing arts) fighters with superior selling skills. Well, that's true, the most advanced SDR (Sales Development Representative) training is in your town.
If you want to learn what an SDR check out this YouTube channel
You want to learn more about training and early-bird advantages? Then click here.
Beyond BuzzFeed: How I used quizzes to generate 10,000+ qualified leads
BuzzFeed generated millions of leads with quizzes. Yes, tens of millions. Moreover, quizzes are a great way to collect tons of data and insight into your audience.
If you want to create one, this article covers everything about quizzes and discusses every aspect.
The genius of no name's brand
If you're looking for a fun, short and educative article, you've found it. This is the story of the "no name" brand.
It's hilarious to see how simple marketing rules work exceptionally well when used correctly. In this article, you'll learn consistency, limitation and separation from the best, no-name brand! 
Top 20 Marketing Trends to Watch
We, ten growth marketers, came up with a list of 20 trends. We're super excited because there is some cool new stuff coming.
New trends = new platforms and features to explore = new growth opportunities.
This blog post will help you discover what could work for you! And possibly bring you ideas to grow faster. We've also shared the list of growth marketing tools we use, enjoy the read!
We're out of snacks for this week.
If you enjoy this reads, please share it with your darlings. And let me know what you think in the comments.
Give and take, have a lovely day!
Ready to make a Real change? Let's build your business together!