Optimize Your Growth Marketing Process In 5 Steps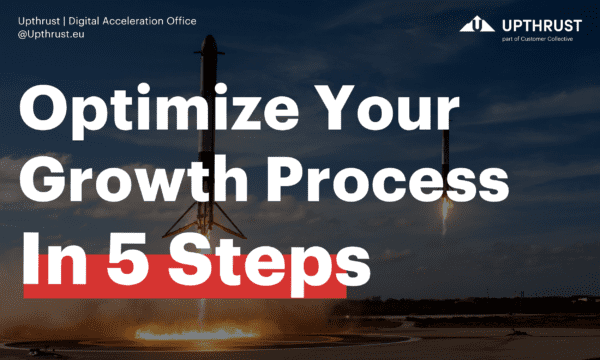 Growth marketing has emerged as a crucial aspect of any modern marketing strategy. It involves identifying and leveraging growth experiments to drive business growth, customer acquisition, and revenue. However, managing the growth process can be challenging and requires careful planning and execution. According to our State of Growth survey, 37% of businesses struggle with managing the growth process.

As businesses scale, they must navigate complex challenges such as market saturation, increased competition, and changing consumer behaviours. In this blog post, we will explore the key elements of managing the growth process in growth marketing. We will discuss strategies for identifying growth opportunities, optimizing user acquisition and retention, and scaling marketing campaigns for sustained growth.

By implementing these strategies, you'll be better equipped to optimize your growth marketing process, achieve your goals, and ultimately lead to more opportunities. So, let's get started on this journey of managing the growth process.
What process?
The growth process in growth marketing is a strategic and systematic approach to identify, optimize, and scale opportunities for business growth. It involves a series of steps that businesses must take to achieve sustainable growth, increase revenue, and gain a competitive edge. Here are the key elements of the growth process in growth marketing:
Growth process in a nutshell
Growth process in a nutshell
01
Identify growth opportunities
The first step in the growth process is to identify potential growth opportunities. This involves analyzing market trends, customer behavior, and competition to identify gaps and areas of opportunity. Businesses must also consider their strengths and weaknesses to determine where they can create the most value.
02
Develop a growth strategy
Once growth opportunities are identified, businesses must develop a growth strategy. This involves setting clear growth objectives, identifying key metrics to measure success, and defining a plan of action to achieve growth goals. A growth strategy should also consider the company's resources and capabilities to ensure that the plan is achievable.
03
Implement growth tactics
Implement growth tactics: With a growth strategy in place, businesses can begin implementing growth tactics. This involves testing different marketing channels, improving user experience, and optimizing conversion rates. Growth tactics may include content marketing, social media advertising, SEO, email marketing, and more.
04
Analyze and optimize results
As growth tactics are implemented, it's crucial to continually analyze and optimize results. This involves tracking key performance indicators (KPIs) and using data and analytics to identify areas of improvement. By continually optimizing results, businesses can ensure sustained growth and maximize ROI.
05
Scale and expand
Finally, as businesses achieve success with growth marketing, they can begin scaling and expanding. This may involve entering new markets, launching new products or services, or expanding into new geographies. By leveraging the insights gained from the growth process, businesses can continue to grow and remain competitive.
01
Identify growth opportunities
02
Develop a growth strategy
03
Implement growth tactics
04
Analyze and optimize results
In a fast-paced world, creating a process around your growth marketing efforts allows for more strategy and more achievable goals. While optimizing growth a long-term goal with strategy in place how to achieve it is crucial to remain competitive in today's dynamic marketplace.
Opportunity knocks, …
Identifying growth marketing opportunities is the key to achieving sustainable business growth, and it can be a daunting task. However, with a little creativity businesses can make the process fun and exciting. Here are some key steps businesses can take to identify growth marketing opportunities:
First, businesses should start by conducting market research to gain insights into their target market and customer needs. This research can include surveys, focus groups, and online analytics to identify trends, consumer behavior, and preferences. This can be a great time to unleash your inner Sherlock Holmes and get to the bottom of the mystery that is your market.
Next, businesses should analyze their competition to identify gaps and areas of opportunity. This involves analyzing competitors' strengths and weaknesses, and identifying ways to differentiate your business. Analyze their SEO efforts by checking their top keywords through Ahrefs and look at their social media ad's by using Facebook ads library or others.
Businesses should also consider their own strengths and weaknesses to determine where they can create the most value. This involves evaluating their products or services and identifying areas for improvement.
Finally, businesses should keep an eye out for emerging trends and technologies that can help drive growth. This involves staying up-to-date with the latest industry news, attending industry conferences, and networking with other professionals. Organizing an internal event around this can be a great way to incorporate this in your organization. Within Upthrust we organize a monthly "Beer & Learn" to discuss new learnings and trends in a fun way.
By following these steps and embracing it within corporate culture, businesses can identify growth marketing opportunities and set themselves up for success.
Knock knock, … Upthrust here!
More important than a seat belt
Creating a growth marketing strategy can seem like a daunting task, but this is crucial in optimizing your growth process.

First, businesses should set clear growth objectives and identify key performance indicators (KPIs) to measure success. This involves understanding your current situation and where you want to be in the future. It's like setting a GPS to reach your destination, but for your business.

Dream big here, it's important to set a high-value goal that allows for a long-term engagement which eventually pays off big time!

Next, businesses should also identify their target audience and develop a plan of action to reach them. This involves creating buyer personas and identifying the channels that are most effective for reaching them. Be creative here, according to our State of Growth survey businesses are still relatively traditional in their channels. As for B2B businesses most only use LinkedIn and for B2C Tiktok seems heavily underrepresented.

Businesses should also focus on user experience and identify ways to optimize the customer journey. Again testing different strategies, creating user-friendly interfaces, and improving conversion rates.
Also explore community building opportunities and engage your customers to feel involved in the organization. This can be a great way to explore further stages of the Pirate Funnel like Revenue and Referral.

Finally, growth marketing is all about continually analyzing and optimizing results to ensure sustained growth. Leverage collected data and analytics to identify areas for improvement and adjusting strategies accordingly.
Embrace your inner scientist
One of the most important aspects of your growth marketing strategy is to include experimenting in there. It allows businesses to test new ideas and strategies to identify what eventually works best.
Through experimentation, businesses can gain valuable insights into customer behavior, preferences, and pain points. This information can then be used to optimize marketing efforts and improve overall performance.
Experimentation also helps businesses to stay ahead of the competition by testing new channels, technologies, and approaches. Without experimentation, businesses risk falling behind the competition and missing out on opportunities for growth. Therefore, it's important for businesses to embrace a culture of experimentation and continuously test new ideas and strategies to achieve sustained growth.
Aim for quality above quantity here, according to our State of Growth 1-10 experiments a month seems to be the sweet spot for experimenting. In fact, most mature organizations seem to develop their marketing this way with 87% following this strategy.
This you won't be overloading your team but still be gathering enough data to explore further opportunities and make informed decisions. By focusing on a smaller number of experiments, you can give each one the attention it deserves and ensure that your team has the bandwidth to execute them effectively.
Additionally, running multiple experiments allows you to test a variety of tactics, such as different messaging, channels, and targeting strategies. This helps you to identify which tactics are most effective for your business and inform your long-term growth strategy.
Overall, it's essential to do some careful planning, execution, and analysis when conducting experiments, and limiting the number of experiments you run can help you maintain a high level of accuracy and meaningful learning.
Make sense of the numbers
Concluded out of our State of Growth as one of the most common challenges (40%), collecting and analyzing data requires continuous attention. As it provides insights into customer behavior and helps identify opportunities for growth it is an essential part of growth marketing. By leveraging the data, growth marketers can make informed decisions about where to allocate resources and what tactics to employ to drive results.
Data analysis enables growth marketers to track the success of their campaigns and make data-driven decisions about where to focus their efforts. By regularly monitoring key performance indicators (KPIs) such as customer acquisition cost (CAC), customer lifetime value (CLV), and return on investment (ROI), marketers can optimize their campaigns to maximize their impact and drive growth.
To effectively collect and analyze data in growth marketing, it's important to follow a few key tips:
Define your goals: Before you begin collecting data, it's important to clearly define your goals and KPIs. This will help ensure that you are collecting the right data and can use it to inform your marketing strategies.

Use the right tools: There are many tools available for data collection and analysis, so it's important to choose the ones that are best suited for your needs. Popular options include Google Analytics, Mixpanel, and HubSpot.

Collect relevant data: Collecting too much data can be overwhelming and make it difficult to identify meaningful insights. Focus on collecting data that is relevant to your goals and KPIs.

Analyze regularly: Regular analysis of your data is crucial for staying on top of your marketing performance and identifying areas for improvement.

Take action: Once you've analyzed your data and identified areas for improvement, take action to optimize your campaigns and drive growth. Continuously iterate and test to improve your results over time.
By leveraging these tips through your campaigns there's a lot of opportunity to better understand your market and customers which eventually drives sustainable growth for your brand.
Getting lost in those numbers?
Think big, spot big
After looking at the numbers, noticing a positive outcome, it's time to scale! It's important to know that not every experiments will be scaled, growth marketing there's always quite a bit of uncertainty and risk involved. Some experiments will not turn out as expected and others will surprise you over time.
Before looking at expanding your successful experiments, it's essential to look at the scalability of the concept. Is it gaining good rates because of current trends or is it something that can be promoted to an always-on campaign?
At Upthrust we expect 5-10% of experiments to be promoted to a standard for the organization which may not seem much but these small gains can add up over time. Even a 5% increase in key metrics allows for significant wins in the long run.
For campaigns that aren't eligible for always-on campaigns you'll have to define an accurate timing and adjust accordingly. If these are season-related campaigns it's important to note that these can potentially still be used in the future.
Conclusion
Overall, managing the growth process in growth marketing can be a challenging task, but with the right approach and tools, it can be a rewarding experience. By keeping your team aligned with your goals, continuously testing and iterating your strategies, and using data to inform your decisions, you can ensure that your growth efforts are effective and sustainable.
However, there's always more to learn, and staying on top of the latest trends and insights can help you stay ahead of the curve. That's why we encourage you to download the State of Growth report, which provides valuable insights and data on the current state of growth marketing.
With the right mindset and resources, you can successfully navigate the growth process and achieve sustainable growth for your business. So keep learning, keep experimenting, and keep growing!
Get your State of Growth report here!