Top 50 Lead Generation Software with Pricings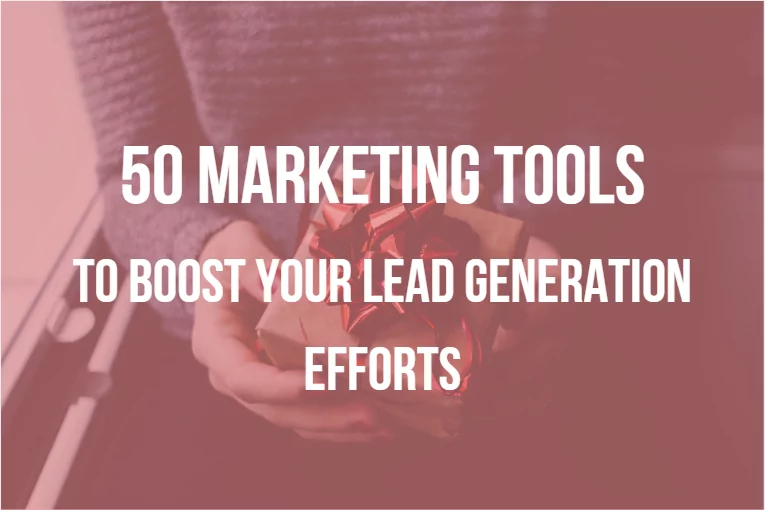 What a time to be alive. You have the chance to hire an army of lead generation experts with tiny budgets.
Yes, lead generation experts = lead generation software.
Most of them are even better than their human colleague because they
Are super cheap.
Work 7/24 for you.
Don't make mistakes.
Don't need management.
Help you to automate the majority of your lead gen process.
But there is a small problem. There are thousands of tools for lead generation and finding the best fit for your company can be a painful process.
Here, we can move you away from the pain and get you closer to the hassle-free process.
Because lead generation tools are 40% of our gameplan. Hence we're always experimenting and trying out the newest tools with different customers.
We know every company has different needs. That's why we made this article an open buffet of lead generation tools. So you can pick what you need and create your own approach.
You'll see 52 of the most effective lead generation softwares in the market. We also divided them into categories to make it easier for you:
Email marketing tools
Email address finders
Prospecting and outreaching tools
CRM tools
Sales and marketing tools
Communication tools
Landing page tools
Marketing automation tools
Conversion optimization tools
Scraping tools
Content and SEO tools
Video editing and design tools
Advertising tools
Other lead generation tools
Email marketing tools
Do you want to hear a joke?
Email marketing is dead. HAH. Well, it'll probably live longer than today's most popular platforms.
It's the backbone of the online lead generation. Most people respond positively to email marketing, even the cold emails if it's done in the right way.
#1 Active Campaign
ActiveCampaign can help you with email marketing and marketing automation.
ActiveCampaign has the most intuitive user experience of all Email tools. The interface is so well designed, it feels like you already know what to do the next.
Tasks like creating automated marketing processes, beautiful emails, lead magnet forms, A/B tests or sending out personalized emails are super easy. Even for a total beginner.
There are lots of features and all of them are handy. Also, you can integrate it with your favourite lead generation tools.
Pricing: Starts from $9.
Free trial: 15 days
It's is the winner of the email tool. However, you might not use all the features of ActiveCampaign, so compare it with the other options.
#2 Autopilot
Ortto is a visual marketing automation and customer journey software that helps you acquire, nurture, and grow high-paying customers, fast.
You can set triggers based on time, behavior, and interest or go specific like when visitors request a free trial.
With Ortto, you can also create sophisticated email drip campaigns and automation with easy drag and drop feature.
Pricing: Starts from $39.20
Free trial: Unlike ActiveCampaign it has a 30-day free trial.
You can see the comparison of ActiveCampaign vs Autopilot here.
#3 Mailjet
Mailjet is the tool we use to send out bulky email campaigns such as newsletters. 
You can create responsive emails with its drag-and-drop email builder. It can send up to 15M emails/hour even during peak sending periods.
It doesn't have sexy features to increase your conversions but it does its job. And it has the best price:
Pricing: Starts from $9.65 for 30.000 emails per month, which is very cheap compared to other options.
It also has a free trial and free version. So feel free to give a try, you have nothing to lose.
Email address finders
It happens a lot. You need to reach someone and you don't have the email, but you have the technology. The next three tools will help you to find you those email addresses and generate a pool of new leads.
#4 Skrapp.io
Skrapp.io is doing one thing and it's doing it very well. It finds the email of your contacts by name and company. 
But the real deal is – it is working with LinkedIn Sales Navigator and can extract the emails of your prospects in bulk. So you can reach any decision-maker on LinkedIn Sales Navigator.
How does Skrapp.io find those emails?
Their algorithm indexes public web pages based on LinkedIn account and simulates emails based on companies' email patterns. It also verifies the emails by interacting with email servers.
Watch Skrapp.io in action to see how easy and fast it is.
If you're serious about lead generation software, it should be in your toolkit. 
Price: Starts from $34 for 1.000 emails / monthly.
Free: 150 emails / monthly.
Note: Skrapp.io also has a Google add-on that scans web pages for B2B emails.
#5 Hunter.io
Hunter is very easy to use and accurate tool. It does everything Skrapp does except the LinkedIn Sales Navigator feature.
But it has an integration with Phantombuster (you'll see Phantombuster later in the list) and can extract emails from LinkedIn Sales Navigator. Still, it can't do it alone.
In addition to that, there are also cold email templates that can help you set up email campaigns.
Price: Starts from $49 for 1.000 emails / monthly.
Free: 50 emails / monthly
Prospecting and outreach tools for lead generation
These tools are a combination of email marketing/finders tools and software. This pack can help you get more out of your prospecting efforts and generate more leads.
#6 Prospect.io
Prospect combines the personal emails, follow-up calls, other social touches and help you create multichannel campaigns. 
Here are some of the essential tasks Prospect can handle:
Finds and verifying email addresses leads.
Sends personalized cold emails and drip campaigns.
Tracks campaign performance.
Works directly from LinkedIn and Salesforce.
In short, it'll help automate your sales reps' daily tasks and give them more freedom for business development.
Pricing: Starts from $79 / monthly (30-day money back guarantee).
#7 Reply.io
Reply is a more intuitive version of Prospect. It is easy to learn and use; their UX makes you feel good and sufficient. 
We think this is a significant advantage for beginners or even for seasoned users. Plus, they have an email quality check tool that helps you tune your messaging.
Pricing: Starts from $70 / monthly.
Free trial: 14 days.
Customer Relationship Management Tools
CRM is the backbone of your automation engine. It's the memory that keeps and tracks everything about your sales pipeline.
If you don't need it right now, one day you'll need it for sure. It's is a must-have lead generation software for bigger businesses. So it's better to get to know them now. If you're not familiar, we recommend you to play around with free trials.
#8 Salesflare
Make more sales with less work. We confirm the claim of Salesflare, we're a super happy customer so far.
It's the perfect CRM for small B2B companies. With Salesflare, you'll stop managing your data and start managing your customers.
Salesflare collects information on autopilot and synchronizes your email, calendar, phone, or social media for you.
It keeps track of emails, folders shared, follow-ups, opens, clicks (on your website too) and brings everything in your inbox. Also, it integrates with your favorite lead generation tools and has a great drag-and-drop interface.
Lastly, you can receive notifications on your mobile phone. This feature is handy because it gives you the right time point to follow-up with your prospects.
In short, Salesflare saves you lots of time and makes the lead generation process much simpler.
Pricing: Starts from $30
Free trial: It's is gamified. You can take a minimum of 7 days to a maximum of 30 days.
#9 Hubspot
Well, Hubspot is a famous Hubspot. It has a broad range of products and CRM is one of them.
Hubspot can handle higher volumes of contacts, if you're a big company, Hubspot would be a better option for you.
It'll help you to track, organize, nurture, follow-up your leads, and update your sales team with the latest news.
If you like CRM, you can combine it with other Hubspot products and control all your CRM, sales, content, and customer service efforts from one place.
This all-in-one solution can be charming. However, there are better sales tools than Hubspot Sales Hub. Or better customer service tools than Service Hub.
So in some scenarios, it can be even more expensive and less efficient for your company. So we recommend you to do your research because most of the tools have integrations with each other.
Price: Hubspot CRM is free.
But in the future, to get the most benefits you'll want to use it with other premium tools.
#10 Pardot
Pardot is by Salesforce. So it has more features that close the gap between marketing and sales.
Pardot can do and control almost everything from one dashboard. You can automate numerous processes, manage content, create campaigns, landing pages and run paid ads, and many many more.
Of course, with all that premium features and intelligence, it comes with a high bracket.
It's a powerful CRM in the right hands. If you think you can benefit from all the features and use it to maximize ROI, go for it.
Price: Starts from $1,250.
Sales tools
The holy goal of lead generation tools is to sell. And you have two kinds of tools to help you with that:
Tools that help you sell to existing customers.
Tools that help you to acquire new customers.
You'll see the most effective tools of both categories.
#11 Salesforce
Salesforce is the best sales automation and lead management software. It helps you to create complicated segmentations and run, track, analyze campaigns from the same platform.
It's an intelligent tool that can feed you with new and useful customer insights. So you can prioritize your campaigns and spend your time efficiently.
Big or small business, Salesforce has a solution for you. It's easy to set-up, use, and has a huge library of courses and tutorials. Also, it has an active community, you can ask and learn from other users.
Like Hubspot, Salesforce has its own ecosystem and products.
Pricing: Starts from $25
#12 LinkedIn Sales Navigator
LinkedIn is the heart of the B2B business. Recently, it has transformed into a B2B content platform and even created its influencers and thought leaders.
This makes LinkedIn a unique database for B2B companies. And LinkedIn Sales Navigator is a tool that gives you full access to that database.
You can create segmentations with 20+ filters and find anybody on LinkedIn (and you can also get their emails with the help of tools like Skrapp).
If you want to get the most out of LinkedIn Sales Navigator, we recommend you to learn how to do a Boolean search.
Also, you can see use LinkedIn Sales Navigator to generate leads from these articles.
Pricing: $79.99
#13 Pipedrive
Pipedrive is a simple tool and excels in one thing. It tracks your leads and tells you when to take the next action.
It does this by showing you every moment of the nurturing process and gives you valuable insights about your prospects behaviors. If you need a great lead scoring system, check Pipedrive.
It makes sales easy.
Pricing: Starts from $12.50
Free trial: 14 days
#14 Qwilr
Qwilr creates great-looking docs, at speed. You can design perfect proposals, quotes, client updates, and more in a flash.
It helps you to differentiate from your competitors and makes your brand look 100x sexier. While others are sending boring documents, your Qwiler pages will be interactive, elegant, and mobile responsive.
You can choose from tens of templates and embed almost anything to your with the drag-and-drop builder. It integrates with all leading CRM and can generate invoices, quotes, and other docs on autopilot.
We use it a lot. It's an effective lead generation software to close deals.
Pricing: Starts from $75.
Free trial: 14-days.
#15 Crystalknows
Crystal is pure magic. It's an add-on that tells you anyone's personality.
The first time we tried it, it was shocking because it really knew who we are and gave us a detailed personality analysis.
It's easy to use. Download the Google Chrome plugin and browse the LinkedIn account of a person you know. Then you'll have enough proof to use it for your prospects.
Crystal tells you information such as:
Type of personality
What profile likes
What profile avoids
Overview of personality.
What motivates the profile.
What stresses the profile.
How to communicate with the profile.
And tons of other info.
It also gives you communication and selling playbooks to provide you the best approach. So you can personalize your strategy and write a customized message to a specific lead.
Pricing: Starts from $29
Free trial: 10 credits per month.
#16 Leadfeeder
Leadfeeder shows you the companies that visited your website. Tells how they found you and what they're interested in.
Clever right? It's easy to transform prospects into a customer when they have already shown interest in your company.
On top of that, it enriches your CRM data with the detail of visitors and enables your sales team to follow up.
Pricing: Starts from $55
Free Trial: 14 days
Free version: A basic version with limited features that shows the last 3 days worth of leads only
Communication Tools
You can start a conversation with your potential customers without even speaking, chatting, or knowing them. Or schedule meetings or help them to solve a problem.
And if you choose the right tools and configure them well, you can even sell or assist sales. Here are our favorite tools.
#17 Intercom
Intercom is a sweet and smart host that welcomes your visitors when you're not home. It's one of the best chatbot tools in the market.
Chatbots are everywhere, the majority of people receive chatbot messages when they're browsing. Well, it makes sense.
Because a chatbot can sell, support and solve problems 24/7. And Intercom helps you to create the smartest chatbots with easy configuration. Besides that, it offers live chat and product tours.
If you want to provide positive experiences and relevant information to your visitors, Intercom can help you.
We use it to qualify our visitors by asking the right questions and providing value. Eventually, ask for contact details.
Pricing: Starts from $39.
Free trial: 14 days.
#18 Drift
Drift is famous for its conversational marketing features and more sales-focused than Intercom.
You can engage with your visitors, automatically book meetings with your sales team, acquire information, and help your sales team with closing. The ease of use and most of the features are similar to Intercom.
Here is an article that compares Drift and Intercom from a transparent angle.
Pricing: Starts from $400. They have a startup plan with a 93% discount. And it is for companies which have less than 20 employees.
Free: Connect to your website visitors with real-time, 1:1 conversations. (only live chat)
#19 Manychat
Manychat is a chatbot that helps you create high converting Facebook campaigns. We've used it on many campaigns and always got high open and conversion rates.
You can configure a smart chatbot to collect or give information to your prospects. Or you can jump on to the messenger and start to chat with your prospects manually.
You can see one of our Manychat campaigns here (Number 17). If you're planning to use Manychat, you might also want to check this article.
Chatbot Best Practices: 9 tips to Turn Your Bot Into a Growth Machine
#20 Plann3r
Plann3r helps you create your personalized meeting page. You can schedule meetings witch clients, candidates, and prospects on auto-pilot with Plann3r.
Plann3r differentiates from other scheduling tools in style. Because you can use your brand look and feel with lots of customization options and carry your brand presence with you.
It is an easy to use tool that manages your schedule like your personal assistant. Plann3r integrates with your favorite lead generation tools.
Pricing: Plus plan starts from $3.
Free: You can use it and benefit most of the features for free.
#21 Loom
Loom is a video messaging tool for work and many other purposes. We use Loom, both internal and external communication. Or for creating content for YouTube and etc.
Lifeless letters could be perceived as cold signals from time to time. But video lets you express your personality and eventually help you build closer connections. It especially helped us to communicate better in COVID-19 times.
Also, once you get used to talking to your camera, it's more efficient than writing long emails! Give it a chance if you and you'll see it can help you with lead generation.
Pricing: Starts from $5
Free: The basic version is free.
#22 CallPage
CallPage collects your visitors' phone number and connects you with them in seconds. No matter where you are.
It is easy to set up. All you need is 5 minutes and you'll have a direct line between you and visitors.
Pricing: Starts from $119.
Basic plan: Up to 15 calls.
Free trial: 15 days
Landing page tools
Landing pages are like your webshop. Its where you introduce your products to your potential customers.
You should convey your message clearly and design a beautiful page to make your visitors stay. And eventually, make them click that "buy' button.
If you want to know more about the landing page and best practices to increase your conversions, you can check these two articles.
We have two favorite tools that could help you in that moment of truth.
#23 Instapage
Instapage is the best overall landing page builder. It has a broad range of features and even squirrel can build a compelling landing page with templates. No coding is needed.
You can customize every detail in your landing pages, set goals, do A/B testing, integrate it with your favorite tools, track the conversions and get insights about your campaigns.
It is our go-to landing page tool. We use it for ourselves and our customers, it makes everyone happy.
Pricing: Starts from $149.
#24 Unbounce
Is Unbounce good? Hell, yes. It can do everything that Instapage does and lets you build a great landing page without a developer.
You can pick Unbounce if you want a cheaper solution with the same features. And has a free trial!
But Instapage is more intuitive and easy to use. This is what we experienced so far.
Pricing: Starts from $79
Free trial: 14 days.
Lead generation/marketing automation tools
Where the magic happens, these tools are a bit different than others and have a learning curve. But once you learn, you can generate thousands of leads, especially on LinkedIn and a bunch of other platforms.
We already documented our lead generation flows and wrote some playbooks. If you want to learn how to use these tools to generate leads, you can check these articles.
#25 Phantombuster.
Phantombuster is by far the most used lead generation software in our tool kit. We use it in our sleep, when we're awake or even on a holiday because you set it up once, and it does the rest for you. (It works on the clouds)
Here are some things you can do with Phantombuster on LinkedIn, Facebook, Twitter, and other popular social media platforms.
Extract profile data in bulk.
Mass personalized and automated messaging.
Scraping emails.
Send automated connection requests
Set follow-up campaigns
And many more lead generation features.
Phantombuster can be your main engine for all your LinkedIn lead generation efforts (and other platforms). Also, the combination of the LinkedIn Sales Navigator and Phantombuster is super effective.
If you're interested to learn how to use this tool to maximum benefit, you can take our Phantombuster masterclass for free. Or you can check this article, where we explain the best features with use cases.
Pricing: Starts from $30.
Free trial: 15 days.
Basic plan: 10 minutes per day.
#26 Dux-soup
We'll not go into detail for Duxsoup. It's a Google Chrome add-on and can also automate some of LinkedIn lead generation efforts like Phantombuster.
Here is the major downside: it doesn't work in the cloud, so your computer must be always on. It's LinkedIn only and less versatile than Phantombuster.
Pricing: Starts from $10.
Free plan: Free forever without premium features. (It works quite well).
#27 Zapier
Zapier is a glue that holds all the lead generation tools together. With Zapier, You can connect different marketing tools and configure complex workflows without writing a single line of code.
It is easy to use and will save you doing a lot of tedious manual work. Furthermore, it'll teach you how to use your toolkit smarter and more efficient.
Pricing: Starts from $19.99.
Free: Up to 100 tasks. (That's a lot of tasks)
Conversion optimization tools.
Oh, I see you have a great home and landing page, and beautiful UX design. But do you know what is working and what are your conversion rates?
Upcoming tools can help you to understand the behavior of your visitors and increase your conversions.
#28 Hotjar
What if you have an in-depth report of how visitors are acting on your website? Or better, a heatmap of clicks, scrolls, and even video footage of sessions.
It tracks what people are doing on your website by recording sessions and capturing mouse movements. It makes it easy to understand your users and figure out what is working or not working on your pages.
Pricing: Starts from $29.
Free: 2.000 page views per day and limited reports. (More than enough to start with)
#29 UsabilityHub
UsabilityHub shows your page to a digital crowd and measures the first impressions. It does this by asking these two questions:
Which product or service does this website offer?
What is the unique thing about this product or service?
Of course, you can modify these questions. Its hand tool that helps you optimize the clarity of your design or value proposition.
So it's smart to see UsabilityHub and validate your ideas before you take action.
Pricing: Starts from $50.
#30 Optinmonster
Optinmonster is a top tier conversion optimization tool. It helps you to capture leads and enables you to increase conversions rates with many features such as:
Page-level targeting: Run campaigns on different pages, targeted to the page content.
Exit intents: A trigger that activates itself before visitors leave your site and capture contact information.
OnSite retargeting: Create customized offers for returning visitors.
Well, this is just the surface. There are many cases that show that users doubled or tripled their conversions.
Optinmonster also has a badass blog, they show and teach you everything about the product. If you're serious about on-site conversions, it can be your go-to lead generation software.
Pricing: Starts from $9.
#31 Notifia
Notifia is one mega tool of widgets that arms your website with the wildest social proof and lead capturing tactics. Here are some of them:
Social proof triggers. ( like "someone bought this product just now", "1300 people bought this", "500 people are looking to this" and etc.)
Click to share or Tweet.
Content locker features.
Email collection forms.
Full-screen takeover.
Surveys
And 30+ more.
Showing social proof is a proven trigger to increase conversions rates. And Notifia is one of the bests in this field.
Pricing: Starts from $9.
Free trial: 7 days.
#32 Sumo
Sumo is a much simpler version of Notifia. But Sumo has everything to help you capture leads and build your email lists.
It simple but in a good way. It's effortless to use with the drag-and-drop system and you can create high-converting forms in minutes.
We both use Notifia and Sumo.
Sumo is has a free plan and gets the job done. It covers many fields and more than enough for a casual user.
Pricing: $39 monthly.
Free: You can use most of the features.
Web Scrapers
Scrapers can help you to extract any data on a website page. Or they can handle complicated extractions from multiple pages. This can come handy in many situations, let's say:
You need all the profile URLs, names, job descriptions of 4000 comments under a LinkedIn post. So you start your lead generation process by adding them with Phantombuster and send automated messages.
With these tools, you can extract anything automatically without knowing any coding.
#33 Data Miner
Data Miner is a Google Chrome browser extension that helps you scrape data from web pages and into a CSV file or Excel spreadsheet.
You know bots can get blocked by smart sites. But Data Miner is not a bot, it behaves as if its a human and avoid getting bans or penalties.
You can use templates for one-click scraping. Or create custom extraction queries, no coding required.
Pricing: Starts from $19.99
Free: Up to 500 pages.
It does the same thing as Data Miner; however, Webscraper is capable of handling more complex tasks. It is more flexible and can work in the cloud but harder to use than Data Miner.
Well, there is nothing you can handle after watching two YouTube tutorials, right? Learning is fun.
Pricing: Starts from $50.
Free: More than enough for simple tasks.
SEO and content
Bonnie and Clyde. Jay-z and Beyonce. Content and SEO.
You know where this is going. $$$ Money!
Content and SEO are the deadliest inbound lead generating duo together. If you want to get the best results out of your content efforts, you better use some tools.
As a content creator, these three are my go-to tools to increase traffic, conversions, and quality.
#35 Grammarly
English could be your first language and your grammar could be better than Shakespeare. Still, I would recommend you to use Grammarly.
Grammarly is a tireless personal assistant that makes your writing better by doing many things.
Suggesting better alternative words,
Helping you protect your tone of voice
Simplifying your sentences.
And a lot more.
It helped me to become a better writer and could help you too. (In fact, I'm writing this in Grammarly app)
Pricing: Starts from $11.16.
Free: It's still good and helps you with basic writing corrections.
Ernst Hemingway is famous for his bold and straightforward writing style. He always chose simple words over harder alternatives, short sentences, and plain writing.
Hemingway app evaluates your copy, gives you a readability score and remarks to make your writing better. It's free. And it's the best friend of any copywriter.
#37 Ahrefs
Ahrefs is our pick for all-rounder Search Engine Optimization software. It covers you in a lot of areas such as
Helps you to find keywords with keyword explorer.
Gives you content ideas with content explorer.
Check your site for technical SEO with site audit which enables you to fix technical stuff.
Gives you accurate backlink building strategies
Helps you analyze competitors and steal their keywords.
And on and on.
It comes with a price, but it makes a difference. Saves a lot of time and increase your site performance with every feature.
Also, Ahrefs has the most generous YouTube channel. You can be a pro SEO by just watching their YouTube content.
Pricing: Starts from $99.
Trial: $7 for 7 days.
Cheaper alternative for Ahrefs: Mangools. It has way fewer features but has an accurate keyword and backlink searcher.
#38 SurferSEO
SurferSEO can make things easier for your on-page SEO efforts. It's a tool that analyzes top Google results for specific keywords and gives you a content brief based on data.
This brief gives you the exact keywords you have to use and tells you how many times to use them in an article. We're using it, it's data-driven, easy to use, and brings results.
It's also handy when you're working with freelance writers. Because you can give them the link of content brief and they can start to write in the SurferSEO cloud.
Pricing: Starts from $59.
Trial: $1 for 7 days.
Video editing and design tools
Adobe's tools are the best. But they are expensive and have a learning curve. If you're looking for quick and easier solutions next tools are for you. They'll help you design and edit anything in minutes.
#39 Canva
Canva is a graphic design platform that makes everything easy. It has thousands of templates for anything from Facebook ads, stylish presentations to business cards.
It works on the browser, super easy to use with a drag-and-drop builder. You don't have to know anything about designing, Canva will help you to create decent work.
Pricing: $9.95 pro version.
Free forever: You get all the features of the pro version with some limitations. The free version is more than enough.
#40 Kapwing
Kapwing is our go-to platform for quick video edits. It works on the browser and can help you to create stylish videos, add subtitles, resize videos, create memes, or remove backgrounds.
It has 30+ features that can solve painful tasks in minutes.
Pricing: $20 pro version.
Free: With limited upload limits and video length limitations.
#41 Animoto
With Animoto, you can turn your photos and video clip into beautiful video slideshows. It comes handy when you want to create an advertising material but don't have a budget.
It helps you to create advertising videos with templates, licensed music videos, and professional fonts—easy and fast solution.
Pricing: Starts from $33.
Free: Animoto branding on your videos.
Advertising tools
If you're planning to do paid promotions, you might want to invest in these tools. They'll help you to monitor different platforms from the same place and give you actionable insights about your paid efforts.
#42 AdEspresso
AdEspresso lets you create and test multiple ads with few clicks. You can optimize your Facebook, Instagram, and Google ads from this tool and measure your ads with in-depth analytics.
Pricing: Starts from $59.
#43 AdRoll
AdRoll is an AI-driven platform that connects and coordinates marketing efforts across ads, email, and online stores.
From awareness to purchase, it supports the whole customer journey. If you're an e-commerce brand, you should check AdRoll. It can help you to show the right messages to the right customers at the right time.
RIGHT, RIGHT, RIGHT.
Pricing: Starts from $9.
Free: Basic plan.
Other lead generation tools
This is a mixed bag packed with some of the other useful tools that will help you to generate more leads.
Replug helps you to shorten, track, optimize your links with call-to-actions, branded links, and retargeting pixels. It also provides you with powerful analytics about the links you shared.
Want to see an example?
You can share a popular article from another site in your newsletter and still include your branding or call-to-actions.
Price: Starts from $19.
#45 Draw.io
Mindmaps, schemes, and charts. With Draw.io, you can put your brain in a digital paper in an organized way. If you want to keep your brainstorming sessions structured, Draw.io is free and easy to use the tool.
Pricing: Starts from $5.
Free: Most of the features are free.
#46 Built With
Which sites are using what tools for sales, marketing, shopping carts, analytics or CRM? Built With is a tool that can tell you about a specific website's technology stack.
You can use it to steal your SaaS competitor's customers or to know about your prospects before you contact them. You can go to Built With website to check all the features and use cases.
Pricing: Starts from $295.
Free: Free forever for individual lookups.
#47 Typeform
You can turn data collection into an experience with Typeform. This tool helps you to engage your audience with conversational forms or surveys and help you to collect more data.
Creating beautiful forms with Typeforms as easy as typing to a notepad. You can create custom layouts or use templates to build your first form in minutes.
Note: It also has a video form to maximize the personalization element.
Pricing: Starts from $30.
Free plan: You have the basics and a limited amount of forms. You can also try paid features by going into free-trial mode.
#48 Livestorm
Livestorm helped us a lot, especially in COVID-19 tiles. It's a webinar software that works on your browser, mobile, and desktop.
It's easy to customize Livestorm to fit any case you can think of. We used it for lead generation events but you can use it for internal communications too.
There are a lot of features like Q&A and polls so that Livestorm can transform boring webinars into an engagement festival.
Pricing: Starts from $99.
Free version: Restrictions like 10 attendees, 20 minutes, and so on.
Free trial: 15 days
#49 Teachable
If you have an online course idea but hesitating because of the production process, Teachable can help you.
It helps you to build a beautiful course website with a user-friendly interface and share your knowledge with your audience. We also created our Free Growth Marketing Course with it, you can check it out to understand how teachable works.
Pricing: Starts from $29
#50 Viral Loops
Viral Loops provides a revolutionary referral marketing solution for modern marketers. You can create and run referral campaigns in a few clicks with templates.
This once was complicated, expensive, and painful, but now has been made with this tool. And it comes with built-in analytics.
You don't need any technical skills, reward superfans, grow your userbase, increase orders and build your email list, it is straightforward.
Pricing: Starts from $49.
Free Trial: 15 days.
Bottom line.
This is a broad list and all these possibilities for generating leads might make you dizzy.
So take a seat and prioritize your needs. Keep a close eye on the Upthrust blog. 
Find out which spots in your company are under pressure then adopt the relevant tools first.
This way you can create your own lead generation software stack in a smart and effective way.
Leave a comment or share if you benefit from this article!
See you around,
Ready to make a Real change? Let's build your business together!