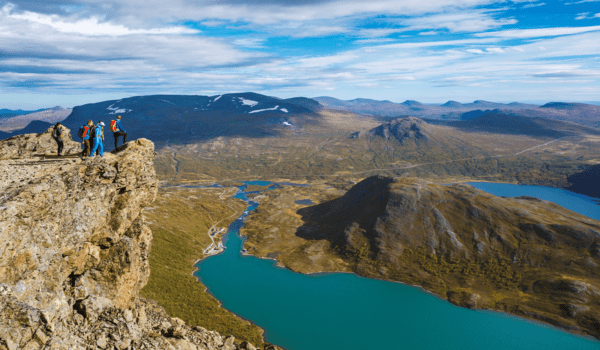 Case Study
Launching a digital travel agency experience
Find out how we set up a blended team with Nordic to design and deliver a new end-to-end digital customer experience.
Nordic was founded in 1980 as a sole proprietorship with a focus on traveling in Norway. From 2008, new destinations have been gradually added to the range. Nordic also started investing in their own accommodations and charter flights. As such they exchanged the living room with a few employees for two cozy offices with about 40 Scandinavian specialists. As the market leader in Belgium for Scandinavia, travellers can count on Nordic.
The challenge
Nordic's web infrastructure in combination with a third-party system for trips, lodges, rental cars or excursions did not support the high-end experience that Nordic wanted to offer to their customers anymore. To tackle this challenge, Upthrust partnered up with the internal online marketing of Nordic to revamp the current web architecture to a new fully tailored digital experience. From a technical point of view, the ambition was to follow the current standards of web development. Servico, an external platform and main provider of travel information, had to be integrated in order to deliver all the current travel data and extended filtering in a personalized manner, in line with country and travel type. As such, customers should be able to discover travels to Scandinavia in a fast & efficient way, based on a good UX/UI, resulting in a great digital experience.
Approach
Our approach consisted of the following steps…
We deep-dived into the sector / segment (competition benchmark), digital stack & set-up and sales funnel & processes.
We set up a series of workshops to discuss digital growth barriers & drivers and to co-create ideas that impact conversion.
We reworked the full page structure and UX/UI based on extensive wireframing.
We custom-coded the web platform, following current webstandards with WordPress CMS. Specific attention was put to speed optimizations and code cleaning, given that these are key levers for SEO/SEA optimization (which would be foreseen in a second phase using the growth marketing approach).
We developed a dynamic filtering via Vue.JS and AJAX-based approach so the user has his travelling results in less than 1 second.
We synchronise on a daily/automatic basis all the travel information from the Servico platform and display it in the front-end.
Multi-lingual compatible so that an international marketing strategy can be rolled out in the near future.
According to best practices, SEO migration was put on the agenda from day 1 and as such it was integrated in our website development approach. As such, we avoided the common pitfall where SEO migration is considered as an afterthought, resulting in significant traffic loss and rework.
The outcome
A new digital, highly performant digital experience to discover Nordic's offerings.
Self-maintainable platform in a user-friendly WordPress environment, allowing the internal teams to control the digital experience and create landingpages in different languages.
Daily synchronisation of 300 trips and 200 lodges which can be offered to the visitors of Nordic when choosing their perfect holidays.
Successful SEO migration approach resulting in a SEO-proof website and no traffic loss due to website migration.
End-to-end delivery of the full project scope, through a strong ongoing collaboration Upthrust and the internal marketing team.
Assets